Here's your timeline for how the high winds and thunderstorms will affect your day:
Heavy storms brought some damage to the world's busiest airport. Hartsfield Jackson reported some minor damage near one of its cargo facilities but no injuries. Neither the damage, nor the storms appeared to have caused any major issues with flights at the time.
A tornado warning was issued at 9:40 p.m. impacting central DeKalb County and southwestern Gwinnett County until 10:15 p.m. This came after a storm was located over the Scotdale neighborhood of DeKalb County that was capable of producing a tornado. The warning was ultimately cancelled for DeKalb but continued for Gwinnett until the original end-time.
Only one report of a downed tree on a power line was reported in Gwinnett.
High wind warnings and wind advisories have been issued for parts of north Georgia, including metro Atlanta, behind Thursday morning's rains -- while thunderstorms are expected later this evening, and any of those could become severe, so stay tuned to 11Alive and 11Alive.com for the latest updates and details.
Winds are expected anywhere from 15 to 25 mph along across much of metro Atlanta with gusts of up to 40 to 45 mph, while areas of the north Georgia mountains could see even stronger winds, with winds running 25 to 35 mph, and gusts running as high as 55 mph.
TRACK THE STORMS: County-by-county radars
The Wind Advisory is in effect for Dade, Walker, Catoosa, Chattooga, White, Floyd, Cherokee, Forsyth, Hall, Banks, Jackson, Polk, Paulding, Cobb, Fulton, Gwinnett, Barrow, Haralson, Carroll, Douglas and DeKalb counties until Thursday evening at 8 p.m. This advisory includes the city of Atlanta.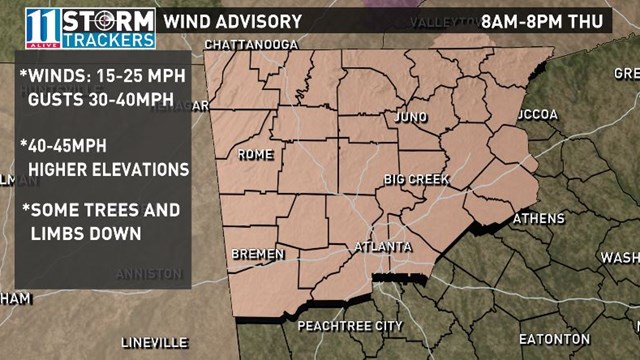 Sustained winds above 20 mph could bring down large tree limbs or even entire weakened or dead trees. It also could make driving difficult, especially for high-profile vehicles, like large trucks. Winds of 35 mph or higher could topple trees and power lines, and cause significant property damage.
This afternoon
11Alive StormTracker Chesley McNeil says the first round of showers will come to an end early this afternoon, while strong winds continue moving across the state.
After about 2 p.m., Chesley says partly cloudy skies and strong winds will continue to move across the region.
This evening
A line of showers and thunderstorms accompanying the cold front sweeping through the state can be expected to cross the region between 7 p.m. and 9 p.m. Any of the storms with this line could become severe with damaging winds, frequent lightning and large hail.
MORE | Current weather forecast
WATCH | Weather cameras
INTERACT | Tell us what you see by posting on our Facebook page or Tweet using #Storm11
UPLOAD | Send us your weather pictures here
Download the FREE app now in the iTunes store or on Google Play.
POWER OUTAGES CHECK | Georgia Power customers, check here. Georgia EMC customers check here.
Stay tuned to 11Alive and 11Alive.com for the latest details. 11Alive Chief Meteorologist Chris Holcomb and the 11Alive Storm Trackers will have the latest updates and information on any advisories or warnings.