A small tornado swirled across the National Mall and Tidal Basin during severe storms Thursday.
A National Park Service worker recorded the twister in action near the Jefferson Memorial. On Friday, the National Weather Service confirmed it was in fact an EF-0 tornado.
A ranger at the Jefferson Mem shot this afternoon's storm passing over the Tidal Basin before uprooting several trees on the far shore. pic.twitter.com/iYDavq6poO

— National Mall NPS (@NationalMallNPS) April 7, 2017
This is the eighth recorded tornado to ever touch down in the District.
It first touched down at 1:39 p.m. in Arlington, Va. and traveled across the Potomac River, through the Tidal Basin and National Mall and into Northeast Washington before it lifted up and disappeared near Gonzaga College High School.
The tornado formed at the Army-Navy Country Club in Arlington and snapped trees there before damaging a light tower in northern Virginia.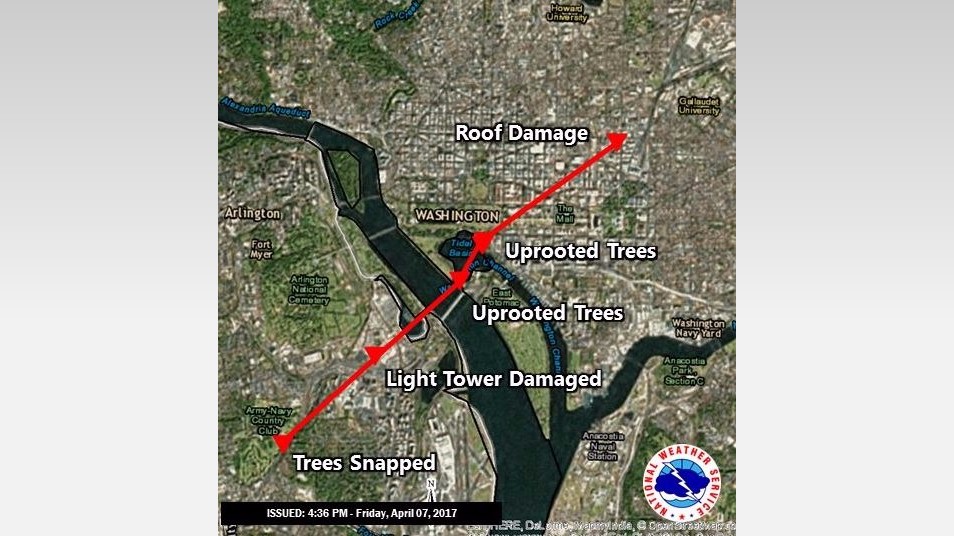 Once over the river and in the nation's capital, the tornado uprooted trees near the waterfront and destroyed 11 of the beloved cherry blossoms along the Tidal Basin. Thirty other trees were damaged.
The tornado final act of destruction was ripping off part of the roof at St. Aloysius Church on the campus of Gonzaga College HS.
All of this, in a matter of six minutes and across 4.5 miles.
Winds reached 60 to 70 miles per hour and the tornado was 25 to 50 yards wide. No one was hurt.
The tornado was the second to touch down in D.C. on Thursday. Another EF-0 twister caused some minor damage on Joint Base Anacostia-Bolling.
Another tornado touched down in Fairfax County.
PHOTOS | #Storm11: Your severe weather pics
PHOTOS | #Storm11: Your severe weather pics