ATLANTA - Swift Transportation Company is celebrating hard-working team members in Atlanta and across the country during National Truck Driver Appreciation Week, September 11-17.
Swift, the nation's largest truckload provider, is also marking its 50th anniversary.
The company deploys more than 18,000 trucks, 60,000 trailers, 16,000 drivers and 5,000 owner-operators across more than 1.5 billion miles of road each year.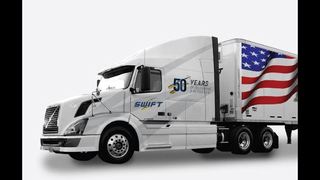 To support drivers and help them through emergency hardships, the company created a nonprofit called Swift Charities.
In Atlanta, Swift Charities recently provided supplemental income while a driver recovered from eye surgery and helped pay for burial costs when another driver's grandmother passed away.
"What defines us is our people, including the steadfast drivers that are the backbone of our business. Without them, we don't have a company. Without them, we don't have an industry. Without them, America doesn't function," said Richard Stocking, President and Co-CEO of Swift Transportation.
Swift's 50th anniversary celebration will include activities at the Atlanta-area Swift terminal, with food, vendor giveaways and gifts for Swift drivers.
The celebration coincides with National Truck Driver Appreciation Week, which is led by the American Trucking Association (ATA) to celebrate the 3.5 million professional truck drivers who tackle one of our economy's most demanding and important jobs.
(© 2016 WXIA)