DUNWOODY, GA. - A Dunwoody Police officer turned the tables with his own random act of kindness for a couple who offered to treat him to dinner.
It started over the weekend when Heather Schoeman and her husband told their waitress they wanted to pick up the tab for the officer eating on the other side of the Wing Factory restaurant.
Sgt. Curtis Clifton let them pay, but then insisted on picking up their more expensive tab.
He thanked the couple and shook hands when he left but kept his kindness a secret until their bill arrived later.
On the back of the bill, he had written this message: "Your kind gesture is greatly appreciated. On behalf of law enforcement officers, 'We thank you.' Please take my gesture as a sign of our appreciation to the community we serve. Curtis"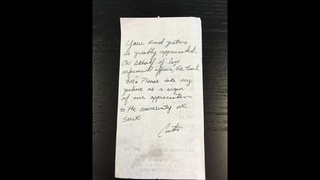 "The officer's gesture is a genuine example of how kindness is truly contagious," Schoeman wrote in a letter to the editor of the Dunwoody Crier Newspaper. "We should be thankful every day to live in such a great place and I feel so fortunate to have men and women of this fine character protecting our families, our property and our lives."
Schoeman told 11Alive's Jennifer Leslie that she later bought a gift card for Sgt. Clifton and dropped it off at the police station since their restaurant tab was much more expensive than his bill.
She didn't name Sgt. Clifton in her letter to the paper, but he reluctantly agreed to let us use it for this story.
(© 2016 WXIA)