POLK COUNTY, Ga. -- The death of a 21-month-old Ella Gracye Pointer remains under investigation.
Here's what we know so far:
What happened:
On Oct. 29 between 1:30 a.m. and 2:30 a.m., Polk County police responded to a 911 call about a 21-month-old baby girl who was not breathing. EMS started CPR. The baby was transported to the Polk County Medical Center, and later airlifted to Egleston Children's Healthcare of Atlanta.
Ella Grayce Pointer passed away at 4:46 Sunday afternoon.
MEET ELLA | Family remembers vibrant toddler

How did she die?
The Georgia Bureau of Investigation has completed an autopsy, but its results have not been determined.
"At this time, the results (cause and manner of death) are pending further forensic testing and details from the investigation," a GBI spokesperson said in a written statement to 11Alive News.
The child's mother, Shellby Garner, said that she got a call while at work telling her that her daughter had stopped breathing.
"She was gone for 30 minutes and they revived her. Her heartbeat was all hers," Garner said. "But she was already gone. Her body was there, but she was already gone."
According to the child's grandmother, Joy Shell, emergency workers said Pointer "had sustained major brain injuries. Major organ injuries. Sexual abuse."
RELATED | 'All I know is that I went to work and I came back and my baby was dead'
Who was home
Polk County Police Chief Kenny Dodd told 11Alive that the toddler was home with two men at the time of the incident. One of the men, 27-year-old Dustin Putnal, who is the boyfriend of Pointer's mother, was arrested on probation violation charges.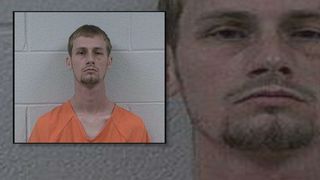 The other man at the home has not been identified by police.
Who is investigating
Polk County Police have requested the GBI's assistance in the investigation of the child's death. The police had requested that a GBI agent conduct a crime scene procession on the day the child was taken to the hospital.
Will charges be filed?
Despite details, names, and photos released on social media, police say no one has yet been charged in Pointer's death.
Funeral arrangements
Funeral services for the 21-month-old child will be held Friday, Nov. 4 at 3 p.m. at the Chapel of the Lester C. Litesey Funeral Home. The family will receive friends Thursday night.
PHOTOS: Family, friends hold vigil Ella Grayce Pointer
Previous stories:
RELATED | 'All I know is that I went to work and I came back and my baby was dead'