$ide Effect$: Keeping prescription drug prices high
An 11Alive News investigation uncovered the Food and Drug Administration often gives government-controlled monopolies to pharmaceutical manufactures for drugs which have been on the market for years, unnecessarily keeping drug prices high.
While the FDA says it's only following the law, critics contend the agency rubber stamps approvals because it relies on drug companies for billions of dollars in revenue.
Chip Mallet takes one of those drugs.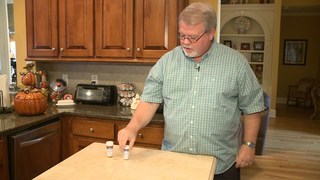 A few years ago, work stress got the best of the Forsyth resident and his doctor diagnosed him with hypertension.
At one point, he took three different drugs: Benicar, Hydrochlorothiazide and Amlodipine Besylate. Earlier this year, his physician put him on a drug called Tribenzor. It's one pill with all three drugs.
At the time, it sounded like a good deal.
"Until I got to the pharmacy. The pharmacist said, 'This is a very, very expensive drug. Even though you have pretty good insurance, it's still going to cost you about $167 a month with your insurance.' And I said, 'Well, I can't take that,'" said Mallet.
Why so much? The Food and Drug Administration gave its drug maker a three-year market exclusivity for combining all three drugs into one pill in 2010.
That's three drugs, which have been on the market for years, all of sudden, a brand name drug. Since 2012, Tribenzor's price has increased 84 percent. There were no generic options available until this October.
RELATED | $ide Effect$: Lawmakers get millions to help drug companies
Since 2012, the FDA has approved 2,652 brand name and generic drugs. The agency provided many of those drugs market exclusivity for at least a few years.
Many healthcare advocates and pharmacists believe most drugs given exclusivity don't deserve it because pharmaceutical companies are simply re-packaging existing drugs by slightly changing the formula, not inventing something new.
During that time, prescription drug prices have increased about 121 percent.
That includes the curious case of a drug called Colchicine, which treats gout, a severe form of arthritis.
Atlanta pharmacists, like Ira Katz, sold Colchicine for pennies a pill since the 1950s. "It was the drug of choice for an acute gouty attack," explained Katz.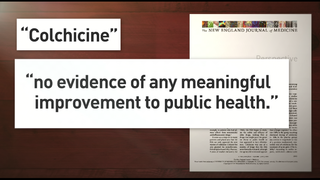 In 2007, a drug company called URL Pharma (now known as Sun Pharma) discovered Colchicine was never approved by the FDA.
The drug maker rushed to conduct a clinical trial with 185 patients and followed the patients for one week. It discovered what doctors knew for decades – it safety treats gout.
The FDA still granted it market exclusivity. For half a century, Colchicine cost less than $10 dollars for a month's supply. Today, it sells for nearly $200.
"It's the same drug. It's the same drug," says Katz. "It's very frustrating."
According to the New England Journal of Medicine, the FDA's market exclusivity for Colchicine provided "no evidence of any meaningful improvement to public health."
Dr. Janet Woodcock is the FDA's director of drug evaluation and research.
"Sometimes, in individual cases, things make more sense and sometimes they make less sense and that's how public policy is made. You have to do something that makes sense most of the time," said Woodcock, in response to the journal's findings.
Woodcock says it's the FDA's does not consider the economic impact exclusivity has on consumers because it doesn't have to. "Well, we're certainly aware of it because we hear from people however it's not part of the law that we are implementing," said Woodcock.
The FDA director says nine of out 10 prescriptions approved these days are generics, which are not given market exclusivity.
"Right now, if you were a company and sent in a generic drug application to the FDA, and it was complete and it had everything in it, you could get approved in ten months," said Woodcock.
Patient advocates argue the FDA has an ulterior motive to approving some drugs.
The agency, which in charge of policing drug companies, is funded by Big Pharma. Pharmaceutical companies pay the FDA a user fee when seeking approval for new drugs.
Last year, the agency collected $2.2 billion dollars from drug makers, which accounts to nearly half (45 percent) of the FDA's budget.
The pharmaceutical industry argues drug price increases mirror the overall rise in healthcare costs.
"In fact, government actuaries project that spending on prescription medicines will grow in line with overall health care spending through the next decade," explains Holly Campbell, a spokesperson for Pharmaceutical Research and Manufacturers of America.
"While the price of a medicine may increase or decrease over its lifetime, prices fall dramatically as competition occurs among brand-name medicines – and even further with the introduction of generics. Innovator companies invest in research to develop new medicines, and, over time, they become available as lower-cost generic versions that typically cost up to 80 percent less," explained Campbell in an email.
Dr. David Belk is a physician and runs the consumer watchdog group The True Cost Of Healthcare. The California doctor thinks the funding role drug companies play presents a conflict of interest.
"They grant it to a pharmaceutical company almost just for asking, just rubbers stamp almost any idea put in front of them in my mind partly to drive up their user fees which is a major part of their budget," said Belk.
Woodcock declined to discuss whether she believes the FDA needs to set the bar higher for approving rebranded drugs.
"The FDA has to do with what congress explicitly tells us to do in offering us exclusivity. We can't make up new laws. We have to follow the law as it exists," said Woodcock.
If any of you have any information or complaints about outrageous drug costs, please contact 11Alive Investigator Andy Pierrotti using the form below.