Robert Hart of Telfair County said it was on his list of things to do.
He was planning on returning his new Samsung Galaxy Note 7 after reports surfaced that the highly anticipated phone was a fire hazard.
The Consumer Product Safety Commission released a statement Friday saying people who bought the phone should stop using it.
RELATED: Government agency says don't use the Galaxy Note 7
Hart on Sunday just returned home with his family from their camping trip in Jekyll Island when the combustible phone struck.
He said he was doing what he always does after a camping trip. He was washing his camper and truck. It was about 4 p.m. The phone was charging on a bench in the kitchen of the camper. It was connected to a Bluetooth speaker playing tunes while he finished his chores.
Hart said he then saw smoke billowing out of the camper windows. It didn't take long. "It was (burned) to the ground in 10 minutes," he said.
Now he's dealing with his insurance company and Samsung to make him whole. He said the camper was around $45,000 and his pickup sustained extensive damage.
He says Samsung is treating him good - so far. "They said 'we're going to take care of this,'" Hart said. "I ain't gonna down talk them yet. We'll see.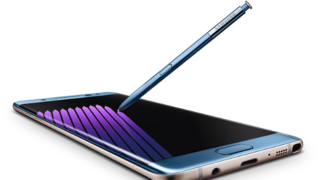 "I've been a Samsung man since the S2," Hart said adding that he bought his Galaxy Note 7 the first day it was available.
He's also an avid camper and his family may not be making their scheduled November and December trips.