For days, smoke from North Georgia wildfires have seeped into metro Atlanta skies, creating a air quality risk for some.
The Atlanta metro area is forecasted to be in the code red zone for air quality Wednesday.
According to the EPA
, a code red Air Quality Index means everyone may begin to experience some adverse health effects, and members of the sensitive groups may experience more serious effects. The EPA explains the AQI as a yardstick that runs from 0-500. The higher the AQI, the greater level of air pollution and greater the health concern.
A code red alert
runs from 151 to 200 on the AQI scale. Experts are urging people to limit their outdoor activity while the dangerous conditions exist.
AirNow
, a subset of the EPA and the Georgia Department of Natural Resources said certain groups should completely limit outside activity.
"People with heart or lung disease, older adults, and children should avoid prolonged or heavy exertion. Everyone else should reduce prolonged or heavy exertion."
Good air quality is considered 0-50, unhealthy is 151-200.
The National Forest Service says, fires throughout northern Georgia, Alabama, Tennessee and North Carolina all have the potential to impair air quality and that conditions may change quickly, based on weather, wind direction and fire activity.
11Alive Storntracker Chesley McNeil said Wednesday's northerly winds will cause some of the smoke to move into the metro area and maybe even the central part of the state.
Track the current Air Quality below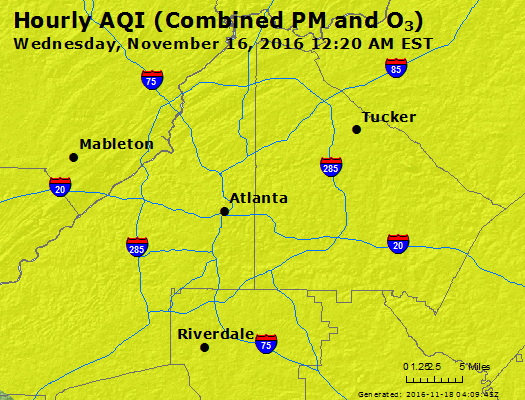 In addition to health risks associated with pollution, burn bans are in effect for several Georgia counties:
Bartow, Chattooga, Cobb, Dade, Fannin, Floyd, Gilmer, Gordon, Haralson, Henry, Murray, Paulding, Pickend, Polk, Walder and White.