SANDY SPRINGS, GA. - Mercedes-Benz is teaming up with Grammy-winner Zac Brown to find a new purpose for close to 70 trees from the site of the luxury carmaker's new U.S. headquarters in Sandy Springs.
"The trees brought us together," Brown told 11Alive's Jennifer Leslie.
He shared his passion project with Mercedes-Benz CEO Dietmar Exler when the two went on tour together at Camp Southern Ground in Fayetteville.
"When I was 14, I knew I wanted to make music, and I wanted to build a camp," Brown said. "It's really happening now. It's an amazing thing."
The nonprofit camp is still under construction, which is where those trees come in.
Close to 70 trees were picked by Brown's team to be cut down and repurposed.
"That's a lot of wood to make furniture and other things we can do here" said Mike Dobbs, CEO of Camp Southern Ground. "With ZB Customs, we have the woodworking capability to make almost anything."
Mercedes-Benz also pledged financial support to help with scholarships to create an inclusive environment.
"We'll have inner city kids, mixed with mainstream kids, mixed with kids that have developmental disabilities like autism, Asperger's, ADD, Dyslexia," Brown explained.
"We knew this was something we would really like to be affiliated with and support," added Exler. "It's an unbelievable initiative."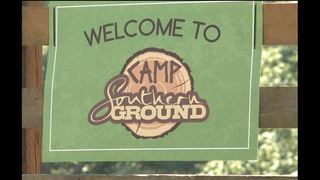 The official groundbreaking for new headquarters is still a week away, but the clearing of the wooded, 12-acre site off Abernathy Road started a few weeks ago.
Mercedes-Benz initially looked for ways to save the trees, but experts said that relocating mature trees is difficult and often unsuccessful.
Company officials didn't give up and eventually found a partner in Camp Southern Ground.
Skanska agreed to pay for the cost of moving the trees from Sandy Springs to Fayetteville.
Camp Southern Ground will open for summers in 2018, but fall mini adventure camps are underway right now.
(© 2016 WXIA)