ATLANTA -- A disgraced journalist in Missouri is behind bars for making at least eight bomb threats against Jewish community centers across the country.
The Jewish Community Center Association of America says that, this year, there have already been more than 100 of those threats. The Southern Poverty Law Center says it is tracking a near-record high surge in the number of hate groups in the United States – and Georgia is in the top 10 of that list.
What you're seeing here is something the SPLC calls the "Hate Map." it's used to track hate groups across the country. Georgia is up to 917 nearing the all-time high. The SPLC says there is a dramatic swell that started during the presidential campaign.
Click below to see the full map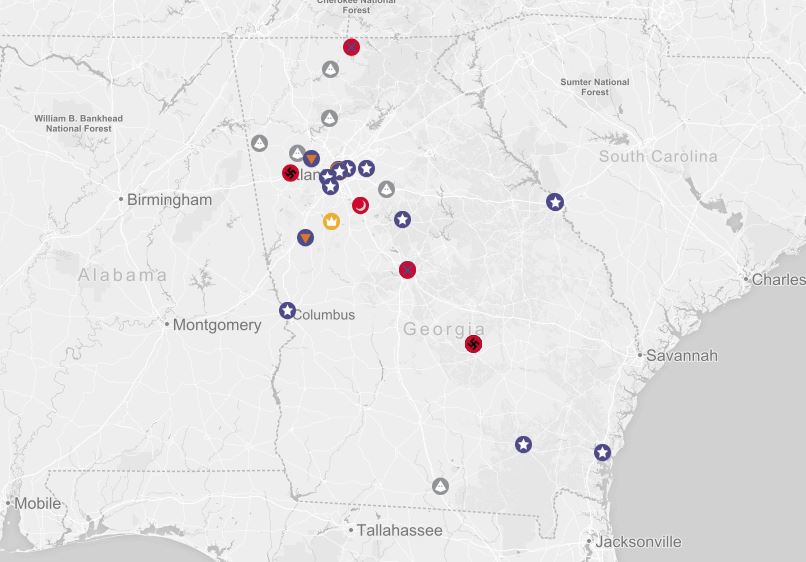 The III% Security Force is an armed militia in Georgia willing to publicly display its weapons to show its support for President Donald Trump and its opposition to a Muslim group trying to build a mosque in Covington.
It is one of 32 organizations in Georgia the SPLC calls a hate group.
"We are within 100 groups of the all-time high number of hate groups in 30 years of counting," SPLC Senior Fellow Mark Potok said.
The KKK, skinheads, Neo-Nazis, black supremacists, and anti-Muslim groups are helping to rank Georgia ninth on that national list.
"Georgia obviously was long a part of the deep south and there is a kind of legacy that comes with that and we tend to see a lot of groups as a result," Potok said.
He has been documenting what he calls an explosive rise in the number of hate groups that have occurred since the turn of the century and are swelling once again.
"I think the wisdom of really tracking these groups has come to the fore in the last year or so as we have seen really a kind of tremendous surge on the radical right," he said.
Potok says a rise in right wing extremist groups isn't indicative of the overall problem.
"That understates the size of the radical right because, in fact, so many people don't join these groups now even while they are in a sense a part of the movement."
Potok points to Dylann Roof, the man behind the South Carolina massacre at an all-black church in Charleston. He says a major shift in our population can help to explain the increase in hate groups and extremists.
"Ultimately, in the next 10 or 20 years, we'll come out the other end."
Potok says it's interesting to note that here in metro Atlanta, especially, there is a high number of black supremacist groups like the New Black Panther party and the Nation of Islam. We did reach out to some of the groups in this story before it aired, but they have not yet responded.
© 2017 WXIA-TV