11Alive Weather App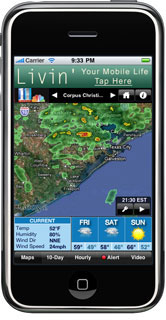 You can get the latest weather information and weather headlines free, in a format designed for your phone or personal mobile device.
You can also get video, live traffic cameras, and weather radar images through our enhanced mobile services, and you can even get breaking news text messages sent to you.
There has never been anything quite like the iPhone, so why should the 11Alive/WSI's WeatherActive Mobile iPhone App be any different? This new product offers viewers the opportunity to receive local forecasts - including current conditions, hourly forecasts,10-day forecasts and NWS warning/watch/advisory alerts. The application also features GPS and look up station selection, video file playback and WSI raster tile placement over iPhone Google maps.
11Alive News iPad App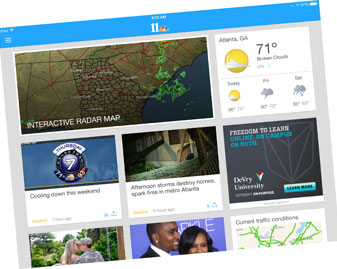 Sleek design and ease of use makes the 11Alive News iPad app your best source for Midlands news, weather and sports. Sign up for breaking news and weather alerts and you'll always be on top of what's happening! The 11Alive News app weather section features live radar, with hourly, extended and weekend forecasts.

11Alive News App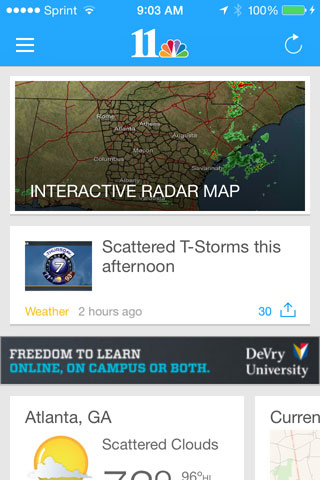 Get the latest local news and weather for the Metro Atlanta area with 11Alive's iPhone and Android App.
Local news for the Metro Atlanta area
Current weather conditions, short term and extended forecasts, radar map, health indices, school closings and weather alerts
Robust full screen video
Sports, Consumer and Business news
The latest sports scores
News alerts sent to your iPhone with option to set a quiet time period
Share news and video via Facebook, Twitter or email.