ATLANTA — Get the most out of 11Alive's new app by signing up for push notifications. It takes less than a minute to opt-in and we'll bring the day's breaking news and headlines from topics you select right to your lockscreen.
FAVORITE TOPICS AND NOTIFICATIONS
We're well aware that when we send a push alert, we're essentially invading one of the most private places in your life with content we think is important.
In the new 11Alive news app, you get to finally customize your experience – from the kinds of stories you prefer to what locations you want to know the weather to what notifications appear on your phone lockscreen. We can help tailor the news we're delivering to you to what you're interested in.
After downloading the app and when you open the app for the first time, your phone should ask if you'd like to allow notifications. Click "Allow." Then, click on the star in the top right corner and choose topics you're interested in. This is our favorites panel. This gives you the option to sign up for alerts to specific topics like traffic, weather, sports, etc.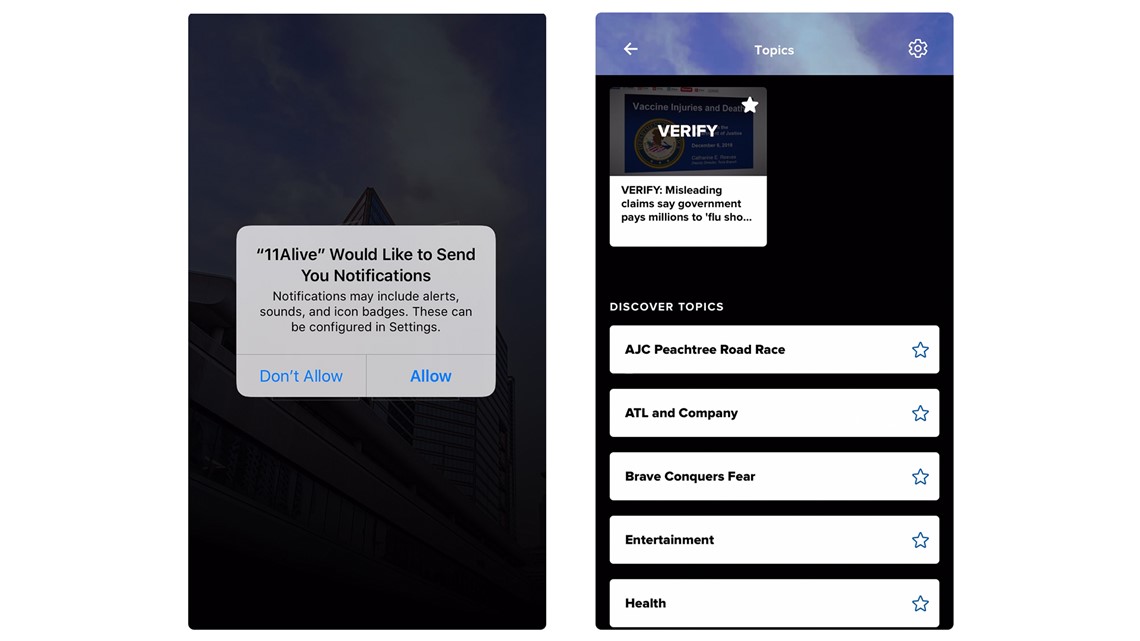 If you already have the 11Alive app downloaded, go to the setting app on your phone, click on notifications, find the icon for the 11Alive app and make sure "allow notifications" is turned on. Open the app, Then, click on the star in the top right corner and beside the topics you're interested in, click on the star. This signs you up for alerts for that topic.
WEATHER FORECASTS
Open Weather and tap on the city location icon found at the top of the screen right under the orange tab to open the radar. Then, select "Add Location" and fill out the form that opens. To make your new location the default weather forecast, click the pencil icon found under the location's temperature. And that's it!
CHANGING YOUR FAVORITES ALERTS


Let's say you signed up for alerts but aren't exactly stoked about the content we're sending you. You can change which alerts you're signed up for at any time by going to back to the settings in the app.
To no longer have a topic appear as a favorite, tap the star to unselect it.
ENJOY!
Thanks for downloading the app and joining the 11Alive family! We're happy to have you. 11Alive is Where Atlanta Speaks so you if have feedback or a news tip, send us an email at news@11alive.com.