ATLANTA — Joe Henke is a reporter for 11Alive in Atlanta. He most often reports during weekday newscasts at 5 and 6 p.m.
Born and raised in Minnesota, Joe has lived across the country and moved to Atlanta in 2016 to join the 11Alive team.
Joe earned his bachelor's degree in broadcast journalism, communication studies and creative writing from the University of St. Thomas in St. Paul, Minnesota. He then moved to Phoenix and received his master's degree in mass communication from the Walter Cronkite School at Arizona State University.
As Joe completed his master's degree, he reported for Cronkite News Service's Washington, D.C. bureau covering Arizona's delegation and key state issues. After leaving D.C., he moved to Bakersfield, California to report for 23ABC (KERO) and then headed to Tulsa, Oklahoma where he reported at 2 Works For You (KJRH).
Joe is a general assignment reporter, so he covers a little bit of everything. Crime, politics, business, education, features - he enjoys it all.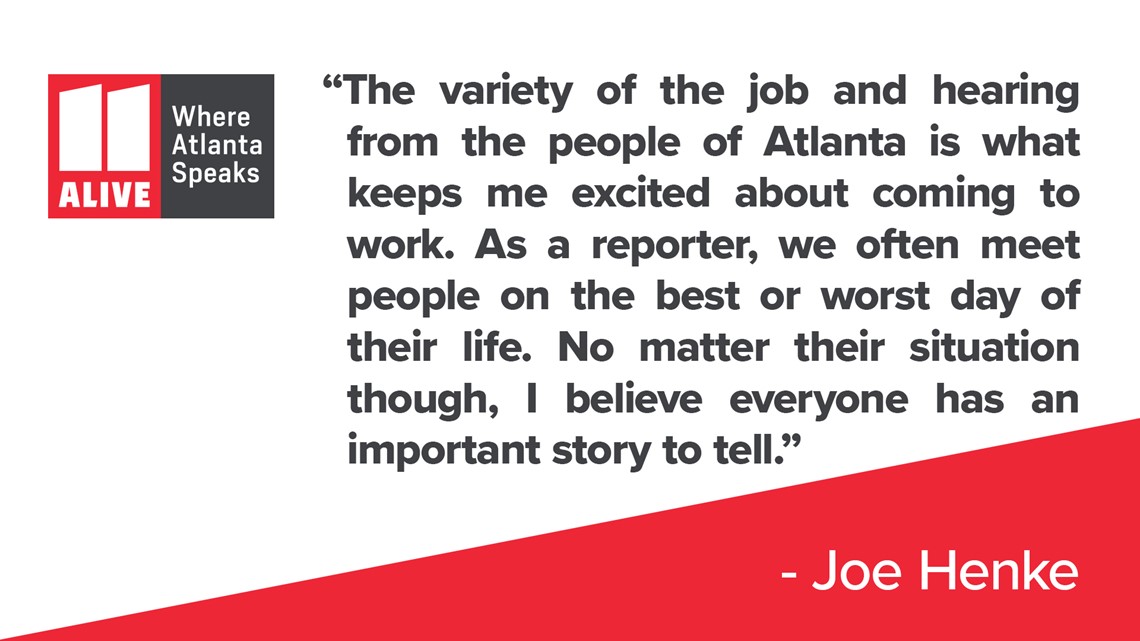 In 2015, 2016 and 2017 the Society of Professional Journalists recognized Joe as the best-broadcast reporter in Oklahoma. In 2018 the Georgia Associated Press honored him as the best reporter in the state.
Joe and his wife met in grad school at ASU. They enjoy traveling, visiting family in Minnesota and Trinidad, catching up on their DVR or heading to Piedmont Park.
In his free time, Joe is often in the kitchen cooking and showcases his latest recipe finds on his Instagram stories. #JoeInTheKitchen.
His favorite part of Atlanta is the great food scene. He keeps a growing list of his go-to spots…Best burger: Burger stack at Fred's Meat & Bread in Krog Street Market. Best coffee shop: Dancing Goats in Decatur. Favorite local beer: Tropicália from Creature Comforts. Best steak: Tie. Rib-eye at Chops or Highland Tap. Best ramen: Ton Ton in Ponce City Market. Best tapas: Bulla. Best breakfast: Highland Bakery. Best pizza: Antico (Neapolitan pie) / Gino's on Cheshire (NY Style). Best cheesesteaks: Big Dave's in Dunwoody. Po'boys and Oysters: Fontaine's. The official list continues on for quite a while...
If you have a story idea, Joe wants to hear from you. Shoot him an e-mail, tweet or Facebook message.