Get ready for the big game in the best way!
Mandy Landefeld from Sumptuous Living shared a complete tailgate spread on 'Atlanta & Company', cocktails included!
Enjoy her simple and yummy recipes below and post a pic on the A&C Facebook page if you try any!
Peachy BBQ Chicken Flatbreads
Ingredients
2 cups pulled cooked chicken (rotisserie chicken works well)
1 cup Smoky BBQ Sauce (homemade or your favorite bottled brand)
3 heaping TBS Peach Preserves
4-6 oz crumbled goat cheese
4 TBS olive oil, divided
1 large red onion, sliced in half moons
½ TBS Creole Seasoning
¼ cup flat leaf parsley, chopped
Fresh ground pepper
4 flat breads or pocket-less pitas
Instructions
Preheat oven to 450 degrees.
In a small saucepan, heat the BBQ Sauce and Peach Preserves over medium heat.
Whisk together and let bubble for 2-3 minutes.
Add in chicken and stir to coat fully with the BBQ sauce; set aside.
In a large skillet over med-high heat, add 2 tbs. olive and let it get hot.
Add the onions Creole seasoning and cook until soft, about 5 minutes.
Set onions aside.
Meanwhile place the flat bread on the bare oven rack and slightly brown on both sides for 3-4 minutes per side.
Remove from oven and place on a large baking sheet or cutting board.
Top with saucy chicken, onions, and goat cheese.
Sprinkle with fresh parsley and fresh ground pepper.
Cut into quarters for a terrific appetizer!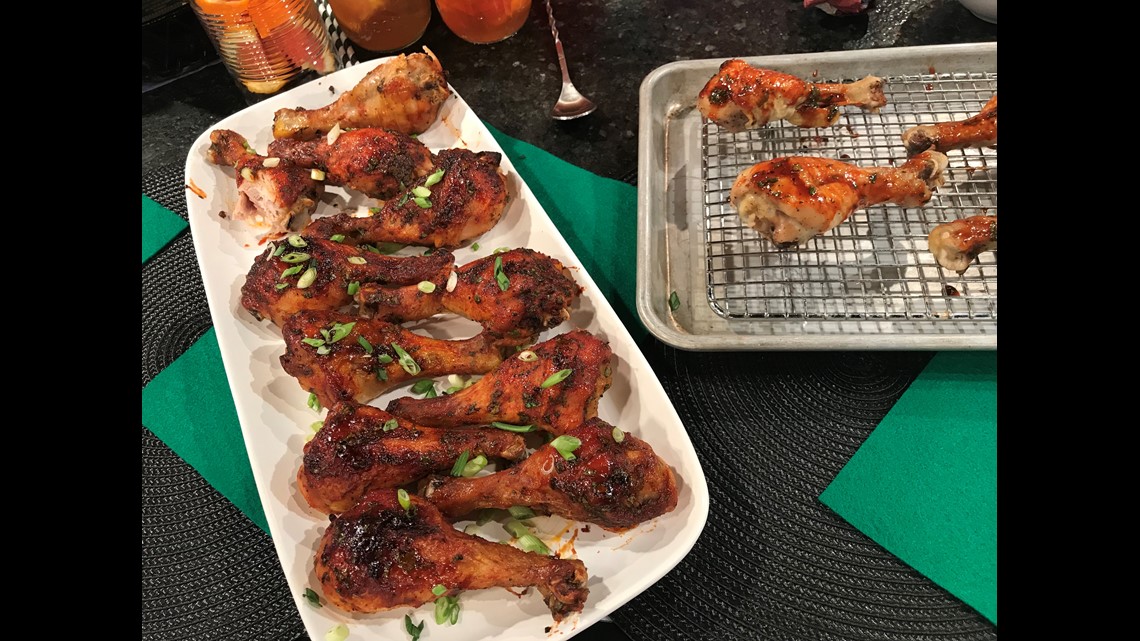 Sweet Chili Drumsticks
2-2.5 lbs chicken drumsticks
2 Tbsp. vegetable oil
1 ½ tsp kosher salt
½ tsp fresh ground black pepper
Glaze:
2 ½ Tbsp chili paste (Gochujang)
¼ cup fresh cilantro, chopped plus extra for garnish
1 inch fresh ginger, grated
1 Tbsp. rice wine vinegar
3 Tbsp. honey
2 green onions, sliced thin for garnish
Directions for chicken:
Preheat oven to 400 degrees. Line a baking sheet with heavy duty foil. Place rack on tray and spray with cooking spray. Toss chicken drumsticks in oil, salt and pepper. Place on rack in sheet pan. Bake for 45 minutes.
Meanwhile, mix the glaze. In a small food processor or bowl, mix together chili paste, cilantro, ginger, vinegar and honey. Using a pastry brush, baste chicken with glaze and raise heat to 450 degrees. Bake for 5 minutes. Baste again and cook for another 5 minutes. Let cool slightly and place on serving platter. Garnish with chopped cilantro and thinly sliced green onions.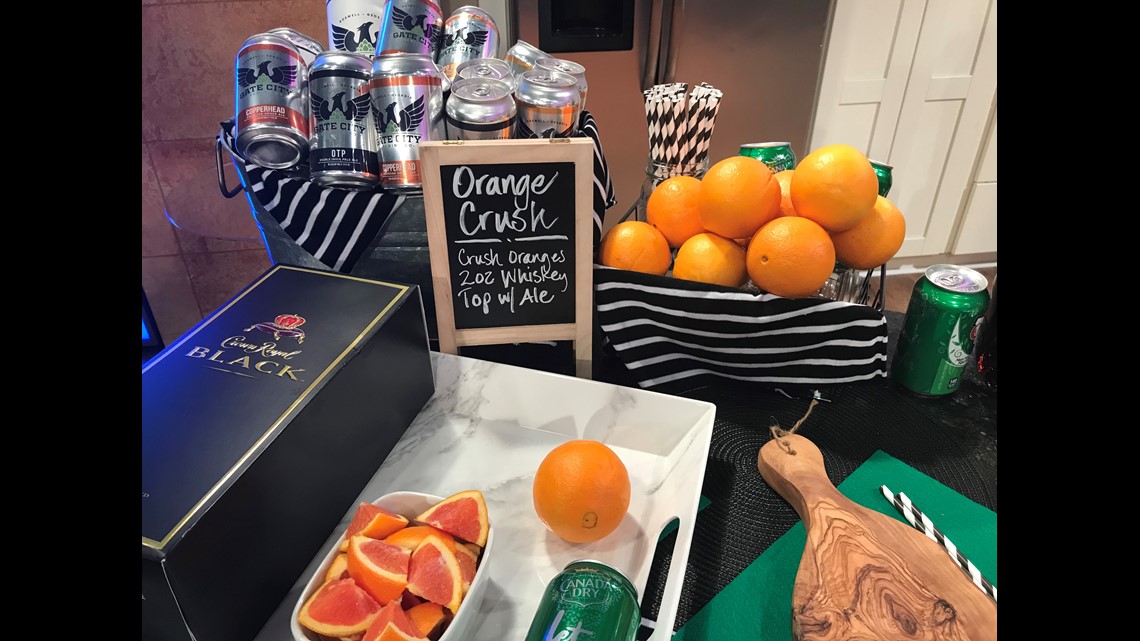 Ingredients
½ Orange (cut into 2 quarters)
2 oz Whiskey (3 ounces if you like your drinks strong)
2 oz Ginger Ale
Ice
Instructions
Fill glass ½ way with ice then squeeze, with a crushing grip, the orange into the glass, leaving at least ¼ of the orange in the glass.
Pour the Crown and ginger ale over the orange and stir.