Cherry season's in full swing with Chef Nancy!
Taste and Savor's healthy chef and "partyologist" Nancy Waldeck shared fresh cherry recipes for meals and sweet snacks.
Check out her recipes below and post a pic of your finished product on the Atlanta & Company Facebook page or tag @atlandco on Instagram to be featured!
1/3 Cup Extra Virgin Olive Oil
2 TB Chopped Toasted Walnuts
Sea Salt and Black Pepper to Taste
Blend all the ingredients in a blender until smooth.
1 LB Cherries, pitted and chopped
2 TB Minced Red Onion or Radishes
1 Jalapeno, Chopped, Ribs and Seeds removed
2 TB Finely Chopped Cilantro
Combine all ingredients in medium bowl and stir to blend. Cover and chill 1-2 hours to blend flavors. Serve with grilled meat, or with chips as an appetizer.
You can make both of these recipes year round, using frozen cherries
You can always substitute chopped radishes for chopped onion in a recipe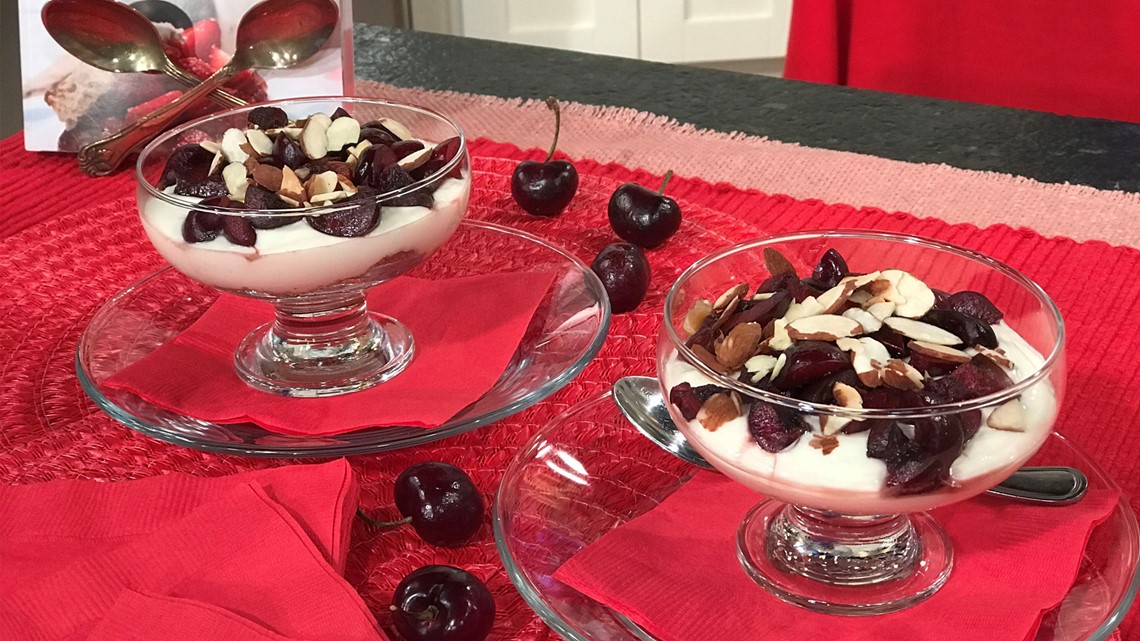 Cherry Cream Cheese Pie Parfaits
A super easy way to get the taste of best of-the-season cherry pie – without all the work!
¾ Cup Graham Cracker Crumbs
8 OZ Whipped Soft Cream Cheese, softened
4 OZ Nonfat Plain or Vanilla Greek Yogurt
1 LB Cherries Pitted and Chopped
2 TB Orange Juice or Cherry Liqueur
¼ Cup Toasted Sliced Almonds
To make the crust, whisk together the cracker crumbs, sugar and melted butter and spoon into 4 - 6 small bowls or glasses.
Add the cream cheese, yogurt, honey, lemon juice and vanilla to a bowl and whisk together. Add to the bowls or glasses.
Mix the cherries and juice or liqueur together. Spoon over the cream cheese mixture and top with sliced almonds!
What to drink with yummy summer cherries?
Sangiovese is the perfect pair for savory cherry dishes:
It has a distinctive cherry flavor along with earthy and sometimes "herby" notes
It is the main grape in a familiar wine - Chianti
You can serve it slightly cool and find it in any grocery store