Celebrate Presidents Day with all the potatoes! Taste and Savor's Chef Nancy Waldeck shared spud-inspired recipes for National Potato Month on Atlanta & Company: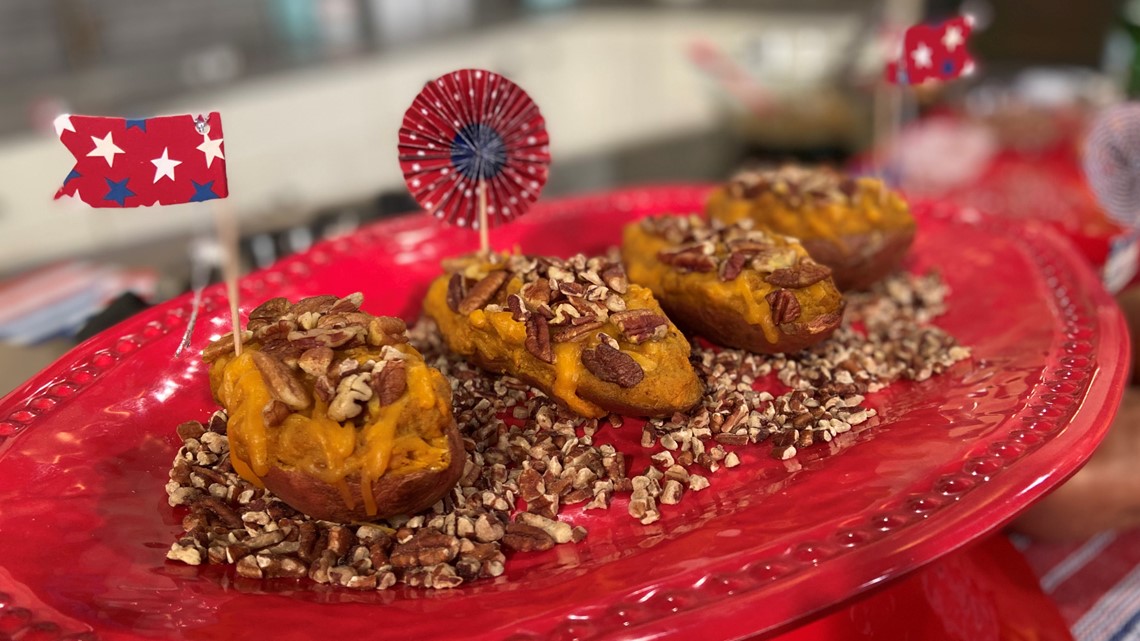 Double-Stuffed Sweet Potatoes
2 Large Sweet Potatoes
1 TB Unsalted Butter
2 TB Extra Virgin Olive Oil
1 TB Garam Masala
1 tsp Turmeric
½ tsp Fine Sea Salt
½ tsp Freshly Ground Black Pepper
¼ Cup Coconut Milk
8 oz Shredded Cheddar Cheese
1 Cup Coarsely Chopped Pecans, roasted
Preheat oven to 400F. Prick skins of potatoes several times. Roast until soft for about 45 minutes. When cool enough to handle, cut potatoes in half and scoop out flesh into a bowl. Make sure to keep skins intact for stuffing.
In a small sauté pan melt, butter and oil together. Mix in spices, salt and pepper and cook until fragrant, then add milk. Pour warm mixture over potatoes and mash thoroughly.
Reduce oven to 350F. Spoon potato mixture into empty potato skins. Sprinkle with cheese and bake until thoroughly warm, or about 15 minutes. Garnish with nuts.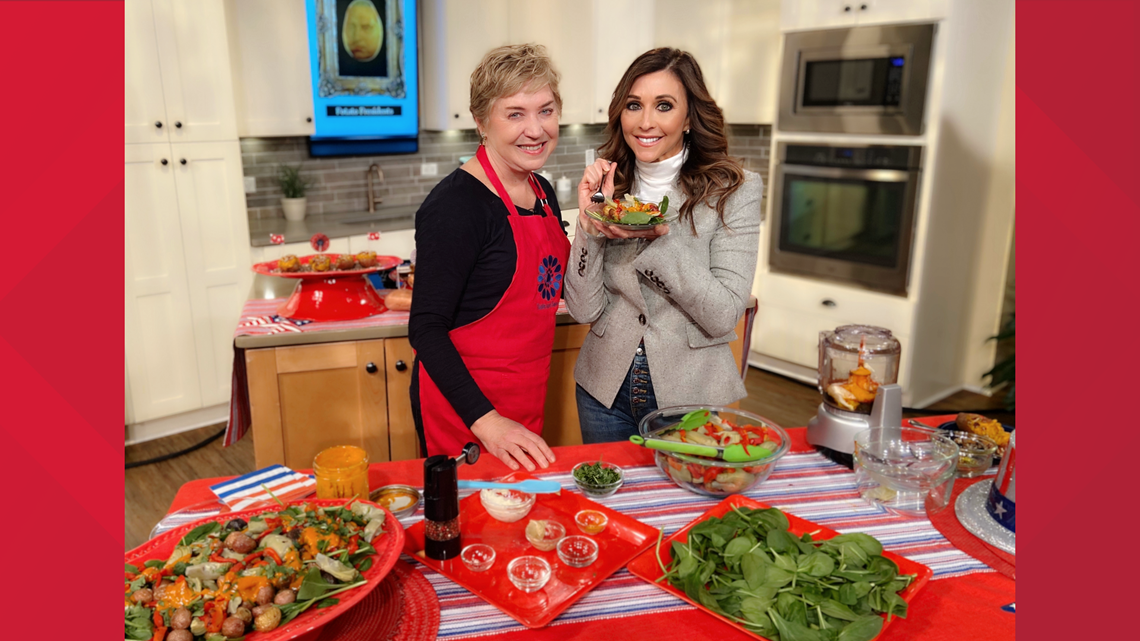 Smoky Potato and Artichoke Salad
3 LB Cooked Fingerling or Baby Potatoes in 1" Pieces
3 Cups Cooked, Frozen Artichoke Hearts
1 Cup Roasted Red Peppers, Cut in Strips
1 Recipe Smoked Paprika Dressing*
½ Cup Chopped Cilantro for Garnish
Bed of Chopped Spinach for Serving
Toss the potatoes, artichokes and red peppers together in a large bowl and toss with a drizzle of the dressing. Pour on to a platter lined with spinach. and garnish with chopped cilantro.
2 Garlic Cloves
1/4 Cup Light Olive Oil Mayonnaise
2 TB Dijon Mustard
2 TB Red Wine Vinegar
2 TB Lemon Juice
¼ Cup Extra Virgin Olive Oil
2 TB Smoked Paprika
1 Tsp Turmeric
Sea Salt and Freshly Cracked Black Pepper to
Taste
Place all ingredients in the food processor and puree.
The earthy, meaty texture and flavor of potatoes calls for a bottle of Pinot Noir. We're going to Williamette Valley, Oregon for this one, its juicy fruit-forward flavors of cherry will complement both the creamy double-stuffed potatoes and the smoky potato salad.