Shake up your view on stew!
Chef Nancy Waldeck from Taste & Savor shared an easy stew recipe with Christine on 'Atlanta & Company'.
Get her Cilantro Fish Tagine recipe below and tag A&C in a pic on Facebook or Instagram if you try it out.
Easy Cilantro Fish Tagine
The ingredients we are using are going to add a lot of flavor to our stew; you can switch the cilantro out with lots of different herbs – like parsley or dill.
We're working on a spice blend called a Chermoula today - A Chermoula is a marinade used in Middle Eastern Cooking. It is usually used to flavor fish or seafood. Chermoula is often made of a mixture of fresh herbs, oil usually olive, lemon juice, garlic cumin and salt – but always with garlic and cilantro.
1 Tsp Each: Sea Salt, Cumin, and Smoked Paprika
Place all the ingredients in a food processor and whizz until chunky.
2 LB White Fish cut in 1" chunks like Cod or Haddock
(Either are easy to find in the frozen section of your local grocery store!)
Add all the marinade to a ziplock bag, reserving 2 TB. Add the White Fish and massage the bag to make sure all the fish is covered.
2 Cups Gold Potatoes, chopped
Place the potatoes in a saucepan and cover with water by 1". Bring to a boil, add salt and cook for about 10 minutes or until just barely done.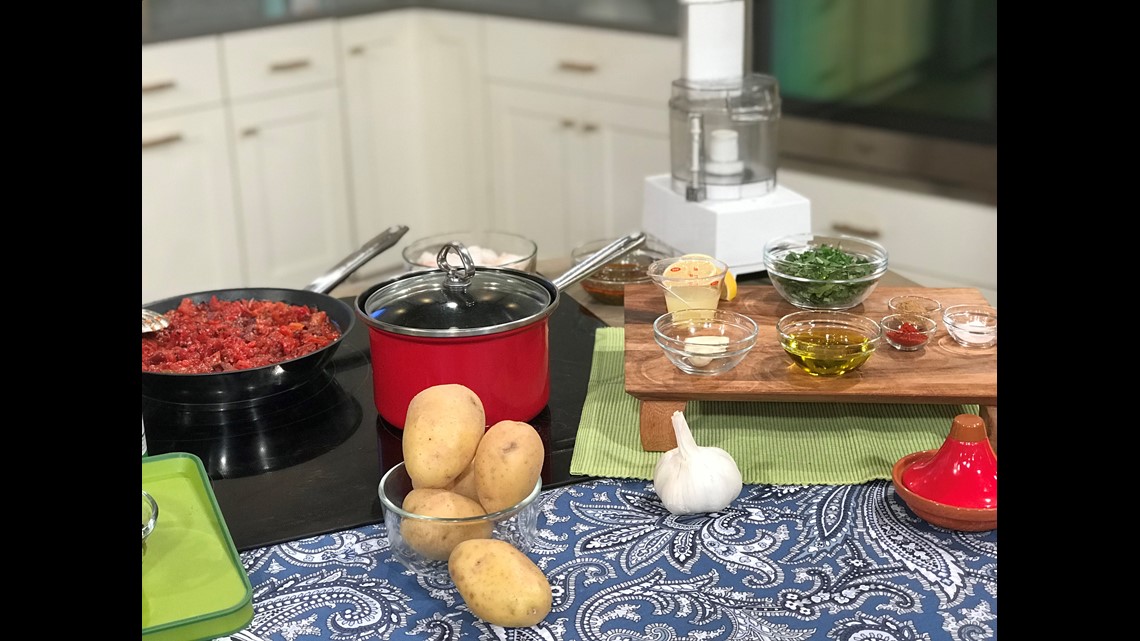 5 Cloves of Garlic, Grated
2 (15 oz) Cans Fire Roasted Tomatoes, Drained
2 Roasted Red Peppers, Chopped
1 Cup Chopped Kalamata Olives
To make the tomato sauce, heat the oil in a large sauté pan, add the garlic and tomatoes. Chop the peppers and olives and add to the tomatoes, add the reserved 2 TB marinade and cook and stir for 5 minutes.
Step Four: Assembly and Cooking.
½ Cup Dry White Wine like Sauvignon Blanc or Pinot Grigio
Chopped Cilantro for garnish
Place the potatoes in the bottom of the tagine. Spoon ¾ of the tomato sauce on top of the potatoes. Add the marinated fish chunks next, and top with the rest of the tomato sauce. Pour the wine over it all. Over medium heat, bring the tagine to a simmer. Cover and cook for 15 minutes, or until the fish is done. Taste for Salt and Pepper. Sprinkle with Cilantro and serve.