Re-think chocolate in the kitchen!
Chef Nancy Waldeck from Taste & Savor shared recipes that put a spin on the Valentine's favorite.
Get her latest ideas below and tag 'Atlanta & Company' on Facebook and Instagram in your homemade victories!
Straight from Chef Nancy:
We usually think of chocolate as an exclusively sweet ingredient, but if you've ever tasted a nibble of unsweetened baking chocolate, you know it's a bitter, somewhat fruity flavor.
Only when cacao beans are processed with milk and lots of sugar, it turns into the tasty chocolate truffles and confections we know and love. A skillful use of chocolate in savory cooking can add a whole new tool to your gourmet toolbox and greatly increase your pleasure both in cooking and eating.
Savory Cooking with Chocolate Tip #1: Think Fruity
Cooks all over the world use the rich taste of chocolate to make sauces and dressing delicious – for instance Moles in Mexico.
Winter Greens Salad with Mole Vinaigrette
2 Heads Radicchio or other purple or red cabbage, thinly sliced
1 Cup Chopped Marcona Almonds
1 Cup Shredded Manchego Cheese
1 Cup Chopped Spanish Green Olives
2 Corn Tortillas, sliced in thin strips
Toss together all ingredients except tortillas. In a cast iron or sauté pan, cook tortillas in oil until crisp. Drizzle salad with mole vinaigrette. Top with tortilla strips.
¼ Cup Extra Virgin Olive Oil
1 Jalapeño, ribbed, seeded and minced
1 TB Unsweetened Cocoa Powder
Sea Salt and Freshly Ground Black Pepper to taste
Place all ingredients in a jar and shake well.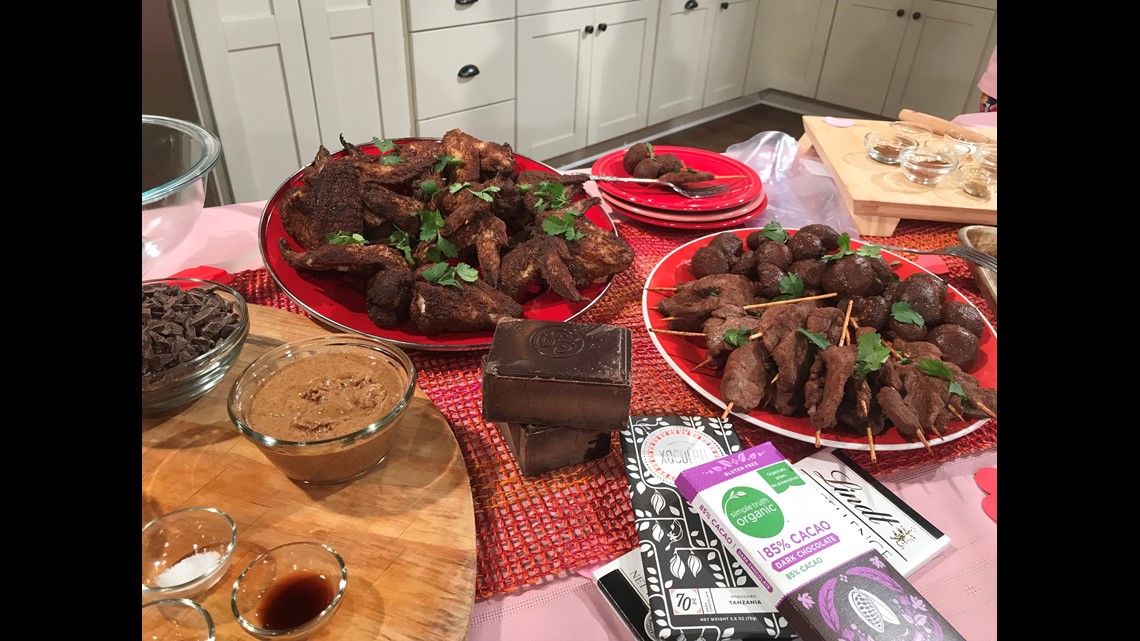 Savory Cooking with Chocolate Tip #2: Add Chocolate with other Strong Flavored Spices to balance the bitter flavors.
Cocoa Powder is super with other strong spices, like this chocolate chili rub that can be used on any kind of protein: chicken, fish, steak, pork – even mushrooms!
1 TB Unsweetened Cocoa Powder
1 TB Piloncillo, Jaggery or Dark Brown Sugar
1/2 Tsp Freshly Ground Black Pepper
Whisk together all the ingredients in a small bowl. Use as a rub for pork, steak, chicken or even mushrooms!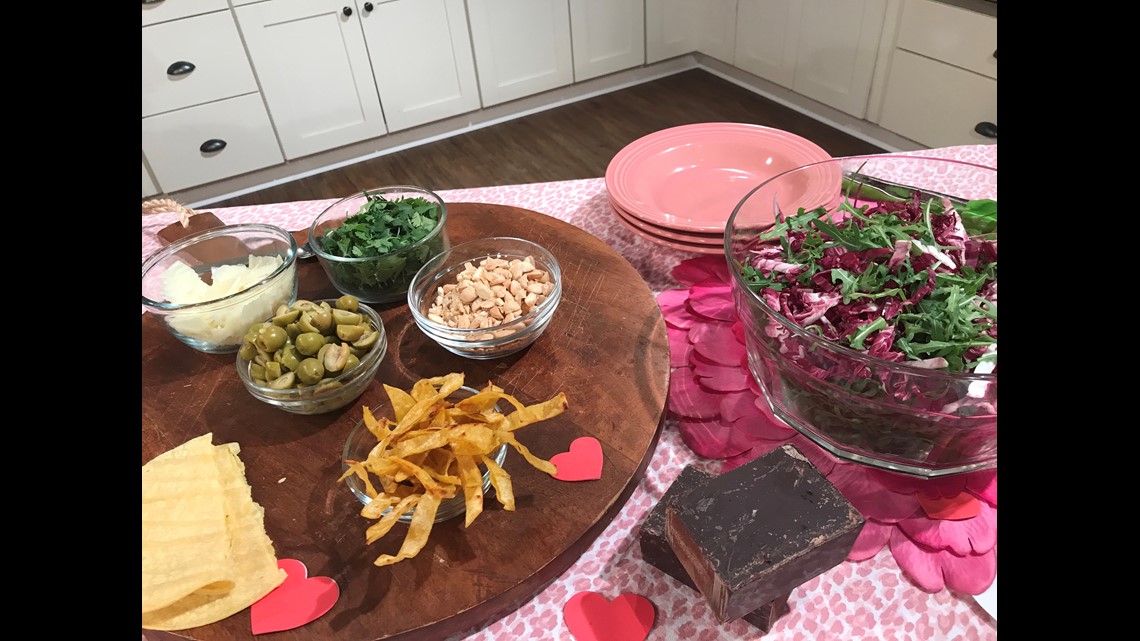 Banana Chocolate Bite Cookies
1 Cup Natural Almond Butter
1/2 Cup Demedera or Raw Sugar
1 1/2 Cups Chopped Dark Chocolate at least 70%
Preheat oven to 350F. Mash the banana in a large mixing bowl. Add the almond butter, egg, vanilla, baking soda, sugar and salt, stirring to combine. Fold in the chocolate.
Drop heaping teaspoons of the dough on a parchment-lined baking sheet, placing the cookies about 1 1/2" apart. Bake them for 8-10 minutes, or until cookies are lightly golden brown and set.