ATLANTA — At the Yoga Studio Atlanta, owner Ryan Kornegay wanted to create a safe space for everybody of all ages to enjoy. The yoga founder wanted a small studio to intentionally create an intimate, mindful space and experience for students to gather.
Some of her students have even told her that her space "helped people lay their burdens down."
Kornegay got her start in yoga from P90X, a workout video series. She then started practicing at local studios in Atlanta, where she found her passion for the practice of yoga but found some disparities existed for people of color in those spaces.That's when she opened up The Yoga Studio Atlanta on Howell Mill Road in 2021.
"I wanted to create an environment where we would feel comfortable exploring the practice of yoga, where we could show up as our authentic selves, and not be the only person of color in the room at the student and teacher levels," Kornegay said.
Contributing to inclusivity in yoga
The yoga owner wanted to build a space for communities of color to discover themselves. She feels that many Black people are now starting to be more aware of their sense of self and be able to find that through activities like yoga.
"We've built this safe space for us to explore this intentional movement, breathwork, and healing in a way we historically have not," she explained.
Kornegay added that having that support to be vulnerable in spaces also allows the community to grow and heal their inner selves.
"Opening up this beautiful practice to our community to inspire people to believe that we have what it takes to live harmonious lives is something that we're teaching every day," Kornegay said.
The studio offers sound baths, Vinyasa flow and more. Sound baths are sessions where an instructor plays a number of instruments live and builds a vibration that people can feel while they sit in poses, according to the studio founder.
Kornegay described the session as gentle where students can move slower and focus on their breathing.
BELOW | A video of students participating in a sound bath at an Atlanta park.
Students inspired by their flow
From intimate gatherings to picking a hobby back up again, students who attend classes at the Yoga Studio Atlanta have not only been inspired by the practice but have even encouraged some of their loved ones to participate.
Kornegay recalled one moment when a generation of women practiced at one of her classes connecting with each other on a whole other level.
"It was just beautiful to have so many different generations in there, moving the same, holding space for each other and just moving the same way, connecting their breath, flowing together and wanting to be there together," she said.
The yoga founder has even said some children at the age of seven enjoyed her classes wanting to come back, excited to learn new poses.
"Inspiring our children in this wild world where there are so many other things they could have their attention on but they choose yoga really feels amazing," the studio founder said.
The studio also hosted a virtual event for an all-woman's college in Massachusetts where the owner practiced yoga with some students and spoke about what it means to be a Black woman in yoga and a Black business owner at this time in history.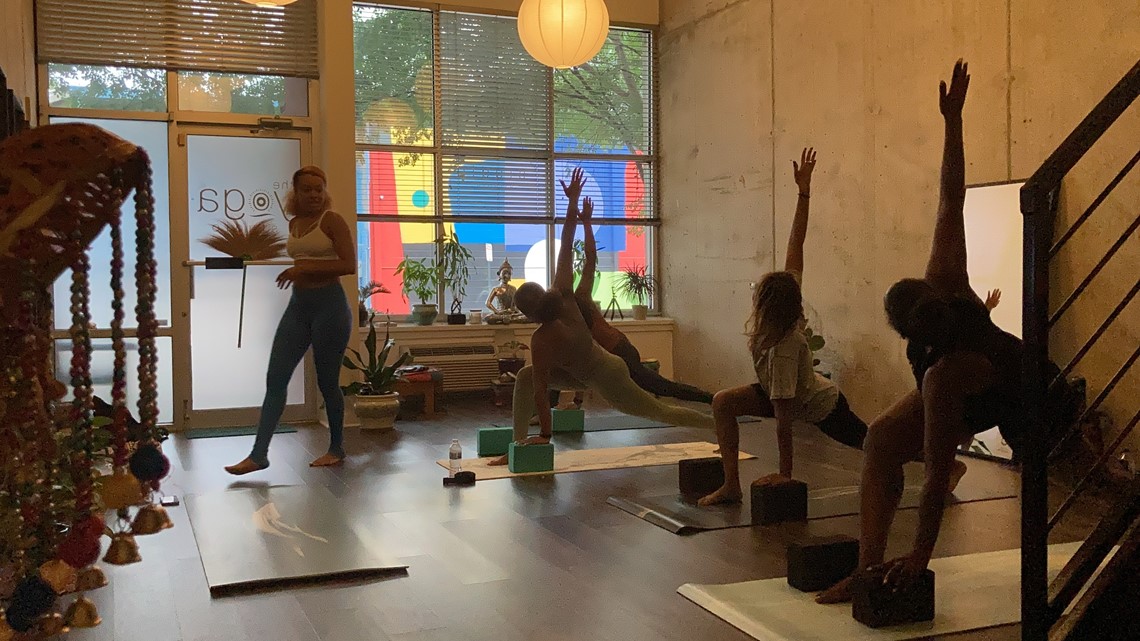 She hosted a private class for couples just a few months ago and felt inspired to see them flow in such an intimate way where they shared that space emanating Black love. It was another encouraging moment that she's serving her community in a healthy way.
Kornegay said that sometimes her personal life gets hard, but having to put those feelings aside and shift to be there for her students is always important. Although she is teaching her students, she feels they teach her.
Those who are interested in joining Kornegay and her team for a yoga class can sign up here. She encourages everyone to try the practice even if it's through a YouTube video.
It's all about flow at The Yoga Studio Atlanta | Founder shares her journey to creating protective space
This story is a part of a series highlighting local Black businesses and their embodiment of Black excellence in light of Black History Month. To view more stories, visit 11alive.com/blackhistory