Bring on all the gadgets!
Tech guru Jennifer Jolly stopped by 'Atlanta Tech Edge' and shared her top sports gadgets with host Cara Kneer.
Watch 'Atlanta Tech Edge' Sunday mornings at 11:30 on 11Alive following 'Atlanta Business Chronicle's BIZ'.
BEST HIGH-TECH GIFTS FOR SPORTY DADS:
The Boosted Mini is shorter and less expensive than it's siblings in the electric skateboard family. This 29.5-inch long model offers a top speed of 18 mph and a range of 7 miles. The smaller size is easier to carry around and fits better under a desk.
This is a tiny tracker on steroids! It uses Bluetooth, Cellular, and GPS to locate anyone or anything valuable next door or anywhere in the world (even under 14 ft or less of water) and is a little bigger than a quarter. It can locate a $3000 bike, set of golf clubs, snowboard, child or chihuahua. It works in 157 countries.
3. Wacaco Nanopresso portable mini-espresso maker ($65)
Just because you're miles away from civilization doesn't mean you can't enjoy an espresso! This portable espresso maker pulls shots without electricity or even a motor. You supply finely ground coffee, hot water, a cup and muscle to prime its manual pump. After that the Nanopresso does the rest.
4. Ember Travel Mug ($149)
Ember's smart travel mug lets you adjust the heat of your iced coffee or hot tea straight from your phone, ensuring its stays cool or warm, no matter what the workplace thermostat is doing.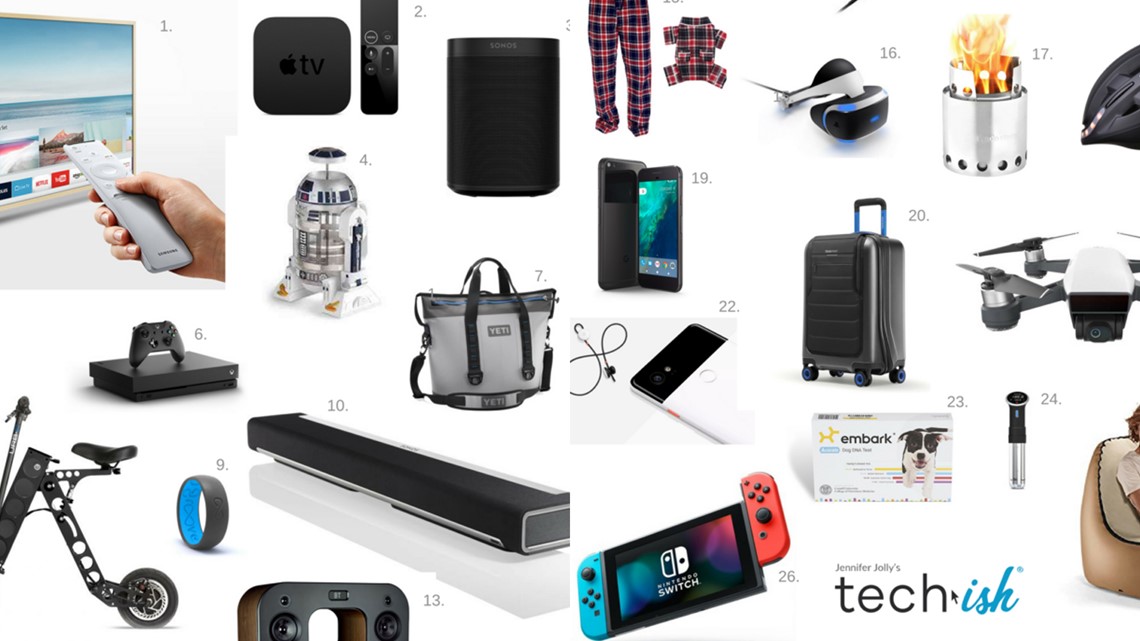 SmartHalo lives on your handlebars and pairs with your smartphone to turn your bike into a smart bike. It includes turn-by-turn navigation, automatic light that turns on when it gets dark, an alarm with an internal motion sensor, tracks your fitness and goals, and pairs to your phone for calls and SMS notifications.
6. MOBOT Foam Roll Water Bottle ($49)
The Mobot is a foam roller water bottle. You read that right. This baby keeps you hydrated and gives you a massage!
This gadget is amazing. It's a small rechargeable air and vacuum pump that can blow up all your pool and beach toys, rafts, air mattresses, you name it. Perfect for camping or traveling, it can also help save space. Use it with garment vacuum bags to compact items that normally take up a lot of room, such as sweaters and blankets.