ATLANTA -- The Howell Mill Rd bungalow that become known as a rapper's "trap house" is on the market, and likely not long for this world. It's in a busy part of town with a lot of development. Yet it remains a hip hop landmark.
On paper, it's just a modest outdated 1940 house on Howell Mill Road. But combined with adjacent properties also for sale by the same developer, it's a good bet to become unrecognizable after it's sold.
A year ago, it was the gaudiest spot on Howell Mill Road – labeled with the puzzling word "trap," and used as a stage for a music video recorded by the rapper known as 2 Chainz.
It became an attraction for fans of the musician, and a nuisance for neighbors who endured legions of visitors.
"One of my clients described it as Pepto Bismol pink. It was pretty obnoxious," recalled Sue Thatch, who runs Express Frames across the street. "It was just chaos."
When the crowds cleared and the house reverted to a more neutral color, signs appeared on it and adjacent properties – signaling an area ripe for Atlanta-style development.
Here's how 2Chainz described it to a tabloid: "I don't think they would knock down the Statue of Liberty. They need to keep that up, man," he told TMZ, calling the property "the Eiffel Tower of Atlanta."
The analogy drew a chuckle from Thatch. "I don't know about Atlanta's Eiffel Tower. Because it really wasn't a tower. It was a little pink house with the word 'trap' on it," she said.
Thatch is rooting for the developer to be bold, once it changes hands.
"I can totally see something with all glass going in and looking just absolutely stunning," Thatch said. "So hopefully, that's what their plans are."
Cartel Development did not immediately respond to our inquiries about what's planned.
Since it made its debut last year, the house on Howell Mill Road attracted thousands of people, from all over the world, hoping to snap a photo with it for the 'Gram.
The Atlanta rapper 2 Chainz rented the home last month as part of a marketing campaing to promote his latest album, "Pretty Girls Like Trap Music." But it quickly became more than that.
Over the weeks, the house was used as a site to host multiple community events, from a #TrapClinic for free HIV/AIDS testing to a #TrapChurch, where organizers came up with ways to build up their community.
It even came back over the winter as the Trap Winter Wonderland, complete with lights, Christmas decorations and music.
Photos: 2 Chainz's Trap Wonderland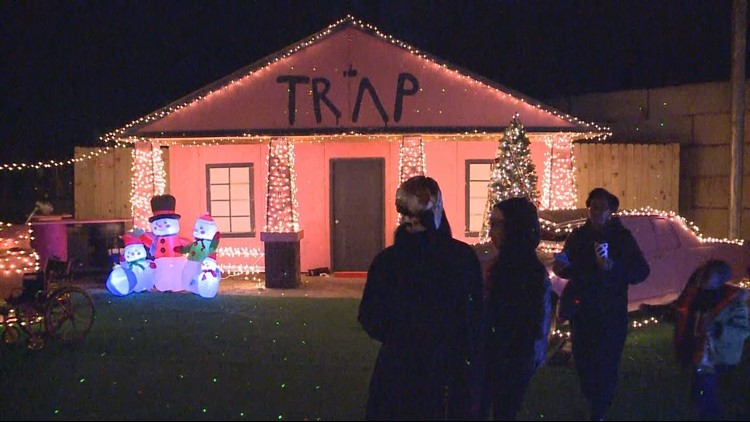 The house got its fair share of complaints, too, as the increased foot traffic meant more congestion. And at one point, the bright pink car that was parked on the lot had to be towed away after it became a safety hazard from all the people jumping on it. (Although 2 Chainz's response to the car getting towed was pretty great.)
The lease, which was initially only supposed to last 10 days, finally ended on Friday, July 7, 2017.
"All good things must come to an end...but man was this a lituation to say the least," the prettygirlsliketrapmusic account posted on Instagram.
Photos | Atlanta's pink trap house