ATLANTA — The production company behind the upcoming film "Bad Boys for Life" has been cited with a nearly $9,500 fine after the U.S. Department of Labor found it failed to protect employees while shooting a movie in Atlanta.
The Occupational Safety and Health Administration cited Garden Films Productions LLC on Aug. 6 for the "serious" violation.
According to documents from the Department of Labor, one employee was injured Feb. 15 while performing a motorcycle stunt in an empty Norcross parking lot off Crescent Drive.
OSHA said the employee performed the stunt simulating a motorcycle explosion without wearing boots or other protective footwear, resulting in the minor injury. Another employee suffered an injury that OSHA said required hospitalization
OSHA cited the company $9,472 for the violation, which the company must pay by Aug. 16.
The company now has 15 business days to comply, request an informal conference with OSHA's area director, or contest the findings before an independent review commission.
11Alive tried to reach the company on the phone number listed for its Atlanta office, but only got a busy signal.
RELATED: Atlanta's Kirkwood neighborhood transforming into action-packed movie set for 'Bad Boys for Life'
Production for "Bad Boys for Life" was announced back in November. Actors Will Smith and Martin Lawrence will reprise their roles as cops Mike Lowery and Marcus Burnett from the 1995 original. The duo then came back nearly a decade later with the sequel "Bad Boys II" in 2003. The film grossed $138.6 million.
Crews began prepping for the scenes as early as Sunday, Jan. 13. The A-Scene spent the early morning hours capturing crews laying down tropical plants to give the location the look of Miami, Florida.
RELATED: 'Bad Boys for Life' stars spotted filming scenes in Buckhead
11Alive
Crews split their time between Atlanta and Miami for the feature film produced by Jerry Bruckheimer, Melissa Reid, Chad Orman, Mike Stenson, and James Lassiter. The film also stars Joe Pantoliano, Alexander Ludwig, Vanessa Hudgens, Charles Melton, Jacob Scipio and Paola Nuñez.
The film is set to hit theaters Jan. 17, 2020.
RELATED: Producers casting prison guard roles for 'Bad Boys 3'
Martin Lawrence, Will Smith filming 'Bad Boys for Life' in Buckhead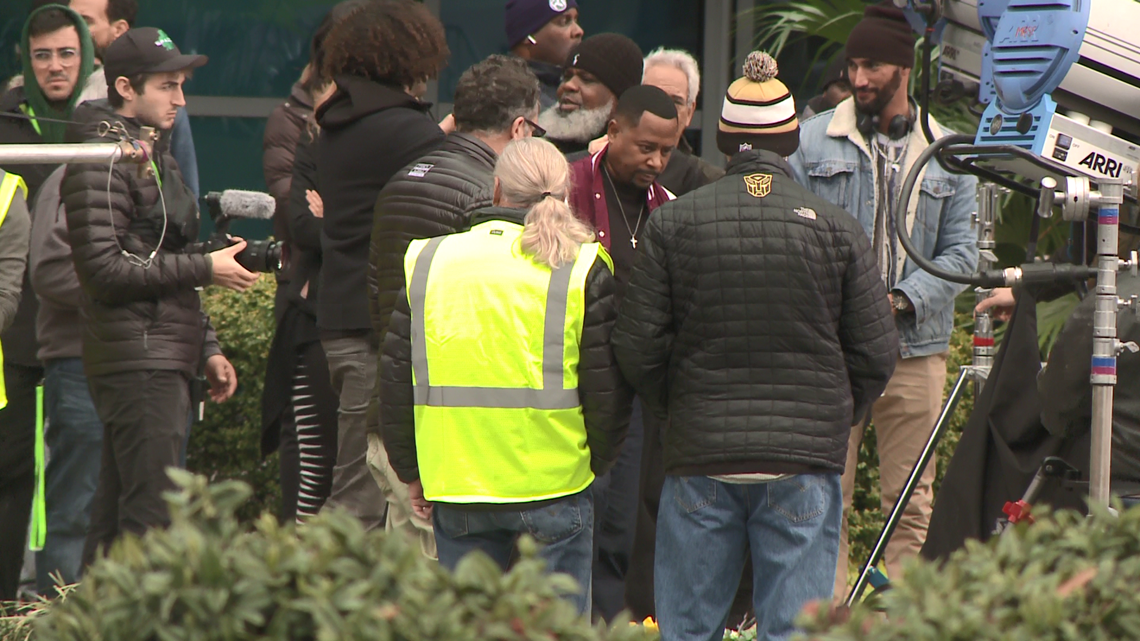 MORE FROM THE A-SCENE
Stacey Abrams not running for president, aide says
Man invites police to help mow lawns in all 50 states
She was found left to die in a dumpster. 36 years later, she wants to meet the strangers who saved her.