ATLANTA — A cold and cloudy forecast didn't stop production crews from creating the look of South Beach, Miami for the first day of production for "Bad Boys for Life," a highly-anticipated follow up to the Martin Lawrence and Will Smith action series "Bad Boys."
The A-Scene spotted Lawrence and Smith filming scenes near the Waldorf-Astoria on Peachtree Road where crews blocked off the sidewalk.
The stars were seen wearing heavy parkas. Lawrence was later seen wearing a varsity jacket for another scene. Crews added several palm trees to the area to give Atlanta the feel of tropical Miami.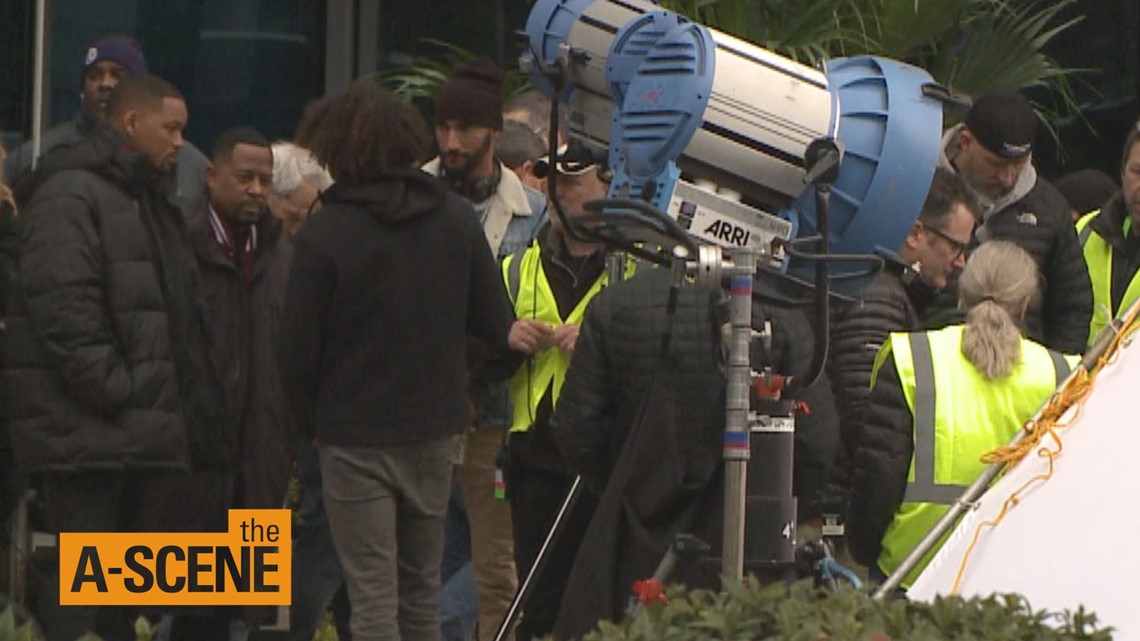 A filming notification from an A-Scene inside also indicates crews will be shooting scenes in the Kirkwood neighborhood on Tuesday.
Just two days before, Smith and Lawrence hosted a screening preparing for the first day of shooting.
Smith posted the moment to his Instagram with the caption, "First Day of Shooting tomorrow! We watched @BadBoys 1 & 2 together over the weekend. It's about to be KRAZY! #badboysforlife"
Set to hit theaters Jan. 17, 2020, production for "Bad Boys for Life" was announced back in November.
Smith and Lawrence will reprise their roles as cops Mike Lowery and Marcus Burnett, a duo that has fans eager for more films.
Martin Lawrence, Will Smith filming 'Bad Boys for Life' in Buckhead
The trilogy follows the Miami PD and its elite AMMO team's attempt to take down the head of a drug cartel.
According to Production Weekly, Armando is a cold-blooded killer with a vicious, taunting nature. He is committed to the work of the cartel and is dispatched by his mother to kill Mike (Smith).
Smith and Lawrence made box office history when the original "Bad Boys" hit theaters in 1995 and became a success. The film grossed $65.8 million in domestic box office revenue.
The duo then came back nearly a decade later with a fiercely produced sequel "Bad Boys II" in 2003.The film grossed $138.6 million.
Crews will split their time between Atlanta and Miami for the feature film produced by Jerry Bruckheimer, Melissa Reid, Chad Orman, Mike Stenson, and James Lassiter.
The film also stars Joe Pantoliano, Alexander Ludwig, Vanessa Hudgens, Charles Melton, Jacob Scipio and Paola Nuñez.
"Bad Boys for Life" is being directed by Adil El Arbi and Bilall Fallah, who are most known for directing episodes of FX's Snowfall.