ATLANTA — Beyonce posted a heartfelt message to Tyler Perry after his grand opening weekend.
Perry made history as the first African American man to own his own major movie studio. Hollywood's elite came out to celebrate the accomplishment of Perry's 330-acre property.
In an Instagram post, the superstar said that Perry inspired her to dream bigger. "Thank you my Virgo brother for so much love and passion put into every detail. My prayer today is that you will take it all in. You inspire me to dream even bigger." The music sensation went on to describe just how historic the moment was.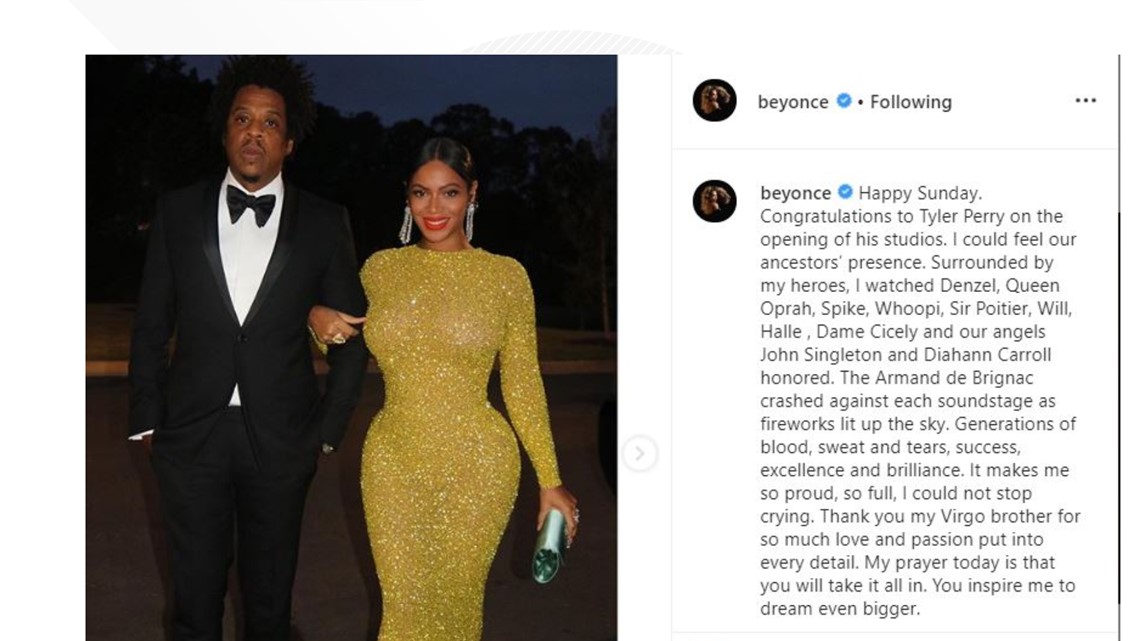 "Generations of blood, sweat and tears, success, excellence and brilliance. It makes me so proud, so full, I could not stop crying," Beyonce wrote in a post.
Beyonce also congratulated all of the people honored with a namesake sound stage on the property. "Congratulations to Tyler Perry on the opening of his studios. I could feel our ancestors' presence. Surrounded by my heroes, I watched Denzel, Queen Oprah, Spike, Whoopi, Sir Poitier, Will, Halle, Dame Cicely and our angels John Singleton and Diahann Carroll."
Power-actress Halle Berry also described the event as "major." Berry told 11Alive that being honored with a stage is something she will never forget.
"It's crazy. It means when I'm long gone some person is going to walk by and be like oh my god who is that...and somebody's going to have to explain it," Berry said. "I'll still be around long after I'm gone."
She told 11Alive's Francesca Amiker that she's learned a few things from Perry.
"His kindness. He's one of the kindest and most gracious humans I've ever met," Berry said. "If he can help...he will do it...and I love that about him."
Other stars in attendance included: former President Bill Clinton and Secretary of State Hillary Clinton, Diddy, Ava DuVernay, Samuel L. Jackson, Viola Davis, John Lewis, Bernice King, Stacey Abrams, and Maxine Waters. Atlanta's very own Usher, Ludacris, Jeezy, 2Chainz and T.I were also in attendance.
Oprah Winfrey also praised Perry for this huge accomplishment.
PHOTOS: Tyler Perry Studios grand opening red carpet