ATLANTA — Moviegoers got the surprise of a lifetime when Dwayne Johnson, also known as "The Rock," appeared at a screening of "Fighting with My Family' in Midtown.
The film in which Johnson appears and co-produced is about the true story of Saraya Bevis who became a WWE superstar.
Johnson announced on social media that he would appear at a screening following several positive reviews about the film.
"Let's roll ATLANTA! The secret surprise is out thanks to @kevinhart4real's big mouth!
I'll be at REGAL ATLANTIC STATION TONIGHT to surprise the crowd watching #FightingWithMyFamily.
Thank you so much for the love and support everyone — I'm grateful and can't wait to return the love back tonight in the theater. My son Kev is gettin' big," Johnson wrote to his 132 million fans on Instagram.
The story behind "Fighting with My Family" begins with a documentary – and an international motion picture megastar's restless night. In 2012, Dwayne Johnson was filming "Fast and Furious 6" in London.
Unable to fall asleep, Johnson turned on the television and began watching a non-fiction film produced by the U.K.'s Channel 4 entitled "The Wrestlers: Fighting with My Family," the film followed a young woman, Saraya Bevis, who fought under the name "Paige," and her outrageous, wrestling-obsessed family.
Johnson, who founded and runs Seven Bucks Productions, a successful production company committed to making a diverse array of films and television shows, immediately recognized the potential in the documentary.
"It had something special that resonated with me, and I thought it could be turned into a really compelling movie."
The Rock surprised fans watching film at Atlantic Regal Station You're currently editing.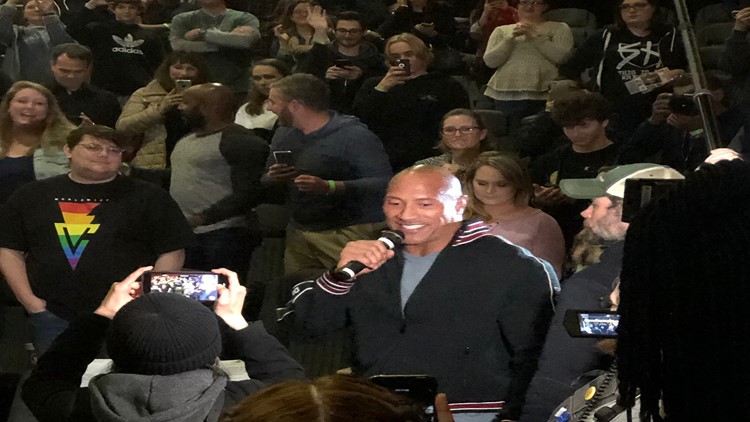 Johnson's connection to the film wasn't surprising: like Paige, Johnson hails from a family of prominent wrestlers, including his father, grandfather and uncles, and his mother was the sport's first female promoter. He saw elements of his own family's dynamics – both the hardships and triumphs – in the Bevis clan.
The film centers around Paige and her brother Zak are ecstatic when they get the once-in-a-lifetime opportunity to try out for WWE.
But when only Paige earns a spot in the competitive training program, she must leave her family and face this new, cut-throat world alone.
Paige's journey pushes her to dig deep, fight for her family, and ultimately prove to the world that what makes her different is the very thing that can make her a star.