We're talking to one of our hometown's biggest rising stars and going inside the second season of 'grown-ish' with Atlanta's very own Chloe and Halle Bailey.
You may remember when the duo invited The A-Scene behind the scenes as they performed during Beyoncé and Jay-z's On The Run: 2 tour. Now they're back on TV, with their cheeky roles as Jazz and Sky on the hit series!
Here's what happened when they gave The A-Scene a sneak peek!
'grown-ish', the critically acclaimed 'black-ish' spin-off starring Yara Shahidi, has returned to Freeform for its sophomore year.
Chloe x Halle star as twin sisters Jazz and Sky --- fan-favorite characters on the show. Last season their characters tackled topical conversations including dating as black women and the cutthroat world of college athletics.
'black-ish' creator Kenya Barris first considered the girls for the roles when he saw them perform at a BET awards show.
"We always love our characters because we feel like they're an alter ego of us. We're from ATL, we're from here, so its fun to express that ratchetness inside of us," Chloe said.
PHOTOS: Chloe x Halle's epic homecoming visit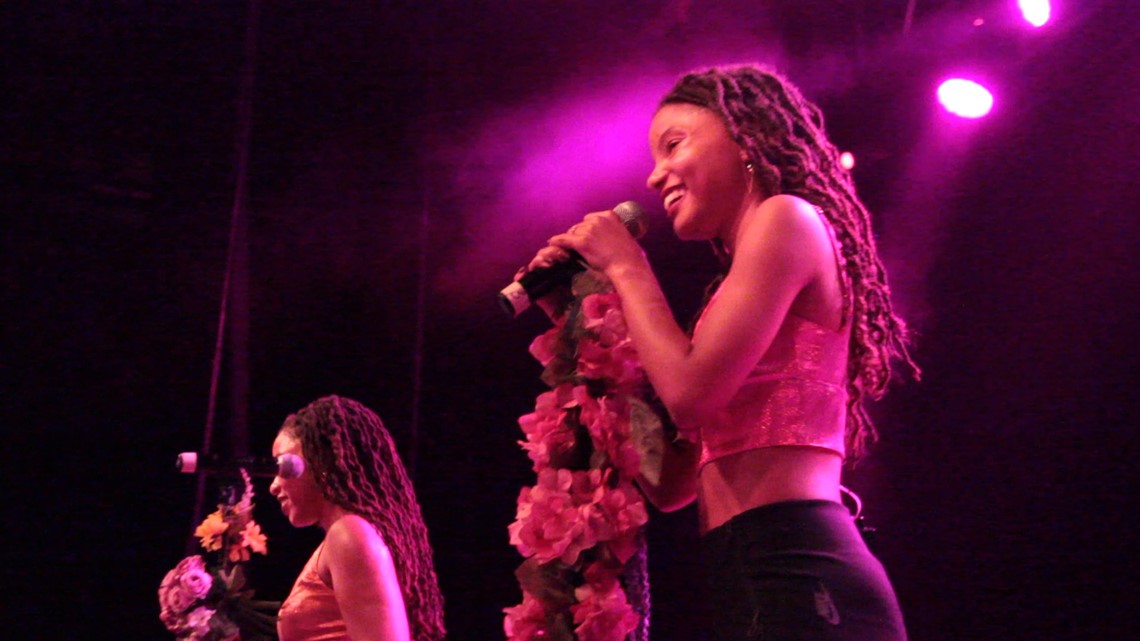 Outside of acting, the duo are musical prodigies who recently opened for Beyoncé and JAY-Z's "On The Run II" tour, and are signed to Beyoncé's label Parkwood entertainment.
"When we first started filming this season, it was the end of tour. So we were flying back and forth from performing, and that was a lot of work, but it was lot of fun because we got to hang out with our friends and perform on stage, and I feel like when you have a passion for things, you make it work," Halle said.
RELATED: 2019 Grammys: These are the nominees
RELATED: Georgia's own Chloe x Halle's epic homecoming visit
With a critically acclaimed album, and a Grammy nomination, the girls are solidifying their place in the mainstream music industry.
"It's been really fun. We just performed "Everywhere" on James Corden's "Late Late Show" and our album just got nominated for a Soul Train award so we're really happy people like our music," Halle said.
The singers have also become a voice for young people who struggle being original in social media's microwave impression on society.
"My general thing would have to be just yourself. You can't go wrong with that. A lot of times when you see other (social media) accounts everyone looks beautiful, face, filters all of that. And everyone who likes it will like it, and anyone who doesn't can unfollow and leave the page," Halle said.
"I don't feel like there are any standards you need to be. You know, just be who you want to be. If you want to wear a bathing suit and post it. Do that, girl. If you're feeling yourself and you want to post yourself with no make up – go for it. Do that as well. Do what makes you happy," Chloe said.
"grown-ish" also stars Trevor Jackson, Francia Raisa, Emily Arlook, Jordan Buhat, Chloe Bailey, Halle Bailey, Luka Sabbat, and Deon Cole.