ATLANTA — The team behind former President Jimmy Carter's exhibit showcasing the rise of the booming television and film industry invited us on an exclusive tour.
"Georgia on My Screen: Jimmy Carter and the Rise of the Film Industry," is a virtual timeline of the Carter's journey pioneering major productions to the Peachtree state.
Beginning with then-Governor Jimmy Carter's creation of the first state film office, the exhibition traces the development and impact of a multi billion-dollar industry in the state.
The exhibition opened May 3 and be on display through the end of the year.
Created with the generous support of the Georgia Film, Music & Digital Entertainment Office, major production studios, local film offices and museums, the exhibition includes artifacts from over 60 productions, filmed over the last 46 years in Georgia, including critically-acclaimed films, blockbuster movies, and major television series.
PHOTOS | Inside Jimmy Carter's historic tribute to TV and film production in Georgia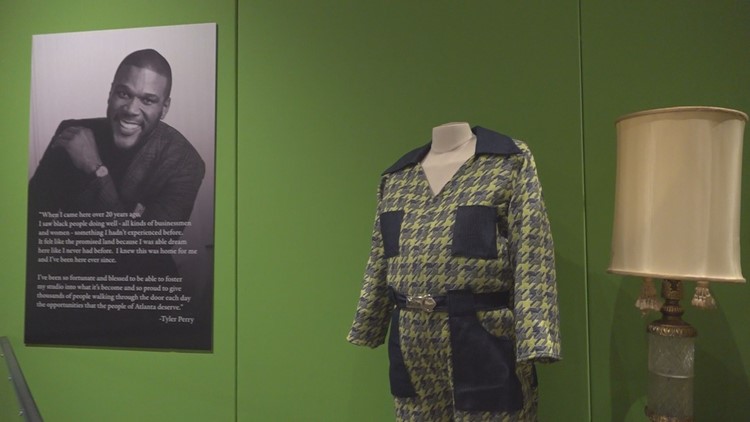 A few highlights of the exhibition include:
The Best Picture Oscar for Driving Miss Daisy
More than twenty objects from AMC's hit TV show The Walking Dead, including Negan's bat, "Lucille" and Daryl's motorcycles
A white oak stake from the Warner Bros. vampire series The Originals-- the only weapon on Earth that can kill an Original vampire
Iconic costumes and artifacts from Netflix's Stranger Things, including Eleven's dress and Chief Hopper's uniform
Vinny's boots and Mona Lisa's dress from the 20th Century Fox film, My Cousin Vinny (1992)
Denzel Washington's coaching uniform from Walt Disney Picture's film, Remember the Titans (2000)
If you would like to chime on the active discussion about the booming production scene in Georgia. Here's a look at some of the events set to take place this in the coming months:
"Women Rising: Taking Charge in ATLwood/Georgia": Panel on the experiences of women in leadership roles in the Georgia Film Industry
Panelists: Dianne Ashford, Christina Northrup, Ryan Buffa / Moderator: Jennifer Brett, AJC
"Looking the Part: Makeup and Costume/Wardrobe Design" OR "Dressed for Success: Makeup and Costume/Wardrobe Design"
Panelists: Denise & Janice Tunnell, Sekinah Brown / Moderator: Francesca Amiker, 11 Alive's The A-Scene
"Creating the Illusion: Location Scouting and Set Design"
Panelists: Jess Royal, Karen Felix / Moderator: Emma Loggins, Fanbolt
"Behind the Glamour: Film Production": Panel with camera operators, photographers, key grips, producers, etc.
Panelists: Tina Rowden, Mary Stankiewicz, Paige Jarvis / Moderator: Allison Keene, Collider