ATLANTA – Films on social justice reflect the current times, especially themes on the political and economic impact of police brutality in the African-American community.
'The Hate U Give,' based on a NY Times best-seller by Angie Thomas, follows events in the life of a black 16-year-old girl, Starr Carter, who is drawn to activism after she witnesses the police shooting of a childhood friend.
"I hope that people will take away that the importance of their voice. I hope that people will take away the face that young people – their lives matter, their dreams matter," Thomas tells the A-Scene.
This powerful and evocative coming of age story is directed by George Tillman Jr. ("Soul Food", "Notorious" and "Men of Honor") from a screenplay by Audrey Wells ('Under The Tuscan Sun').
Thomas and Isaac Klausner serve as executive producers for the film shot in Atlanta in 2017.
PHOTOS: Behind the scenes of 'The Hate U Give'
BEHIND THE SCENES: 'The Hate U Give'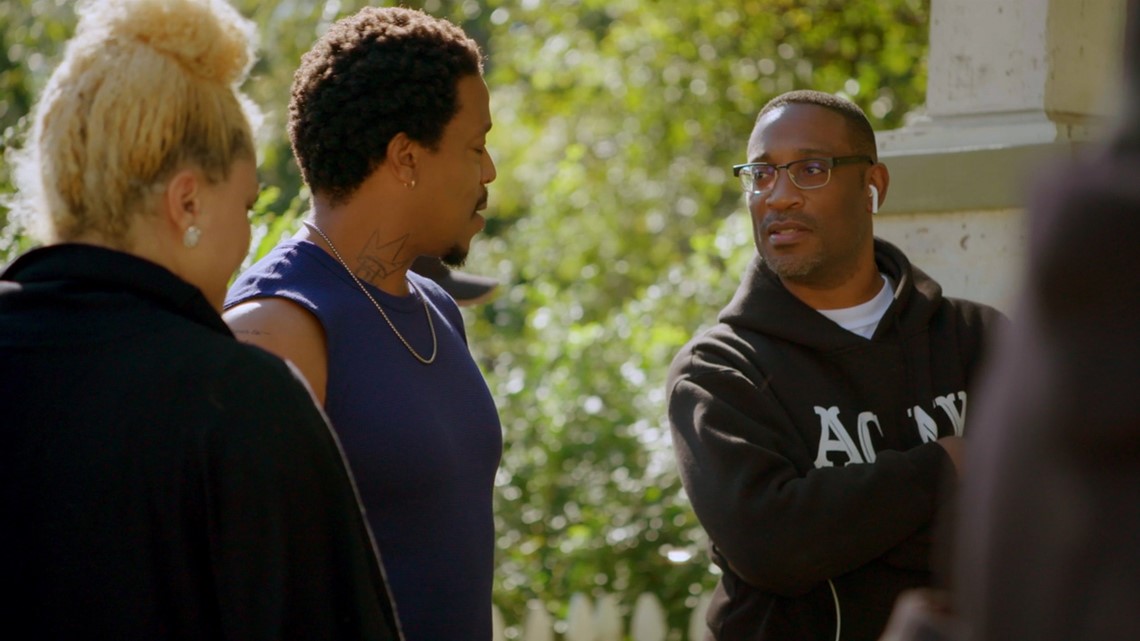 Carter, played by Amandla Stenberg, faces pressures from all sides of the community. Starr must find her voice and stand up for what's right.
"I hope that girls of color specifically feel represented and validated by it. I hope they feel seen and heard and empowered," Stenberg tells the A-Scene during the Atlanta premiere.
Regina Hall Sabrina Carpenter, Issa Rae, and Algee Smith also star in the film.
"Atlanta is a very popular place to shoot because it has many different looks and we were able to find a match for Jackson, Mississippi as Angie had in mind for the book. It had the feeling we were looking for, and the city was very open to having us there," Tillman said.
Stenberg agrees. "Atlanta is probably one of my favorite places ever. There were several other projects shooting at the same time, so it felt like this black cultural mecca. It was amazing to be there and to revel in that energy."
The film's emotionally taxing scenes led the cast to find creative ways on and off set to keep it light. "It helped that most everyone was away from home on this set. Algee grew up in Atlanta so this was sort of his town," Tillman said.
"Every corner of our city is important to the film industry, and so many scenes [including] Mays High School. so many areas of southwest Atlanta that you wouldn't think of for a Hollywood movie, but I think it really speaks to how the world views Atlanta," Mayor Keshia Lance-Bottom tells the A-Scene producer Ryan Dennis.
TJ Wright, an 11-year-old actor, makes his debut in 'The Hate U Give' says he enjoyed coming to Atlanta all the way from his Miami, FL hometown.
"Atlanta is a like a second home to me, so it's great to be here seeing the movie," Wright said.
"It's not just about a made-up story. This is truth in a timely fashion. It's timely right now. It's about identity…finding their true voice, speaking for what you don't like, speaking up for what you believe in and not being afraid to stand out," Smith said.
"There is not a life on this planet that is not valuable and important," Hall adds.
The A-Scene attended the red carpet screening with Amandla Stenberg, Algee Smith, Angie Thomas, George Tillman Jr., Karan Kendrick, Lamar Johnson, Regina Hall, TJ Wright and Bobby Sessions,
'The Hate U Give' opens in Atlanta on Friday, October 5.