ATLANTA — With Thanksgiving holiday just a few days away, production crews are hard at work on more than 40+ TV shows and movies throughout Georgia.
Here's a look at what's currently filming throughout the state:
'RESPECT'
The highly-anticipated biopic on the life of legendary soul singer Aretha Franklin is currently in production in Atlanta.
Academy Award winner Jennifer Hudson stars in the movie alongside Marlon Wayans.
"Respect" will feature the untold story about the star's rise to stardom. So far, it appears that the basecamp sign used as the working title for this movie is "QOS". So, if you see the production in your neighborhood, please tell The A-Scene Facebook group.
Hudson, revealed that the movie is currently being filmed at Tyler Perry Studios.
"It was exciting enough to sing for @tylerperry studio opening and I'm just as excited to shoot here today ! #Respect," she wrote.
Last week, producers were casting new skilled musicians to be actors for upcoming scenes for the project.
'THE RESIDENT'
Producers are still plugging away at the third season of the hit FOX medical drama, "The Resident," throughout parts of Georgia.
Last week, The A-Scene told you about a casting call for a shoot that took place on Monday.
Over the weekend, a viewer reported seeing the production in action. A-Scene Insider Susan Wages spotted several production trucks, trailers, and crews setting up sets in Monroe, Georgia.
"Filming for the resident in Monroe," Wages wrote in the A-Scene Facebook group.
"The Resident" got picked up for a third season in early May. You will likely spot the production in your neighborhood under the yellow basecamp sign "TR".
PHOTOS | 'The Resident' films upcoming scenes in Monroe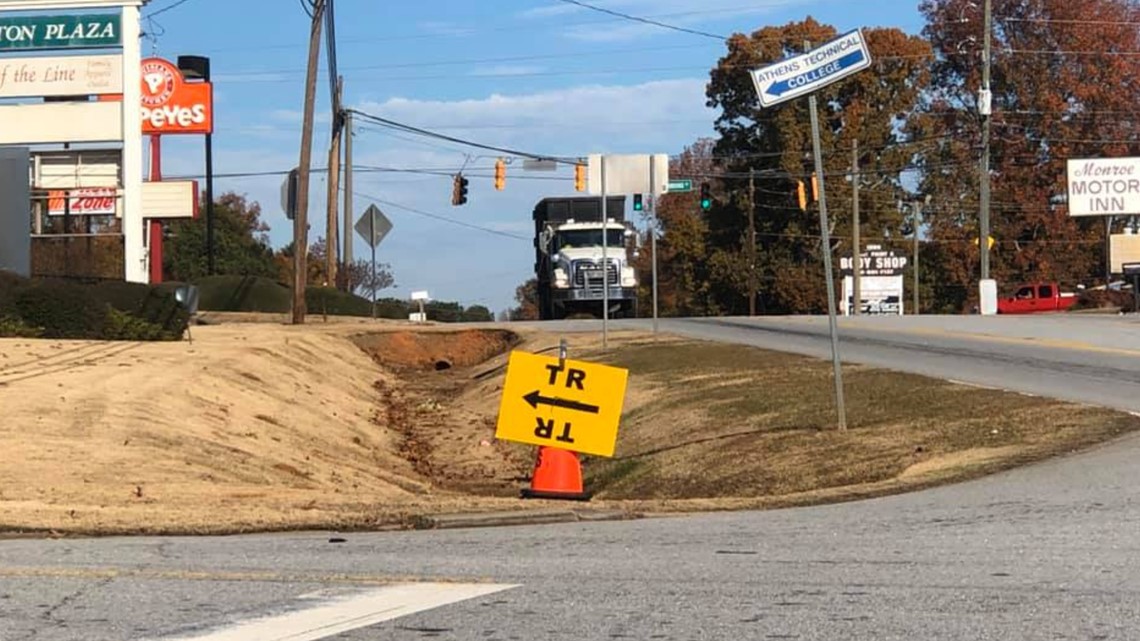 The majority of the first and second seasons were filmed in Conyers and at the High Museum of Art in Atlanta.
"The Resident" follows a young doctor who's paired with a senior resident that is as tough as he is brilliant. It stars Matt Czuchry, Emily VanCamp, Manish Dayal and Bruce Greenwood.
One of our reporters got the opportunity of a lifetime to be appear on the hit show. Check out his experience here.
'AMERICAN SOUL' on BET
Production remains underway for the second season of "American Soul."
"Inspired by the personal trials and professional successes of a young, ambitious and troubled impresario Don Cornelius, season two of the period drama picks up two years later in 1975," a rep from BET tells The A-Scene. "As Don becomes a rising star, he continues to manage an assortment of spectacular talent that comes to his show, a shaky family life, personal health and perhaps most importantly, his own ego."
The basecamp for American Soul has been set up in Midtown since late August. We caught up with a man whose vintage car was being used for upcoming scenes.
Last week, 11Alive's digital reporter Donovan Harris visited the set of BET's "American Soul". Check out his story reporting on the action from behind the scenes here.
'WIFE SWAP'
If you're curious of what life would be like if you had another spouse? Well, this may be the casting call for you.
Paramount's "Wife Swap" is looking for unique families from Georgia to appear in an episode for the next season.
Earlier this summer, producers began a search for families in the area. If you do get selected, don't forget to let The A-Scene know in our Facebook group!
'NICK CANNON'S 'WILD N OUT''
Get ready to see a lot more Nick Cannon in Atlanta! The executive producer for MTV's successful comedy show "Nick Cannon Presents: Wild 'N Out" is back for another season and is currently in pre-production.
Each episode puts the red and black teams - comprised of new and returning cast members - against each other in some of the most hilarious, entertaining and outrageous games seen on television.
Over the years, the show has highlighted original comedic material helping launch the careers of Pete Davidson, Affion Crockett, Taran Killam, DeRay Davis, DC Young Fly, Mikey Day and many more.
You can grab tickets for the upcoming season of "Wild N Out" here.
Below is the full list provided by Georgia film:
American Soul: S2
Architect
Battibox
Big Red
Black Lightning: S2
Blue Ridge
Boomerang: S2
Central Avenue
Christmas Love Letter
Cobra Kai: S3
Coming 2 America : The Quest
Council of Dads: S1
Dish Nation: S8
Doom Patrol: S2
Dynasty: S3
Eldorado
First 48
Freaky Friday the 13th
Front Row Killer
Ghost Draft
Legacies: S2
Life by the Ton
Lovecraft Country
MacGyver: S4
Meet the Flockas
OJ25
Quiet in my Town
Respect
Samaritan
Sister Circle
Tag Team
T.I. & Tiny: Friends & Family: S9
The Aquarium: S2
The Observance
The Resident: S3
The Royal
The Slaton Sisters
Thunder Force
Tiger Rising
Tyler Perry's Ruthless
Underground Railroad
Wife Swap: S2
Wild N Out
MORE FROM THE A-SCENE!
Idris Elba takes break from 'Suicide Squad' sequel at Atlanta Hawks game
How Disney's 'Frozen Jr' will take Roswell by snowstorm
'The Resident' films upcoming scenes in Monroe
Rapper T.I. explains his controversial hymen comments, his daughter's virginity