ATLANTA — Georgia is home to more than 35 current television shows and films being made throughout the state.
"Coming 2 America: Quest," CW's "Black Lightning," and "Ghost Draft" are just some of the productions taking place right now in Atlanta.
Here's a list of what's currently in production right now.
'WIFE SWAP'
If you're curious of what life would be like if you had another spouse? Well, this may be the casting call for you. Paramount's "Wife Swap" is looking for unique families from Georgia to appear in an episode for the next season.
Earlier this summer, producers began a search for families in the area. If you do get selected, don't forget to let The A-Scene know in our Facebook group!
'NICK CANNON'S 'WILD N OUT''
Get ready to see a lot more Nick Cannon in Atlanta! The executive producer for MTV's successful comedy show "Nick Cannon Presents: Wild 'N Out" is back for another season and is currently in pre-production.
Each episode puts the red and black teams, comprised of new and returning cast members, against each other in some of the most hilarious, entertaining and outrageous games seen on television.
Over the years, the show has highlighted original comedic material helping launch the careers of Pete Davidson, Affion Crockett, Taran Killam, DeRay Davis, DC Young Fly, Mikey Day and many more.
You can grab tickets for the upcoming season of 'Wild N Out' here.
'COMING 2 AMERICA: QUEST'
An A-Scene Insider working on the highly anticipated sequel to Eddie Murphy's blockbuster hit "Coming to America" says crews wrapped up scenes at Tyler Perry Studios Thursday night. While our source couldn't share any photos of the star-studded event, they did drop a hint about the celeb cameos for the scene.
The scene will feature Murphy, Arsenio Hall, Gladys Knight, and iconic rap duo Salt-N-Pepa.
Last week, Will Smith, Martin Lawrence, Arsenio Hall, and Eddie Murphy caused quite the fan frenzy while in between scenes at Tyler Perry Studios. They stopped and posed for an iconic photo in the making.
These photos of the actors were posted on Instagram by celeb hairstylist Stacey Kutz. She wrote on Instagram, "A whole lotta greatness right here at @tylerperrystudios @therealpierceaustin are we working or having a reunion today? lol"
Stacey Kutz
Kutz tagged Smith, Lawrence, Murphy, Tracey Morgan, and Shari Headley, who is reprising her role as Lisa in the film.
Smith later shared the moment on his own Instagram account with the caption," Nothing to see here."
Perry later shared the same image on his social media account.
'BAD BOYS FOR LIFE'
"Bad Boys For Life" spent some time in Atlanta this week picking up more last-minute scenes.
The crew also dropped an official new trailer that shows some of the action that was filmed in Atlanta earlier this year. The movie is produced by Jerry Bruckheimer, Melissa Reid, Chad Orman, Mike Stenson, and James Lassiter.
Smith and Lawrence made box office history when the original "Bad Boys" hit theaters in 1995 and became a success.
The duo then came back nearly a decade later with a fiercely-produced sequel "Bad Boys II" in 2003. The film grossed $273 million this year.
"Bad Boys 4 Life" hits theaters in January 2020.
'GHOST DRAFT'
The team behind Chris Pratt's upcoming sci-fi action movie are still in Atlanta!
According to the Internet Movie Database, "Ghost Draft" is "about a man who is drafted to fight in a future war where the fate of humanity relies on his ability to confront his past." Shooting in Atlanta began early September under the basecamp sign "Boneyard."
Yvonee Strahovski, Betty Gilpin, and Keith Powers are all set to star in the Chris McKay directed movie. A release date for the project has not been revealed as of yet.
BET
'AMERICAN SOUL' on BET
Production remains underway for the second season of "American Soul."
"Inspired by the personal trials and professional successes of a young, ambitious and troubled impresario Don Cornelius, season two of the period drama picks up two years later in 1975," a rep from BET tells The A-Scene. "As Don becomes a rising star, he continues to manage an assortment of spectacular talent that comes to his show, a shaky family life, personal health and perhaps most importantly, his own ego."
The basecamp for American Soul has been set up in Midtown since late August. We caught up with a man whose vintage car was being used for upcoming scenes.
Season two of "American Soul" is set to premiere on BET in 2020.
Amazon Studios' 'UNDERGROUND'
The upcoming Amazon series is directed by Barry Jenkins ("Moonlight," "If Beale Street Could Talk") and is based on the Colson Whitehead book "The Underground Railroad."
The term is used to describe a network of people and places that assisted fugitive slaves as they escaped slavery in the South.
Some of the cast members include Thuso Mdedu, Chase W. Dillon, and Aaron Pierre, as reported by Variety.
Production on this series began late summer throughout several parts of Georgia. Back in August, A-Scene Insider Yvonne Lowery saw the basecamp sign "UGRR" near the Myrtle Creek Farm in Newton County.
A-Scene Insider Yvonne Lowery
The production has since been spotted in Madison, Georgia. Danielle Herman sent in behind-the-scenes images while in the area.
Herman writes, "I'm in Madison, GA for a wedding and found this! I talked to a PA and she said they're filming 'Underground' for Amazon Prime."
PHOTOS | Crews film "Underground" in Madison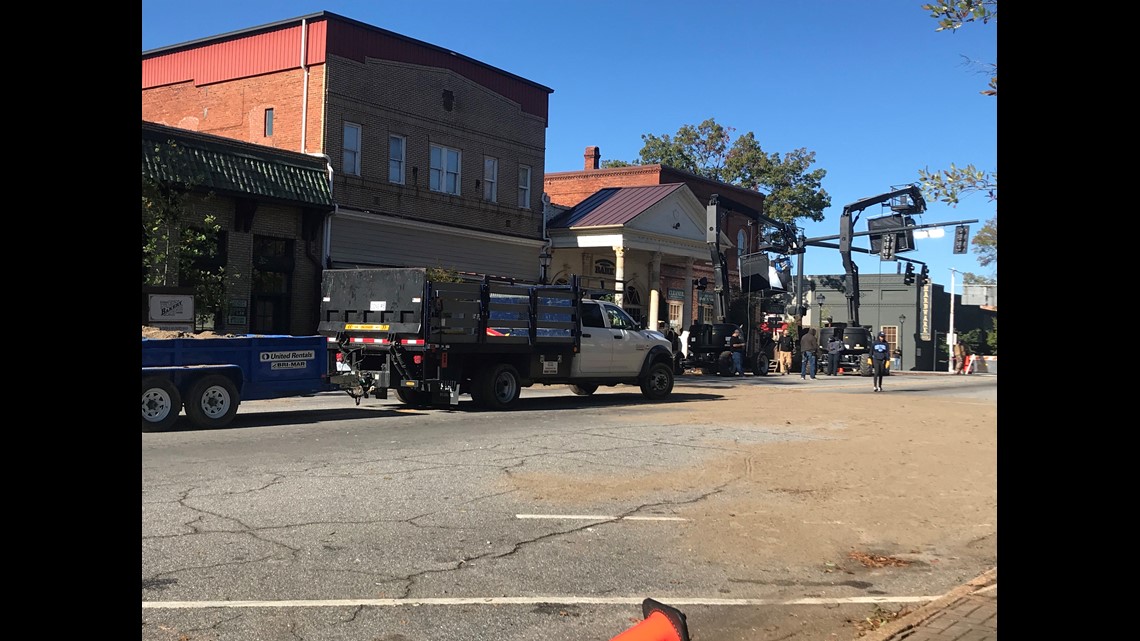 Below is the full list provided by Georgia film:
American Soul S2
Battlbox
Big Red
Black Lightning S3
Boomerang
Cobra Kai
Coming 2 America: The Quest
Council of Dads S1
Dish Nation S8
Divorce Court
Doom Patrol
Dynasty S3
Eldorado
First 48
Freaky Friday the 13th
Front Row Killer
Ghost Draft
Lauren Lake's Paternity Court
Lovecraft Country
MacGyver S4
Meet the Flockas
Respect
Safety
Sister Circle
Tag Team
The Aquarium S2
The Daylong Brothers
The Observance
The Resident
The Royal
The Slanton Sisters
The Walking Dead S10
Thunder Force
Tyler Perry's Bruh
Tyler Perry's Ruthless
Underground Railroad
Wife Swap S2
Wild N Out
MORE FROM THE A-SCENE!
How to get tickets to Nick Cannon's 'Wild N Out' filming in Atlanta
Taylor Swift to perform free concert at Final Four in Atlanta
Whitney Houston's best friend details love affair in new memoir
T.I. says he goes to gynecologist with daughter to make sure she's still a virgin