ATLANTA — As we kick off April 2019, The A-Scene has spotted several film and television projects currently in production throughout metro Atlanta and surrounding counties in Georgia.
INSATIABLE ON NETFLIX
Netflix's dark, twisted revenge comedy, "Insatiable" starring Debby Ryan, Dallas Roberts, and Alyssa Milano, is back for season two. The first season showed that for years, Patty (Debby Ryan) has been bullied, ignored, and underestimated by those around her because of her weight. But later, she finds herself suddenly thin, and Patty is out for payback against anyone who has ever made her feel bad about herself.
Bob Armstrong (Dallas Roberts), a disgraced attorney whose true passion is coaching beauty pageant contestants, is the only one who sees Patty's potential and takes her under his wing -- first as a legal client, and then as a pageant contestant whom he coaches toward becoming the top pageant queen in the country.
CITY OF ATLANTA
Scenes for the show's upcoming second season are filming in several parts of Atlanta.
The city's film office sent out a memo after closing down a full street to residents in Southwest Atlanta about crews working in the area. The production alias for "Insatiable" is "2BOB." So if you spot a yellow sign, or any behind the scenes, tag The A-Scene!
(FUTURE) CULT CLASSIC
Several thrillers are currently filming in the area, including East Point. "(Future) Cult Classic," is a new SYFY pilot with a teen comedy twist. Emily Alyn Lind has been cast in lead role as Bree, according to Deadline.
Tim Kirkby serves as the executive producer of the "horror-obsessed killer" series. "(Future) Cult Classic" follows Bree along with classmates Andy (Jacob McCarthy), Henry (Cayden Boyd), Peyton (Da'Vinchi), and Mila (Zoe Renee) as they figure out the mystery and try to survive.
Behind the Scenes: '(Future) Cult Classic' filming in Georgia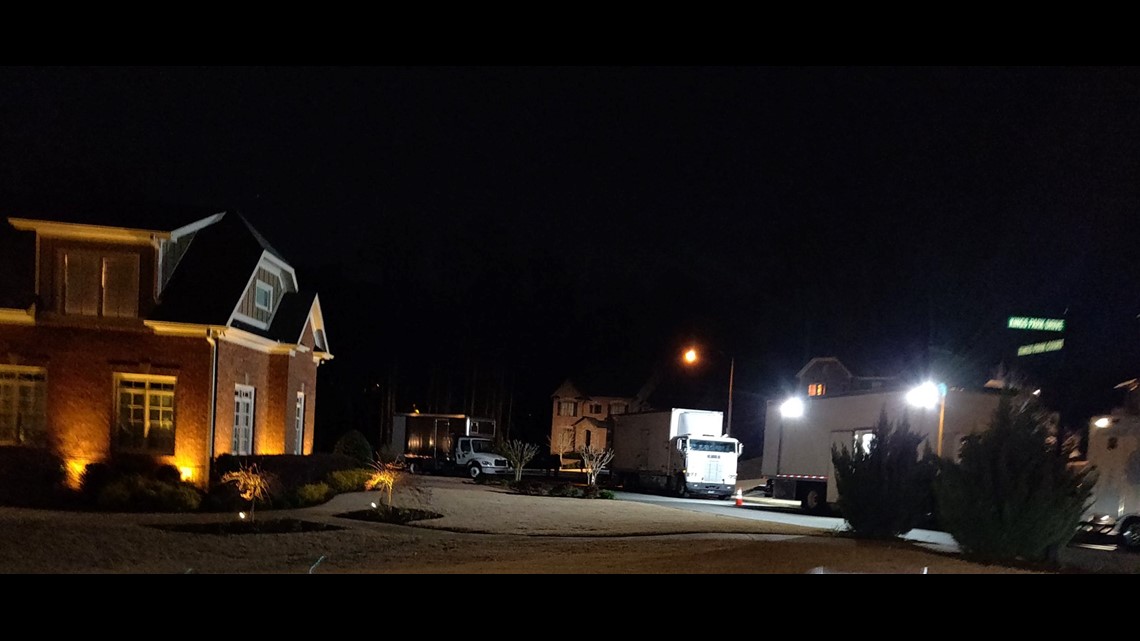 Under the production alias FCC, several A-Scene Insiders have spotted basecamp signs in Vinings and near Kennesaw Mountain. Brandi Craig Smith wrote, "Saw this sign this morning on Log Cabin Road off South Atlanta Road this morning."
"At Kennesaw Mountain. The set is down from here in a neighborhood. The crew is meeting at Riverstone Church on Stillsboro Road. Also saw them finishing up in the Marietta Square today," Virginia Mahaffey-Vittur said.
11Alive
JUMANJI
Here's what we know about the film. Kevin Hart, Jack Black, and Karen Gillan are all returning for the family action comedy directed by Jake Kasdan.
"Crazy Rich Asians" star Awkwafina, Danny DeVito and Danny Glover have also landed roles in the movie based on the 1981 picture book by Chris Van Allsburg.
The late Robin Williams starred in the original 1995 classic version.
The production sign used for 'Jumanji 2' is 'LOUIE.' So, if you start to see more action in your neighborhood, share it with our team.
WATCHMEN ON HBO
Watchmen is based on the superhero graphic novel from the '80's and stars Don Johnson, Regina King, Tim Blake Nelson, Adelaide Clemens, Lewis Gossett, Jr, and Andrew Howard.
Under the production aliases "Brooklyn" and "CHAR," the show has been spotted by several residents who just want a piece of the action.
Tim Roberts
HEART OF LIFE
Singer John Mayer will be visiting Georgia a lot more thanks to his new show, which based on Mayer's song "Heart of Life". The ABC sitcom follows two sets of adult siblings from different worlds who discover they're related and must reassess everything they thought they knew about their shared father.
Mayer will serve as executive producer alongside writer Ben Queen.
So far, Harry Shum Jr. (Glee), Katie Findlay (How to Get Away With Murder), and Dave Annable have been announced as cast members in the series.
Mayer expressed his excitement about the project on Instagram.
"Some songs have a little extra story left in them. I'm excited to work with some hugely talented people to help tell this one. Thanks @abcnetwork for the opportunity," he wrote.
"The Heart of Life" was released on John Mayer's second album "Continuum". The album incorporates blues, soul, and pop rock, and earned Mayer a Grammy Award for Best Pop Vocal Album at the 49th Grammy Awards.
The production alias used for "Heart of Life" is "HOL," so if you see the sign, tag The A-Scene!
LOVESTRUCK
Production on the hour-long dramedy "Lovestruck" has quietly begun in Atlanta. Rachel Bilson confirmed that she will star as the as the female lead in the show produced by Tom Kapinos.
"Here we go again," Bilson wrote on her Instagram.
The project, inspired by the French series Quadras, comes from Endemol Shine North America and 20th Century Fox TV.
Kathy Snow Werner
THE RESIDENT
Season two of FOX's medical drama "The Resident" is still in production in Atlanta under the code "TR".
"The Resident" follows a young doctor who's paired with a senior resident that is as tough as he is brilliant. It stars Matt Czuchry, Emily VanCamp, Manish Dayal and Bruce Greenwood.
RELATED: How I landed an acting role on 'The Resident'
DOOM PATROL
Production signs with "GRANT" have been used for "Doom Patrol," one of five original series on "DC Universe."
The show follows a group of outcast superheroes and an idealistic mad scientist as they investigate and protect Earth from strange phenomena.
So far, we've seen casting calls for "Doom Patrol" calling for extras in Lawrenceville, Conyers, Loganville and Lithonia.
DEPUTY
A new crime show set to air on FOX networks is currently filming throughout several parts of Atlanta.
"Deputy" starring Stephen Dorff, Yara Martinez, and Brian Van Holt is about a career lawman whose aggressive nature lands him as the acting sheriff in Los Angeles.
Dorff, who recently spend time in Atlanta while on the hit TV show 'Star' plays Deputy Bill Hollister. According to DEADLINE, Martizez will play Hollister's wife.
Francesca Amiker, host of The A-Scene, spotted basecamp signs associated with the production throughout parts of Buckhead at Peachtree Valley Road and Peachtree Road.
Francesca Amiker