ATLANTA — Tyler Perry's rags to riches story reached a new height as the mogul shared a newly-updated highway sign, just one mile from Tyler Perry Studios.
The sign originally read Fort McPherson, which is the historic Army base that was mostly sold to Perry in 2016. He purchased 330 acres of the historic land on the decommissioned Fort McPherson Army Base.
Tyler Perry Studios is already poised to become one of the largest motion picture studios in the U.S.
"Driving into work today I saw these signs on the highways being changed. My eyes filled with water knowing what God has allowed to happen in my life," Perry shared in a Facebook post. "Atlanta has truly been the promised land for me. I came here with nothing, lived off Sylvan Road, ended up homeless and starving, but I was always praying and believing."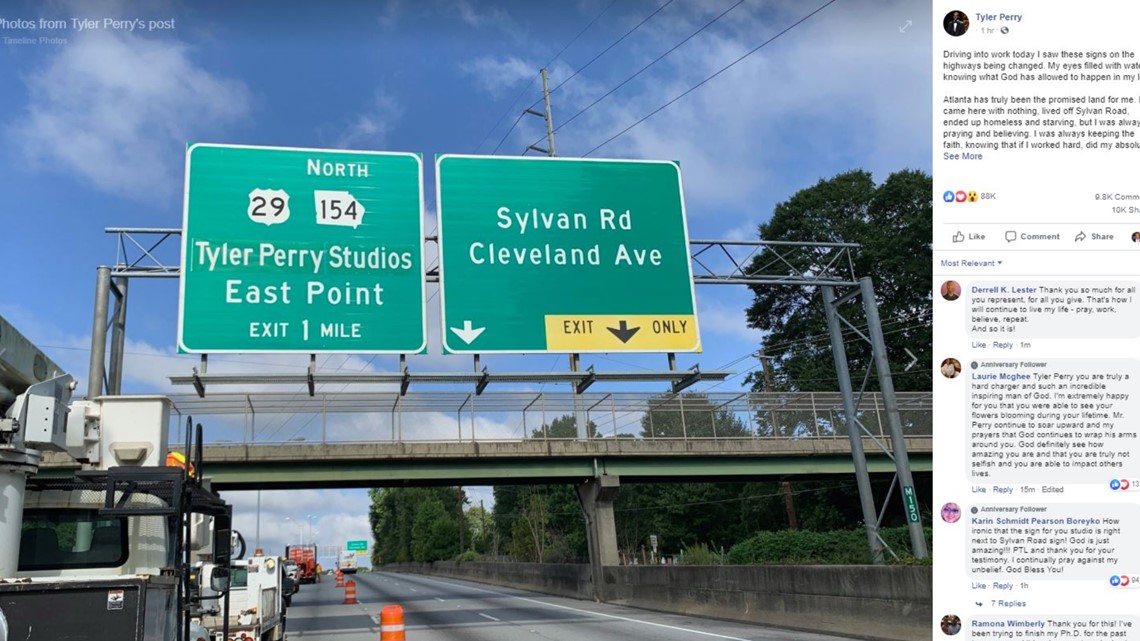 Perry said his dream didn't come overnight. He worked hard and prayed even harder before he began seeing the fruits of his labor.
Tyler Perry Studios is located between downtown Atlanta and Hartsfield-Jackson Atlanta International Airport.
The exit now bearing the production company's name is on Georgia State Route 166, a mile past the Sylvan Road and Cleveland Avenue exit.
"I was always keeping the faith, knowing that if I worked hard, did my absolute best, kept my integrity, honored every blessing, and remained grateful through it all that everything would work out. And it has, thank God," Perry wrote. "But to all of you looking at my life now, I want to share a scripture/prayer that helped me keep going from St. Mark 9:23-25. It's a simple prayer by a man who had faith, a man who believed, but still had doubts. He said, "LORD I believe but help my unbelief."
For residents who've watched the transformation unfold in their neighborhood, McPherson Implementing Local Redevelopment Authority was created after the sale, and its staff said there is plenty going on in the area to help people who live there.
According to its mission, 20 percent of the housing it builds there will be affordable for residents. Also, Georgia Gov. Brian Kemp put construction for a training facility for blue collar workers in his 2020 budget.
The Redevelopment Authority said it is listening closely to the concerns of the people who live there. Another meeting to hear directly from residents about what they want to see in the area will be held Wednesday night at 5:30 p.m. at the Fort MAC LRA.
Tyler Perry Studios in Atlanta
Perry is currently hosting several film and television projects at his studio.
However, it won't officially open until October.
The "Madea" star is currently working on "Sistas" and "The Oval," two productions for BET's upcoming streaming service.
"Just know that it is possible to believe in your dream and still wonder how or when it's going to happen. Stay the course. Pray, work, believe and repeat. You'll get there. Just believe for as much as you can, and ask God to help you believe for the rest," Perry wrote.