ATLANTA — The season premiere of Nickelodeon's latest show "Tyler Perry's Young Dylan" was the network's biggest in three years, according to Deadline.
The debut of the comedic sitcom "reached more than 2.6 million total viewers in six airings over the premiere weekend," the outlet reports.
"Tyler Perry's Young Dylan" is Perry's first kid-scripted series for Nickelodeon. The series follows a family whose world is turned upside down when their nephew, Young Dylan, played by Dylan Gilmer, an aspiring hip-hop star, moves in unannounced.
Dylan's grandmother Viola is played by actress Aloma Wright.
During the first episode that aired on Saturday, she realizes that raising her grandson is too much to take on, so she decides to send him to live indefinitely with her affluent son Myles Wilson (Carl Anthony Payne II), his wife Yasmine (Mieko Hillman) and their two kids Rebecca (Celina Smith) and Charlie (Hero Hunter).
The Wilson family household needs to adapt as lifestyles clash between rising hip-hop star Young Dylan and his straight-laced cousins.
The family's transition together is comedic and reminisces other African-American sitcoms like "Family Matters" and "The Fresh Prince."
Behind the scenes with the cast of 'Tyler Perry's Young Dylan'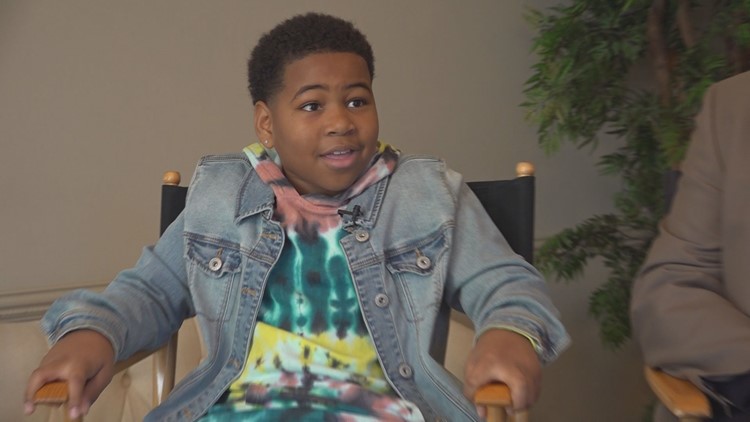 Days prior to the grand opening of Tyler Perry Studios in October 2019, the mogul made the announce during an appearance on "The Ellen DeGeneres Show" that he handpicked Gilmer to star in the series.
Gilmer came on the show to talk about his guest-starring role on the revival of Nickelodeon's hit series "All That," which Ellen helped him secure. Ellen shared her excitement for the young star with Perry, who was blown away by Gilmer's audition tape. Ellen kept the surprises coming by giving the young star some gifts to help set up his new dressing room.
11Alive's The A-Scene went to Tyler Perry Studios as the cast of "Young Dylan" were working on the show.
Check out our behind the scenes interviews with the cast in the player below.
MORE FROM THE A-SCENE