ATLANTA — With one week until Christmas Day, more than 30 television and film productions are still in action throughout parts of Georgia.
Here's a look at what's currently in production in our area.
THE TOMORROW WAR
Chris Pratt is still hard at work on his upcoming action thriller, "The Tomorrow War".
A viewer spotted crews filming nearby Centennial Olympic Park. She posted a picture in The A-Scene Facebook group," Anyone know what this is? Marietta and Centennial Olympic Park".
It turns out she shared a picture of the "BONEYARD" basecamp sign.
Production for the Chris McKay-directed film in Atlanta began early September under the basecamp sign "Boneyard." Some of the filming locations around town include Midtown and Mercedes-Benz Stadium.
Some scenes for the upcoming movie were also filmed at Blackhall Studios in DeKalb County.
"The Tomorrow War" will be released nationwide Dec. 25, 2020.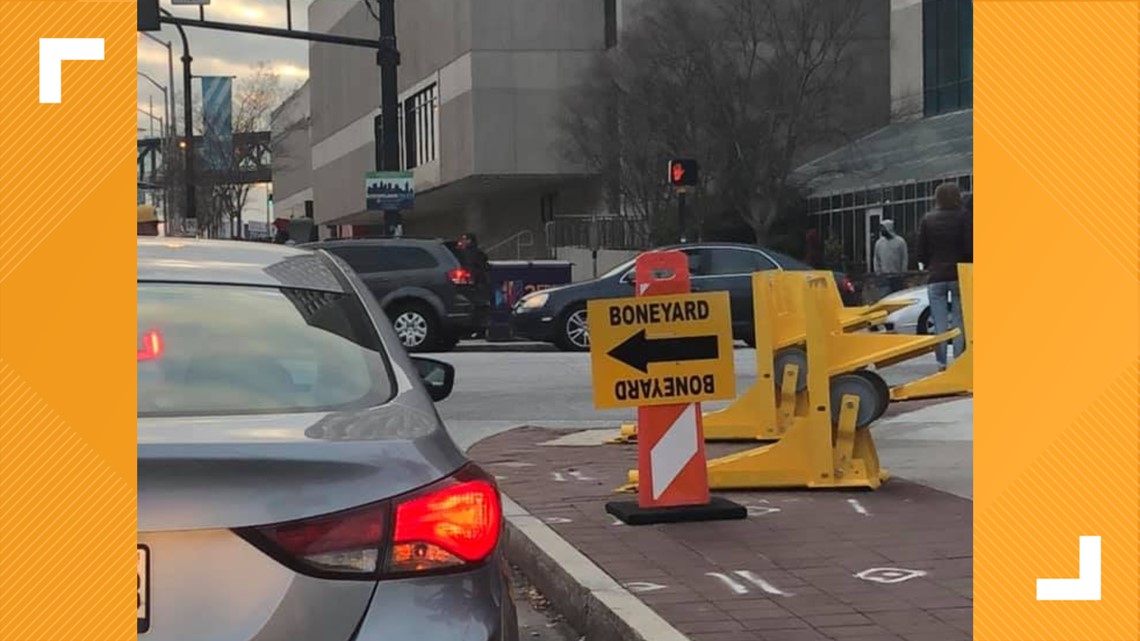 THE FALCON AND THE WINTER SOLDIER
One of the next major productions coming from Marvel is heading to the streets of Griffin. Between Dec. 16 and 20, Marvel Studios will be filming a new limited-series for the Disney+ streaming platform.
In a memo sent by the City of Griffin, officials noted "the areas of high impact are Downtown Griffin on State Alley between Taylor St and Solomon St".
Motorists should expect some delays throughout the area.
"Tag Team" is the working title for "The Falcon & The Winter Soldier."
The projects includes some of the characters from the Marvel Cinematic Universe in their own adventure, following on from the events of the blockbuster "Avengers: Endgame".
Last month, we told you about "The Falcon and The Winter Soldier" beginning production.
Actors Sebastian Stan and Anthony Mackie, who star as Bucky Barnes/Winter Soldier and Sam Wilson/Falcon, did an Instagram video documenting their first day on set.
"Marvel has asked me to take over this account so I'm shutting it down. Marvel Style – VIP status. It's Falcon all day," Mackie said.
Sebastian chimed in and announced his takeover to the account.
"Well, I don't know what he's talking about. I'm the one who's really been around for a long time. He's wrong and I'm right so there's that," Stan added.
After posting solo video clips, the two finally came together to make the official announcement.
"The Falcon and The Winter Soldier is now in production," the duo attempted to say in unison.

RED NOTICE
Now, more casting agencies are putting out opportunities for actors to be involved with the upcoming Netflix feature.
The Southern Casting Call reports Tammy Smith Casting is one of those agencies leading searches on Wednesday, Dec.18.
After the fitting, filming picks up in the new year on Wednesday, Jan. 15, 2020.
The latest casting call is for male actors to play prison guards in a Mongolian prison.
Here is a description of what Tammy Smith Casting is looking for:
Gender: MALE
ETHNICITY: Asian, Hispanic, Pacific Islander or Mixed
Ages: 25 to 60
Previous real experience as one of the following is requested: military, security guard, police, martial arts, acting or other relatable experience that requires a discipline!
The fitting will go down at Atlanta Metro Studios in Union City.
Actors will be paid $125 for 8 hours, with overtime after that.
Netflix announced production for "Red Notice" back in July featuring a star-studded cast. Dwayne Johnson ("Skyscraper," "Jumanji: The Next Level"), Gal Gadot ("Wonder Woman") and Ryan Reynolds ("Deadpool") will star in the action-thriller.
Johnson, who is no stranger to overseeing and starring in productions in Georgia, will be involved as a producer under his Seven Buck Productions company.
If you think you've got what it takes, please send info to RedNoticeExtras@TSCasting.com and SUBJECT LINE: put MONGOLIAN GUARD.
Coming 2 America : The Quest
T.I. & Tiny: Friends & Family: S9