ATLANTA — The Nutcracker is a classic holiday fairy tale – a symbol of the season that's marked by tradition for many.
The Atlanta Ballet has put on a production for more than 20 years. This year, that classic production got an upgrade.
Though the seats are empty, the stage of the Fox Theatre is busy, for the ballet company and crew is in rehearsal for its 24th season of the nutcracker.
"I'm just excited to see all of you so amped up about all this," said Thomas Fowlkes, Atlanta Ballet's General Manager. "We want to make the best production the country has ever seen."
For more than two decades, The Nutcracker remained in its classic form. But this year the production has grown – in some cases by 20 feet or more!
"What's cool is to hear the same music, and tell the same plot story in this whole new way, is just phenomenal," Fowlkes said.
Textured lighting projections help bring the set to life
"And the projections are what take it from being 3-D to what you call 5-D," 11Alive's Natisha Lance asked.
"Yes, it is just incredible," Fowlkes replied during an exclusive behind-the-scenes look.
"They've mapped both projectors to every single piece of the set down to the inch," he added.
That includes new revolving sets and new legs – wooden steal covered with printed and painted fabric with added texture.
"If a dancer hits that, they're going to remember it," Fowlkes agreed.
Work to change the show from the traditional flat backdrops placed behind dancers, into a fully dimensional world started two years ago when Gennadi Nedvigin became the artist director.
"Like many things, things in art do get dated. Sometimes they need to be rebuilt," he explained. "We try to bring it new technology into this production, new possibilities that theater has to offer. Now this ballet will be for this generation."
Photos: A Nutcracker for a new age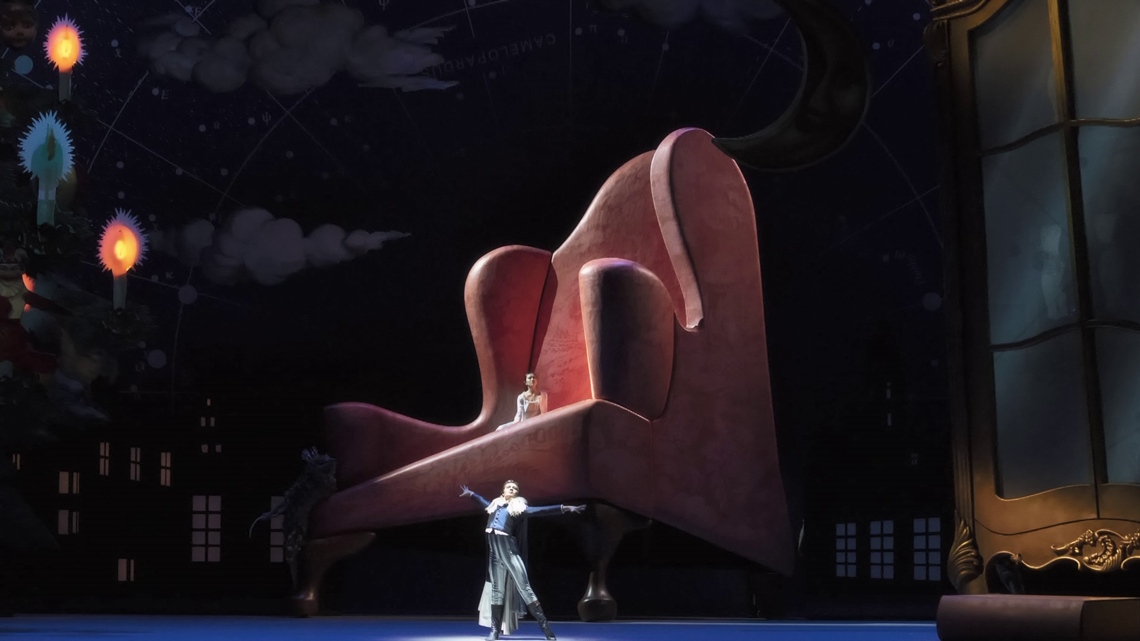 It's a challenge Atlanta Ballet dancer Emily Carrico, who plays Marie in the production, said the dancers are up for.
"The scale of everything in this theater and the choreography is just out of this world," she said. "It's like nothing I've ever experienced before, and pretty much, I would say, it's safe to say any dancer in the company has danced before."
The choreography from the renowned Yuri Possokhov is also brand new – pushing dancers to be as big in their movements as the world created around them.
"It was made all from scratch, and his choreography is very challenging, I must say … but it is extremely beautiful," Nedvigin said. "And for dancers, it's way to find new language how to express themselves on stage with new choreography.
And it is drawing attention from all around the world. But Nedvigin hopes the biggest impression is left on theater-goers in Atlanta.
"I want to inspire people. I want to inspire people to see magic," he said. "I want people to go to the other world and enjoy their dreams as children, and I think theater is a perfect place for such occasion."
The Nutcracker is currently showing at the Fox Theatre and will run through Dec. 24.