ATLANTA – One daddy-daughter duo is melting hearts for their adorable dance in a hospital room.
On August 2, 2018, 2-year-old Phoenix was diagnosed with acute myeloid leukemia. Just two days later she began a 'very aggressive chemotherapy, according to her GoFundMe page. Phoenix will have four rounds of chemo that will be completed in a five-month span.
After weeks of chemo at the Aflac Cancer and Blood Disorders Center of Children's Healthcare of Atlanta, Brett Thompson, Phoenix's dad, gave her an adorable surprise.
In a Facebook post, Christina Thompson said on Phoenix's last day of her first round of chemo, a nurse came into their room with dresses. She said they were dropped off by a volunteer. After putting a yellow dress on Phoenix, Christina learned Brett had bought them.
Brett surprised Phoenix by wearing a suit and together, surrounded by stuffed animals, they danced to Tim McGraw's 'My Little Girl.'
"I mean honestly I don't think I could have picked a better man for my kids," Christina wrote. "At 2-years-old this is hard on her on her family and the people that love her. These little moments make these times not so hard."
Brett was in the Army for six years and he was medically discharged four years ago. The Thompson's left Fort Bragg and moved to Georgia with their three kids at the time.
"Two and a half years ago my friend came back into my life," Christina told 11Alive. "She was an active drug user and her daughter fell into our hands."
Christina said they obtained legal guardianship of Phoenix when she was 7-weeks-old. She said Phoenix's biological mother is in active recovery and has continued to be a part of her life.
"We are one big support system," Christina said.
Now, the Thompson's care for Phoenix along with their four other children, ages one to 11-years-old. Christina said Brett is out of work as he cares for their children.
PHOTOS | Phoenix's fight against leukemia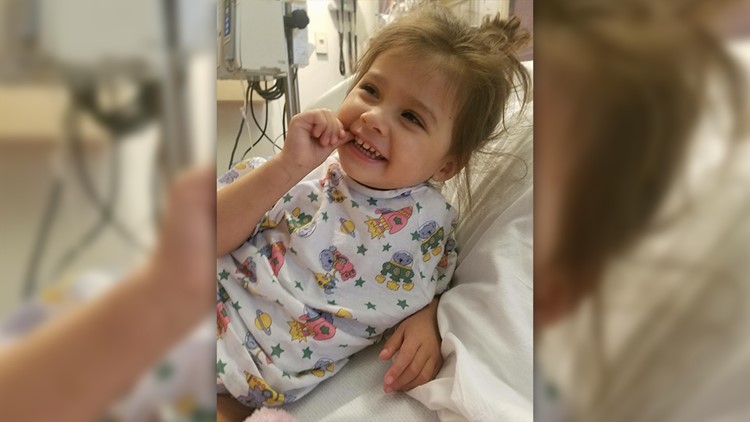 "It's extremely hard to be away from my other children," Christina said. "These times will get difficult but I know we will make it through."