GWINNETT COUNTY, Ga. — Billy Watkins took a deep breath as he walked back into the Gwinnett County Jail.
"I was a little nervous, seeing the wire and the fence," he said.
It was tough to be back inside for the former inmate ... but not for his dog Scrappy, who grew up on the cell block.
"You can really connect with a dog on a level that's hard to explain when you're working with one and living with one in your cell with you," he said.
Watkins trained Scrappy for six months through the Gwinnett County Jail Dogs Program while he was locked up ... and when he was released, he couldn't bear to leave Scrappy behind.
He was the first inmate to adopt the dog he trained out of the program in 2010 and the program is celebrating a new milestone. In all, 500 dogs have been saved by inmates in Gwinnett County as the hit an incredible milestone this week with their 500th adoption.
"This guy has helped me stay on the straight and narrow. I've had a couple of bumps on the road," Watkins said.
Dog rescued from illegal breeding operation near Savannah finds forever home after Jail Dogs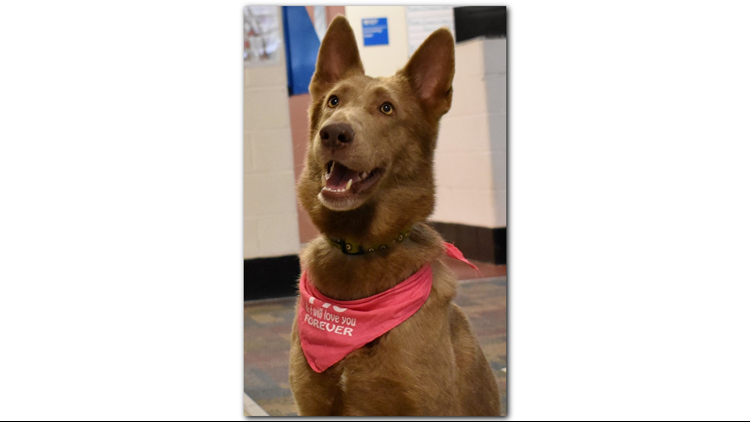 Gwinnett Jail PIO Shannon Volkadov say people who come visit the program start to see the jail environment in a whole new light.
"They're people. They're people who have made mistakes. And they're being held accountable. And while they're here they're doing something positive," she said.
"When people come in here and see us working with the dogs, they see that not everyone incarcerated is someone to fear. We generally are nice people," said Inmate Johnny Woodall.
Woodall says the dogs give them focus.
"The dogs in here are the number one thing we talk about. To have them on point, obedient, know their commands," he said.
"They're saving dogs, but in a sense, they're saving themselves," said Volkadov.
Volunteer Laurie Cronin says the difference in the inmates is incredible.
"So I've actually seen someone that will come up and tell me I've never been responsible for anything before, but now I'm responsible to make sure this animal is trained and gets a good home, so I think it's great for both," she said.
Watkins says Scrappy gave him something to live for when he got out.
"He's the best dog in the world, really. And I'm not just saying that because he's mine. I'd do anything for Scrappy," he said.
For more information about the Jail Dogs program, please visit them at JailDogs.org.