LAWRENCEVILLE, Ga. — Three years ago, 92-year-old Army veteran JR, met his best friend Boy for the first time at his doorstep.
"He didn't look like this. He was solid black, and I could tell he was a Shephard. I immediately thought he was mistreated, he was kicked out of the car," said JR, whose family requested his last name be withheld to maintain his privacy.
He decided to take the dog in as his own, and now they cannot be apart.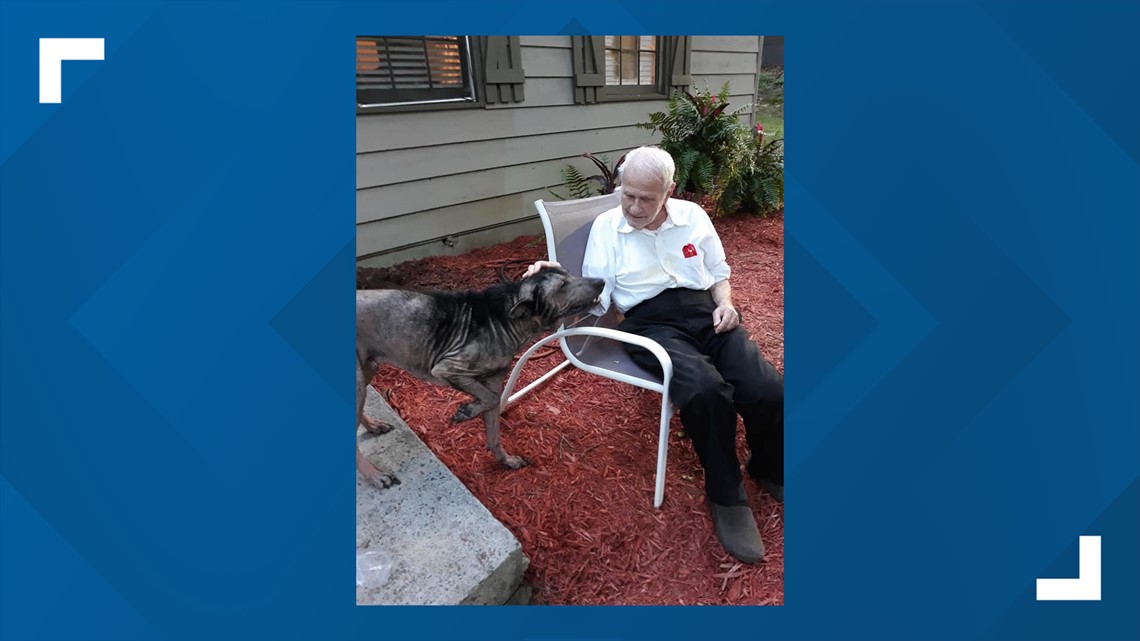 Last week, JR took Boy to the vet clinic to get help for his skin disease. He was unable to afford the treatment Boy needed, and left the clinic in tears.
A woman named Niki saw him leaving and asked him if he was alright. Upset, JR told her that he could not afford to take care of Boy the way he needed. Niki went home and contacted the group GA Bully Breed Inc. on JR's behalf.
Bonnie Wooden from GA Bully Breed posted on their Facebook page about Boy's needs and the response was overwhelming.
Wooden contacted JR, and told him that her organization would take care of everything Boy needed. JR was so thankful he broke down in tears over the phone and thanked GA Bully Breed as well as all of their volunteers who were helping him and his best friend.
Wooden went to pick up JR and Boy last Tuesday to take Boy to an appointment at Happy Tails Veterinary Care. After their visit to the vet clinic, Wooden dropped JR off at his home and joined him inside.
"From the minute I walked through the door, I knew I needed to be here," she said.
The home had storm damage and needed new windows, as well as a thorough cleaning. Wooden took to Facebook again to request help from the Bully Breed community, and received another overwhelming display of love and support.
She asked that people come and volunteer to spruce up JR's home, and make he and Boy feel special. Lawrenceville residents and people in surrounding communities came through in big ways.
Lawrenceville firefighters installed new smoke detectors, volunteers cleaned the bathroom, did JR's laundry, cleaned the exterior of his home, and took him to a friends 100th birthday party in Alabama.
"I keep saying, 'Thank you, thank you!' Most people do things because they get something in exchange. But they're not getting anything," JR said.
Boy and JR are now being watched over by several volunteers from GA Bully Breed and members of the Lawrenceville community.
Wooden said in a Facebook post that JR told her, "You are all wonderful, the best friends I've ever had."
MORE HEARTWARMING HEADLINES