Debra Bradley and a small group gather in a lobby of Emory's Winship Cancer Institute crowded around a bell, mounted on the one of the walls.
A gold plaque placed below it, reads:

"When your last chemo has come and gone
Ring this bell to tell everyone!
It's time to celebrate, hip hip, hurray
What a great feeling, what a great day!"
"It's a really special day," Bradley announces. And it is. The final day of chemo.
Surrounded by her husband, nurses and others, Bradley commemorates the milestone in the same way many cancer survivors before her have done.
One, two, three rings signify the ceremonial end of chemo and mark Bradley as a cancer survivor.
But the road to this day was hard-fought.
The Atlanta woman spent the past nine months battling what experts call the most lethal form of cancer: Stage four pancreatic cancer, which had already spread through her liver.
She found out about the aggressive cancer on the same day of what should be the happiest days of a person's life.
"It's scary to hear the 'C word,' but it's even more scary when you pair it with pancreatic," Bradley explains.
She and her husband Gary Gross held their justice-of-the-peace wedding on the same day two experts told her the cancer was inoperable with few treatment options. It was a scary moment for them both.
"As we got the diagnosis, Debra said I don't think I can go through this alone," Gross recalls. "I said, 'You aren't going to." And I got down on one knee and said, 'Will you marry me?'"
Imagine yourself in Bradley's shoes.
You have aggressive cancer. Your treatment options are limited and your chances of survival are only about five percent…That was the very grave reality for Bradley. But, she refused to accept that prognosis, starting instead an experimental treatment at the Winship Cancer Institute.
"I just said I'm not going to accept it," Bradley said.
She entered a clinical trial run by Dr. Bassel El-Rayes to test a new drug called BBI-608, in combination with chemotherapy. The chemo shrinks the tumors. The drug stops cancer cells from multiplying.
Bradley battled debilitating side effects and lost her hair, all with her husband by her side.
Now, nine months later, Dr. El-Rayes calls Bradley's results phenomenal.
"We've seen the spots on the liver disappear," he told 11Alive. "We still see a very tiny spot on the pancreas, which is hard to tell if it's a tumor or not. So at this point, from a radiologic point, we don't see any evidence of disease."
PHOTOS | Debra Bradley, cancer survivor
PHOTOS: Debra Bradley, cancer survivor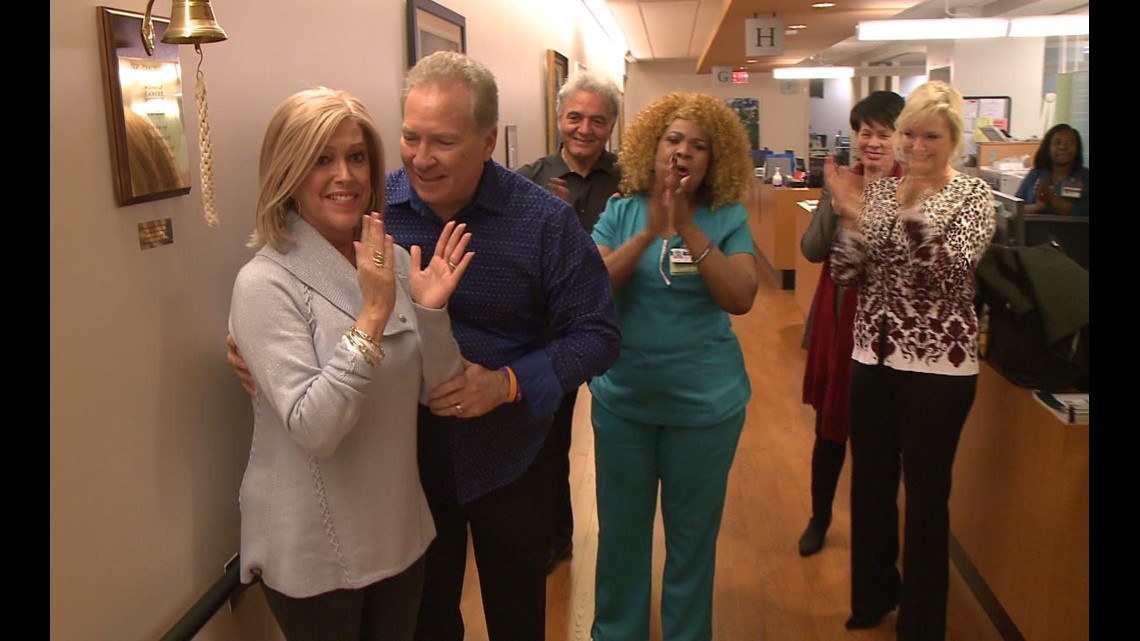 Dr. El-Rayes said it is a remarkable response for a patient with stage four pancreatic cancer, and said the BBI-608 trial will be expanded, to see if more patients get the same amazing results.
"(There's) No evidence of disease, there is nothing on my liver," Bradley said. Nothing anywhere!"
Though she underwent her final round of chemo, Bradley will continue to take the promising new drug with the hope of keeping any existing cancer cells at bay. It ushers in a new point in Bradley's life where she'll be able to get back to a much more normal lifestyle.
Now, with all signs indicating that she'll be able to remain cancer-free, Bradley is sharing the story she kept private for most of the year because she wants more funding for clinical trials, which often produce the drugs of the future.
As for others who've received a bleak diagnosis, Bradley is sharing this message: "I want people to know that there's definitely hope," she said.