Pastor Veta Hylton of New Covenant Faith and Miracle Areana, in Forest Park, said this initiative is just part of their mission, explaining that the church is part of an international network of churches that work to address the needs of families in their community.
When the church was founded, Hylton explained the primary goal was to meet the needs of local families. The church assessed the needs of the community and decided to open its doors to ensure that anyone with pressing needs could find support within its facility.
"The church is open to spread the love of God in every capacity," Hylton said. "So, what best way or what better way to do that with providing these services for free, doing whatever we can through the ministry."
So, how does it work? Parents in need can reach out to the church through Facebook or by phone-- detailing their emergency, the time span required, and other relevant information. Volunteers from various professions, including healthcare, then dedicate their time to assisting families in need.
"The father of the ministry's mission is to impact our community, beginning with the children," Hylton said.
This isn't a permanent service, but, say, if you have a doctor's appointment or have to stay late at work, there's somewhere to take your children.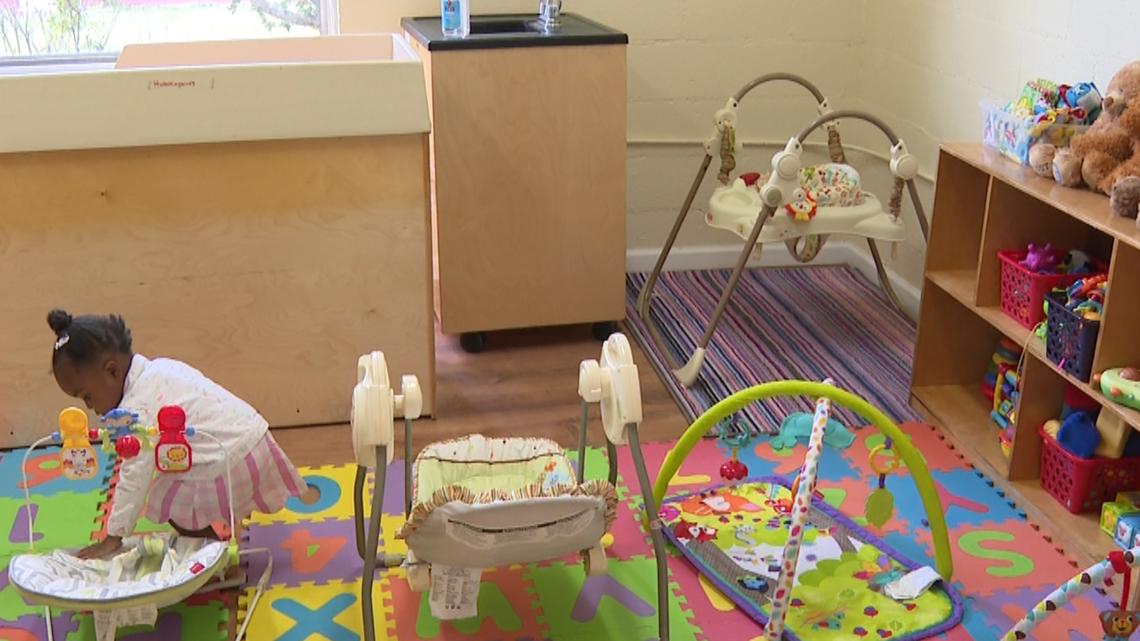 For parents like Kelly Hooks, the program is truly Godsent.
"I think the only time I get a breather is when it's time for me to go to sleep," Hooks said.
Hooks has a one-year-old son, Messiah.
"It is extremely hard," Hooks said. "The reason why is because I was laid off."
Hooks said finding someone to watch Messiah has been difficult, as childcare is getting more and more expensive. A survey from Care.com showed that for the 10th year in a row, costs are going up. The results showed that families are spending 27 percent of their income on childcare, on average.
"Even for part-time, $200, right? And then, when it gets to the full-time, it's almost about $350," Hooks said. "So, that is definitely a crunch with getting back on your feet."
Having a weekly fee that high only piles on more stress. Hooks said she's meeting with New Covenant this week.
"I'm not sure if this is real," Hooks continued. "I was like, 'Wow, that is definitely a blessing.'"
Hooks said she works from home now. She's a single mom. And sometimes, she just needs a break.
"It may be a day that I'm off of work and I'm like, 'I need to get extra sleep,'" Hooks said.
The response from the community about the service has been overwhelming, Hylton said. After posting about the service on Facebook, the church received a flood of calls from different families in need.
There's no limit on the amount of children the church can take in because it is an as-needed service. And clearly, Clayton County has a need.
For those who wish to contribute to this cause, the church said to reach out at 678-871-854 or 404-240-3487. Additionally, donations can be made to the church's Cash App at $NewCovenantGA, with all proceeds dedicated to meeting the needs of the community.
Hooks believes the service will help lower the poverty rate.
"Unattended child care leads to mental care as well, because... care for a child is a 24/7 job," Hooks said. "Child care is very, very much needed."
Reverend Hylton also mentioned future plans to expand their educational opportunities for children in the community, opening up even more avenues for support. The church plans to launch a school in January 2024 and is opening the doors to homeschoolers who need internet access.