ATLANTA -- On the heels of adding its new meal kits this week, Atlanta-based Chick-fil-A has added new fall menu and catering options for visitors.
"We know the beginning of the school year can be hectic for families and we hope these new options help make life a little easier for our guests," said Amanda Norris, executive director of menu and packaging. "Many of our guests aren't aware we have a catering menu, so we're excited to introduce some new options that are perfect for an after-school snack or to entertain family, friends, and co-workers."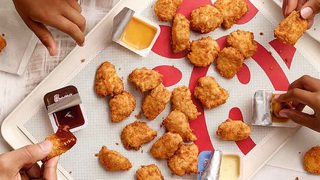 The fast-food giant says they are adding 30-count nuggets and waffle potato chips to their in-store menus. In addition, Chick-fil-A says they are adding a grilled chicken bundle and a spicy chilled grilled chicken sub sandwich to their catering order menu.
They are also improving the mix of fruit in their fruit cup. They've reduced the amount of apples and upped the mix of other fruit, so that there's more strawberries, blueberries and mandarin oranges than before.
The 30-count nuggets are available nationwide and can be ordered at the counter, through the drive-thru window and using the mobile app.
The waffle potato chips were previously only offered on the eatery's catering menu. The kettle-cooked waffle cut chips are an alternative to the restaurant's waffle fries and are gluten-free.
The grilled chicken bundle has been added to the company's catering menu. It includes ten grilled chicken breasts, multigrain buns, honey roasted barbecue sauce, lettuce, tomatoes, Colby-jack cheese and applewood smoked bacon. The bundle serves ten people.
The spicy chilled grilled chicken sub sandwich has also been added to the catering menu and includes chilled, thinly sliced, marinated chicken on a multigrain baguette with pepper jack cheese, baby greens and sliced tomato. It is also served with honey roasted barbecue sauce.