ATLANTA – You go to them for breakfast, lunch, dinner, and even for a snack, but now, Chick-fil-A is offering their hometown customers a new experience: take-home meal kits.
Yes, you read that right. Like Blue Apron, Plated, and other meal kits, Chick-fil-A will be the first fast-food chain to try their hand at the trend. However, unlike the other meal kit companies, Chick-fil-A's comes subscription free.
"Atlanta is where our company was founded, so when we talked about where we want to test this," said Michael Patrick, Chick-fil-A Principal Program Lead on the Mealtime Kits effort. "This is so unique for our company, it almost feels like starting another business. So, we want to start where we started our business, here in Atlanta."
Here's what you can expect.
On August 27, the people who brought us the original chicken sandwich will be launching their Mealtime Kits at 150 locations across the Atlanta area. These meals are designed to make it easy for customers to cook their own meals at home using fresh pre-measured ingredients, and chicken of course.
PHOTOS | Chick-fil-A new take-home Mealtime Kits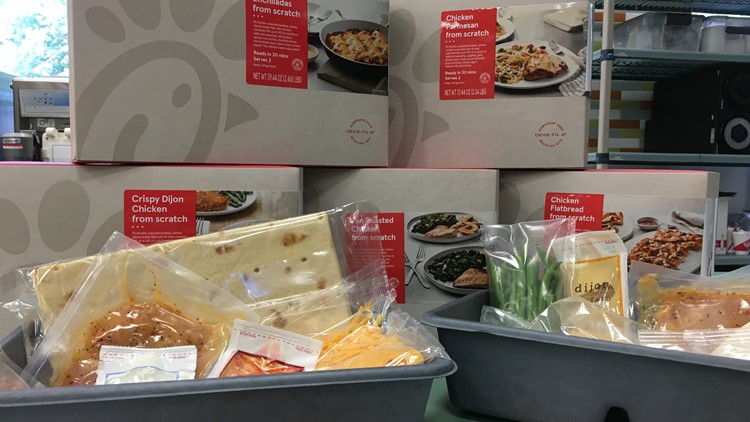 You can get one of the five various kits in the drive-thru, inside at the front counter or on the Chick-fil-A One app.
"We designed five recipes that are extremely incredible that customers are going to enjoy serving at home, and then you have the no subscription necessary that comes with the category," Patrick said. "The way that you want it is really what our customers are looking for."
Chick-fil-A Chef and Atlanta Restauranteur Stuart Tracy helped develop five different easy-to-follow kit recipes for everyone that can be prepared in about 30 minutes or less. Yes, even those of you who claim you "burn water."
From Aug. 27 to Nov. 17, Chick-fil-A will rotate the five meal kit recipes: Chicken Parmesan, Chicken Enchiladas, Dijon Chicken, Pan Roasted Chicken and Chicken Flatbread.
"The first month we will have Chicken Parmesan and Chicken Enchilada. The second month we will have pan roasted chicken and our chicken flatbread. The third month we will actually have crispy Dijon chicken with gouda mac and cheese and green beans," Patrick said. "We'll bring back the bestselling kit for that third month also."
Each Mealtime Kit serves two people and costs $15.89. Each kit has a "use-by" date, and they can be refrigerated at home for several days, depending on when they are purchased. The chicken in the kits is also trimmed and marinated, so you can prepare a quick meal using only a few simple steps.
"The chicken that you love from Chick-fil-A, same quality chicken," Patrick said. "It's not our fried version, but it's our pre-marinade and same recipe as our grilled marinade."
Now Atlanta, the power is in your hands. For a limited time, your feedback on the Mealtime Kit test will help Chick-fil-A decide whether to roll out the concept nationwide.