The best way to show Mom love on Sunday? A delicious homemade meal. With just a little planning ahead, you can prep the meal ahead of time and ENJOY your mother on her special day.
Dinner is as easy as 1-2-3-4! Make-Ahead Tips for Dinner Success:
Prepare the rub ahead of time, place it on the tenderloins, bag them and keep them in the fridge overnight.
Prepare the farro and put it in the fridge – you can do this 2 days ahead of time.
Chop the olives and halve the tomatoes the day before
Make the sauce the night before.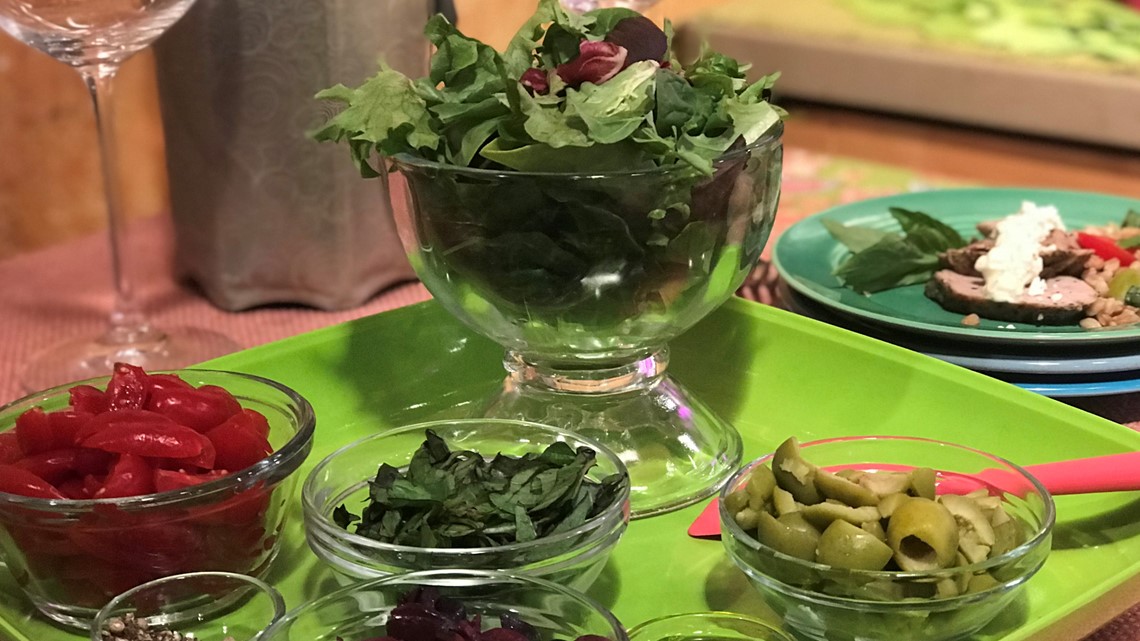 Mediterranean Pork Tenderloin on Herbed Farro Salad
2 Cloves Garlic, grated
3 TB Italian Seasoning
4 TB EVOO, divided
Sea Salt and Freshly Ground Pepper
2 Pork Tenderloins (1 – 2 LBs)
3 Cups Cooked Farro (1 cup uncooked farro that has been prepared as package directs.)
1 Cup Halved Grape Tomatoes
½ Cup Pitted and Chopped Castelvetrano or Kalamata Olives
4 – 6 Cups Arugula or Baby Greens
¼ Cup Chopped Basil
½ Cup Nonfat Greek Yogurt
1 Cup Crumbled Feta
Juice and Zest of 1 Lemon
Preheat the oven to 425F.To marinate the pork - In a small bowl, whisk together the garlic, seasoning, 2 TB oil, and 1/2 Tsp each salt and pepper. Pat pork dry with paper towel and rub with garlic mixture.
Heat 1 TB oil in a large heavy sauté pan. Add pork and cook, turning occasionally, until golden brown on all sides, 8 to 10 minutes total. Transfer to oven and roast until internal temperature registers 145°F, about 10 to 12 minutes. Transfer to cutting board and let rest 5 minutes before slicing.
To make the salad - Add the farro to a bowl and toss with tomatoes, olives, arugula, 1/4 Tsp salt, and basil and remaining 1 TB olive oil.
To make the feta sauce stir together feta, yogurt, lemon zest and juice and salt and pepper to taste in a small bowl.. Serve pork with farro salad and feta sauce.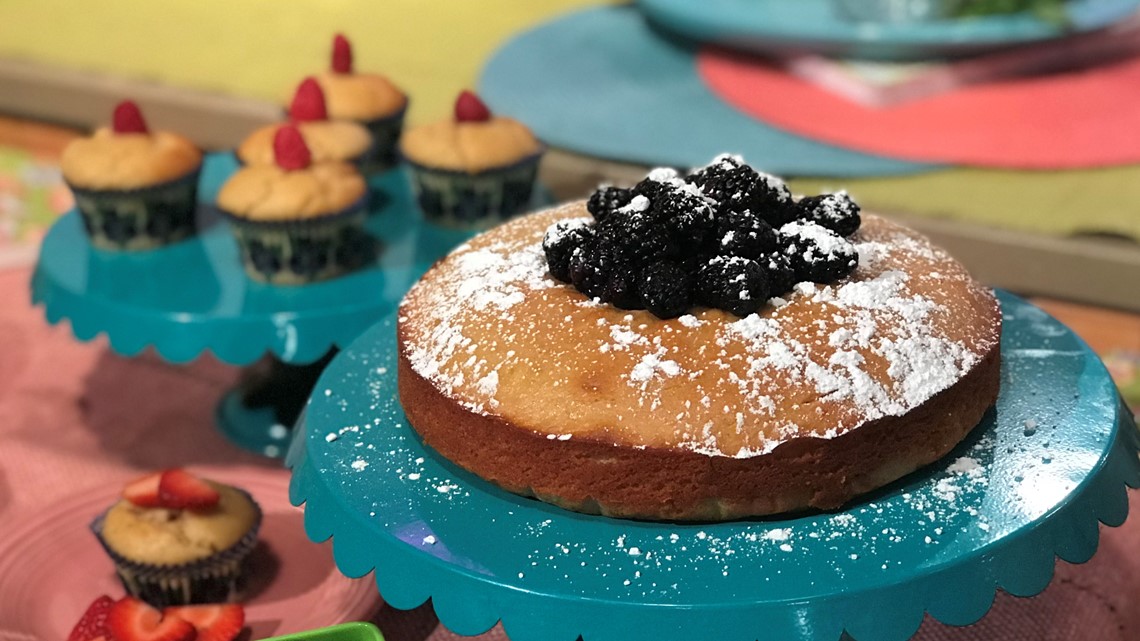 1 1/2 Cup All-Purpose Flour or Whole Wheat Pastry Flour or Gluten Free Flour
2 Tsp Baking Powder
2 Tsp Lemon Zest
1/2 Cup Nonfat Plain Yogurt
1 Cup Raw Sugar
2 Large Eggs
2 Large Egg Whites
1/2 Cup Grapeseed or Avocado Oil
1/3 Cup Fresh Lemon Juice
1/4 Cup Powdered Sugar
Fresh Chopped Berries for serving
Step One Preheat the oven to 350F. Spray a 8-inch springform pan with nonstick cooking spray and line the bottom of the pan with a parchment round - coat with nonstick spray. (or double the recipe and use a parchment lined sheet tray) Makes great cupcakes too!
Step Two Place the flour, baking powder, and zest in a bowl, stir to combine.
Step Three In a large bowl, combine the yogurt, sugar, and eggs, stirring until well blended. Add the flour mixture to the yogurt mixture, then add the oil and stir to incorporate.
Step Four Pour the batter into your prepared pan. Bake for 30-35 minutes, until the cake feels springy to the touch and a toothpick inserted into the center comes out clean. Cool the cake for 15 minutes.
Step Five Run a knife around the edge of the pan, and remove it from the pan. With a toothpick poke holes on the top. Combine the ingredients for the glaze and pour slowly over the cake. Cool completely before serving topped with fresh berries.
Oregon Pinot Noir will make Mom happy. Serve lightly chilled with the Pork Tenderloin – about 20 minutes in the fridge will make it the perfect temp. The bright red flavors of cherries will go perfectly with the pork.