Taste and Savor's Chef Nancy Waldeck shares wholesome and yummy recipes on 'Atlanta & Company.'
Get them below and tag A&C on our Facebook page or tweet/tag @atlandco to be featured!
Vegan Gluten-Free Low-Carb Tahini
Can be doubled or tripled
Can be frozen
Use it 4 ways:
As a dip
As a topping for Quinoa, Ancient Grains or Pasta
As a salad dressing – just add a little more olive oil
As a marinade for a piece of fish or chicken
2 – 3 Cups Packed Arugula or Other Herbs like Basil or Parsley or whatever herbs you have left over
½ Cup Chopped Toasted Walnuts, Almonds or Pecans
1 Cup Extra Virgin Olive Oil
Sea Salt and Freshly Ground Black Pepper
Place the garlic, tahini and lemon juice in the food processor bowl and whiz until pureed. Add the nuts and greens and pulse to blend. With the machine running, pour the olive oil in a steady stream into the bowl, process until smooth. Season to taste with salt and pepper.
*Tahini is ground sesame seed paste. It's easy to find in the grocery store, or just substitute almond butter instead.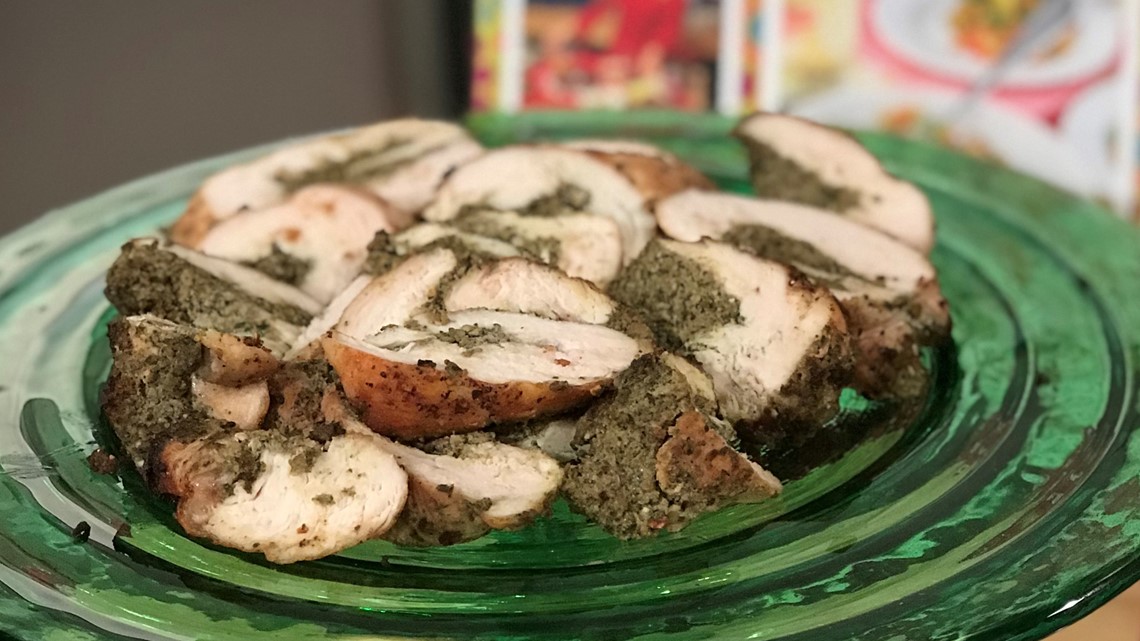 How to make Roasted Veggies taste even better
Using sugar appropriately – less processed sugar like maple syrup
Using Fresh Herbs – Ginger
Making Your Own Salad Dressing
Sweet OR Savory Dressing – use if for fresh fruit too.
2 Tsp Grated Fresh Ginger
½ Cup Extra Virgin Olive Oil
Add all the ingredients to a jar and shake well. Serve with roasted root vegetables like sweet potatoes and red onions, parsnips, turnips, etc.
Choose three of the above; toss them with a little olive oil or spray well with olive oil spray. Sprinkle with sea salt and black pepper, (add a sprinkle of any spice or spice mix that you like).
Place in a preheated 400F oven until soft and brown on the edges, about 45 minutes for root veggies.
Best Wine for a veggie-centric dinner like this one? Try a Pinot Noir from the U.S. from a state known for their yummy pinots, like Oregon. Lighter in body than other reds, but with a rich cherry aroma and flavor, it's a wonderful pair with veggies and fish with a bit of garlic or ginger.