Be transported to Italia with Chef Andrea Rodella and his Ricotta Gnocchi. Enjoy the recipe below and tag @ATLandCo when you do.
1 lb of Ricotta
1 Whole Egg
½ Cup of Parmesan
1 Cup of AP Flour
2 Lemons
½ Tsp of Salt
Lemon Creme sauce (recipe + amount below)
Juice from 2 Lemons
1 Cup of Olive Oil
1 Bunch of Asparagus (Pencil)
10 baby zucchine
1 Cup of Shelled Peas
½ Cup of Goat Cheese (Crumbled)
2 Cups of Arugula
1 Quart of Heavy Cream
2 Tablespoons of Lemon Juice
1 Teaspoon of Garlic-Minced
1 Teaspoon of Shallot-Minced
1 Teaspoon of Fresh, Minced Basi
½ cup of White Wine
1 Teaspoon of Lemon Zest
½ Teaspoon of Xanthan Gum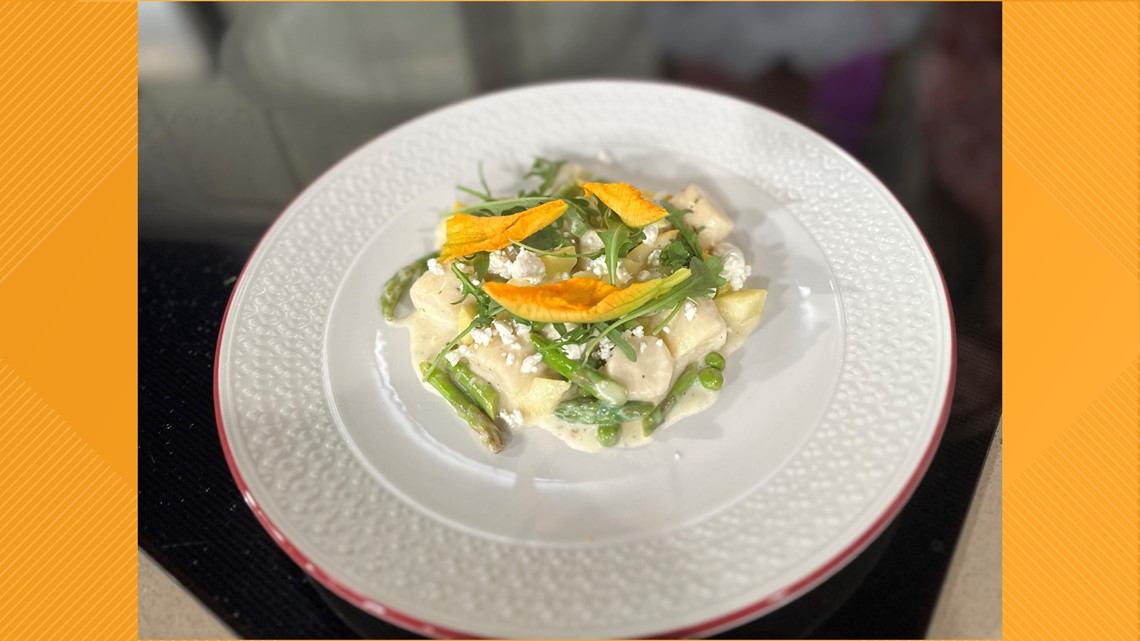 To make gnocchi, combine ricotta, eggs, salt, nutmeg, parmesan, and lemon zest in a robot coupe until smooth. Add flour to the mixture to form a dough, adjusting as needed for consistency. Roll the dough into a 3/4 inch log on a floured surface and cut into gnocchi-sized pieces. Blanch in salty water and let cool. Sear the gnocchi in batches in a pan with olive oil until golden brown on both sides, then set aside. In the same pan, add a little more oil then proceed to cook the vegetables with salt and pepper. Deglaze with lemon juice and add the gnocchi to the pan. Pour in Lemon creme sauce (recipe below), and reduce the sauce to desired consistency. Garnish with goat cheese and fresh arugula leaves before serving.
Begin by sautéing garlic and shallot in butter over medium heat until the shallots are translucent, taking care not to burn them. Then, deglaze the pan with white wine and reduce it by half. Next, add lemon juice and reduce again by half. After that, pour in cream and reduce the mixture by a third. Once the sauce has reached the desired consistency, transfer it to a blender and add xanthan gum to stabilize and bring it to the correct thickness.