Let's soak in summer and be transported to Sicily! Chef Nancy Waldeck rings in the season with a fresh, robust salad and wine pairing on Atlanta & Company.
Straight from Chef Nancy:
Sicily is a land of beautiful fresh veggies, flavor, color and seafood. The largest island in the Mediterranean's warm climate makes salad like this a perfect match for Atlanta summer eating!
Giardiniera, or pickled vegetables are a favorite way of serving up fresh veggies in Sicily. We are taking this idea and turning it into a salad, along with some of our other favorite Sicilian ingredients like shrimp and Castelveltrano olives.
Castelveltrano olives have only been imported into the U.S. since the 1980s. They are from Castelveltrano, Sicily a small town in the middle south of the island. Even olive lovers enjoy Castelveltrano olives, they are buttery and rich tasting.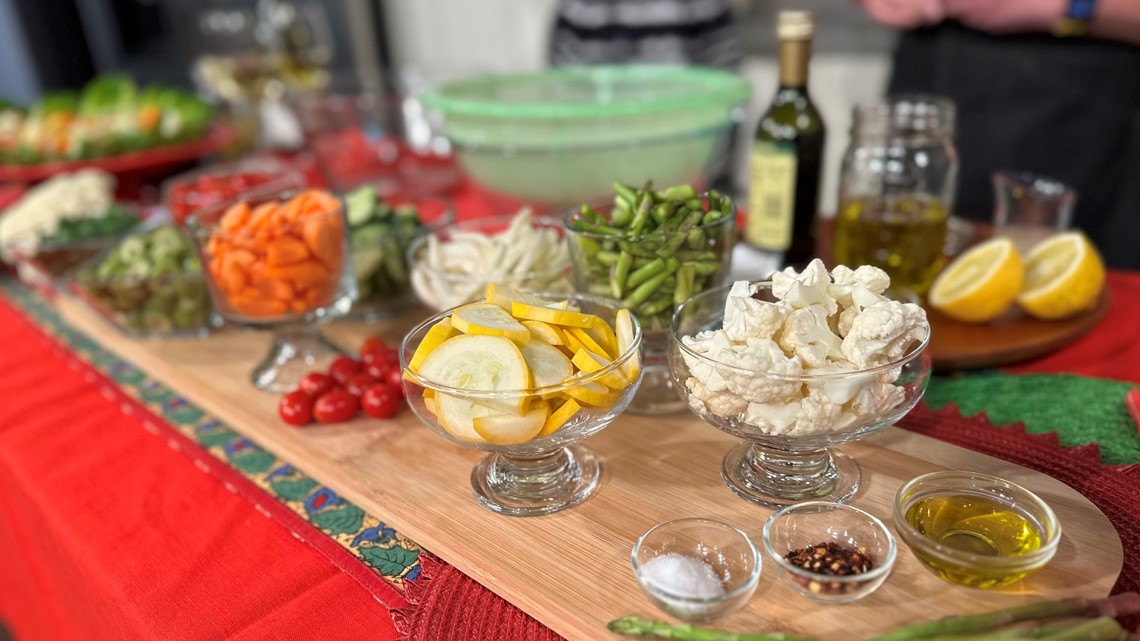 1 LB Large Shrimp
1 TB Olive Oil
½ Tsp Sea Salt
½ Tsp Red Pepper Flakes
1 Cup Raw Cauliflower or Raw Broccoli in Florets
1 Small Zucchini or Yellow Squash, Sliced Thinly
6 – 10 Thin Stalks of Fresh Asparagus, cut in diagonal 1" pieces
1 Cup Thinly Sliced Fennel
1 Small English Cucumber, Sliced Thinly
1 Cup Thinly Sliced Carrots
1 Cup Halved Grape Tomatoes, seasoned with salt and pepper
1 Cup Chopped Castelveltrano Olives
Romaine, Butter or Sweet Gem Lettuce Leaves
Chopped Parsley
Preheat the oven to 400F. Toss the shrimp with the olive oil, sea salt and red pepper flakes. Slide into the oven and cook for 5 minutes, flipping if necessary, until shrimp are firm and pink. Remove, set aside to cool.
Place the cauliflower, broccoli, squash and asparagus in a colander. Heat 4 cups water to a boil and pour the water over the veggies. Drain and cool.
In a large bowl, toss the cooled veggies with the mushrooms, cucumber and carrots. Pour the dressing over all and refrigerate at least 1 hour, up to overnight. Remove from the fridge, arrange on salad leaves and top with tomatoes and cooked shrimp. Sprinkle parsley on top.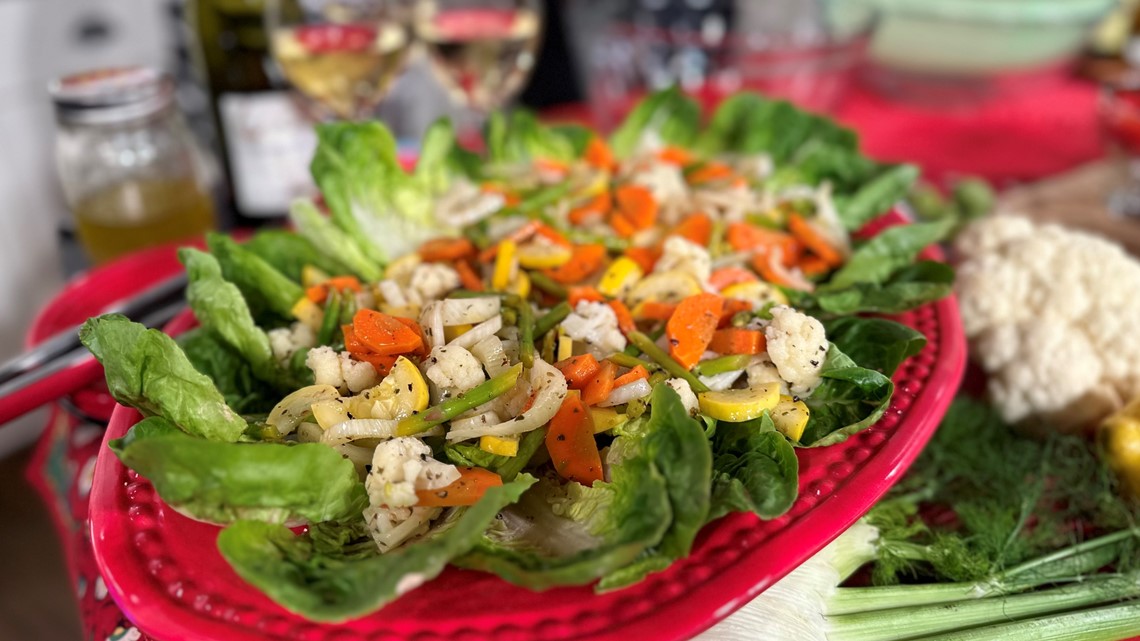 Simple Sicilian Salad Dressing
1 Cup Extra Virgin Olive Oil
½ Cup White Balsamic Vinegar
2 TB Lemon Juice
1 Tsp Each Sea Salt and Freshly Ground Pepper
1 Tsp Dried Oregano
Shake the ingredients in a jar.
Catarratto - The most widely planted grape in Sicily creates a full-bodied wine with lovely lemon flavors, a perfect complement for our fresh tasting green salad with shrimp. If you like Pinot Grigio, you'll love Catarratto. It's very affordable in the United States, you can often find it for under $20.