FLORISSANT, Mo. — It's a video with more than 10,000 views on Facebook.
A woman is seen choking on camera, while a stranger steps in to help her.
Richard and Doretta Irwin, who are out of towners, were staying at their daughter's home in Florissant for Labor Day weekend.
Friday afternoon, they made an unexpected visit to Mann Meats nearby.
Already inside the restaurant was customer Sarah Schlereth and soon she needed help.
"I was trying to get the food to go down and it got stuck to where I couldn't breathe at all," Schlereth told 5 On Your Side.
On the surveillance camera, you can see Sarah desperately getting up.
"Something just told me to go over there," Sarah said.
Her path led her to the Irwins.
Richard said he knew how to do the Heimlich maneuver.
"My mother had a hiatal hernia and she would sometimes choke on food when she was eating," Irwin said.
With this knowledge, Doretta told Richard to act quickly.
Sarah stopped choking, but she was still shaken up and sat back down. This is when Richard went over.
"I told her, Sarah...you did everything right," Richard said.
Richards also said he asked may he pray with her?
She said yes please, Richard said. In the moment, you can see the Irwins huddled together praying with Sarah.
As Doretta learns forward, you can see the back of her shirt in the video.
There's a Bible verse that is, "love your neighbor as yourself".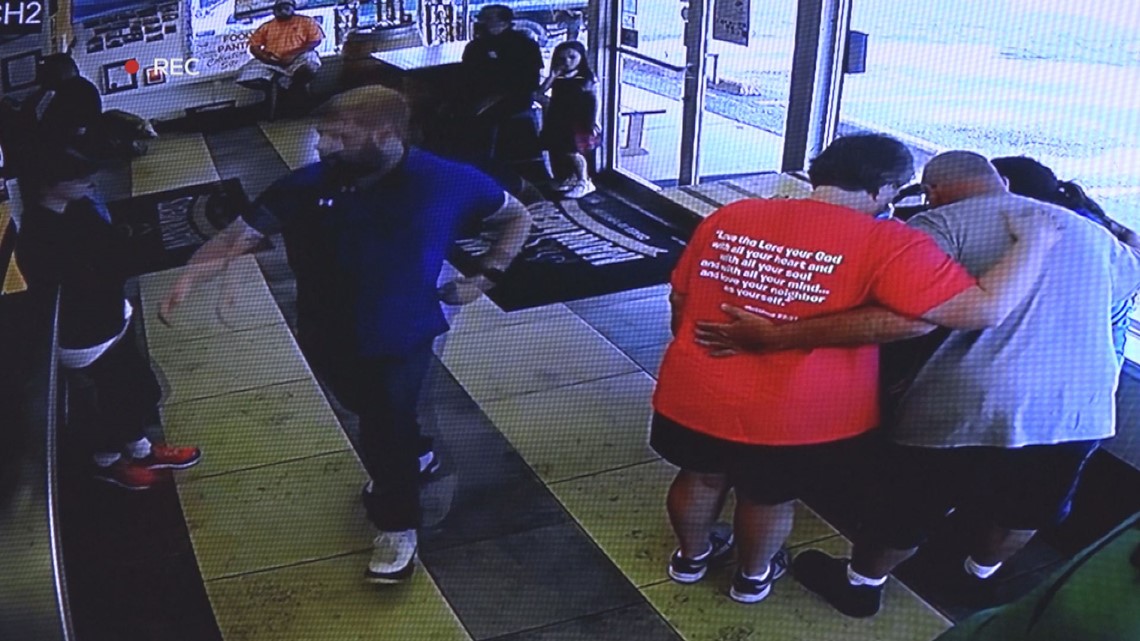 Doretta also said her husband and her do prison ministry and they have T-shirts that they wear at the prison.
"I guess it was an appropriate shirt to have on to what happened Friday," she said.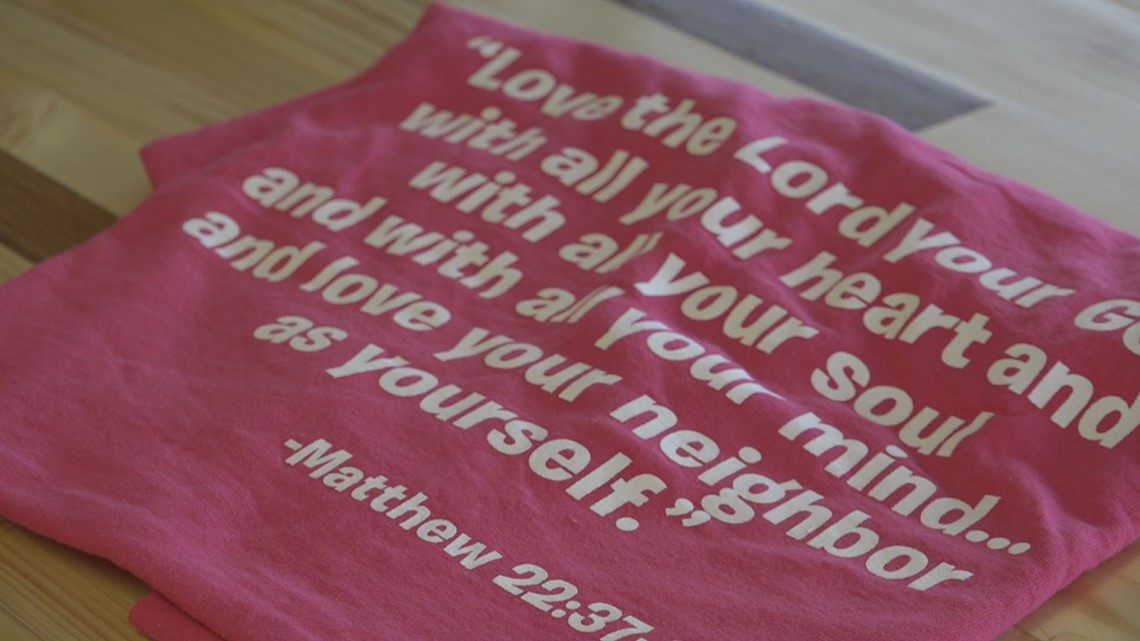 It's a moment Sarah's carried with her ever since.
Over the weekend, she said she was determined to thank the family who saved her.
"It was so much...processing everything," Sarah said. "I didn't say as much as I wanted to."
"The biggest thing I wanted to say was thank you for saving my life, if he wasn't there at the time, I don't know what could've what happened," Sarah told 5 On Your Side.
With the help of the Mannecke restaurant, 5 On Your Side was able to witness the reunion Monday morning.
As Sarah's mom cried of joy and Sarah hugged the Irwins, it was a moment of gratitude for them all.
Richard said he's grateful Sarah asked for help and reminds others to do the same.
"I'm thankful that it turned out as well as it did and it was good that we left with hamburgers here, it was a double blessing," he said.
All of them walked into that restaurant as strangers and departed as friends, leaving with an important message.
"We can make the world a better place if we do love our neighbors as ourselves," Doretta said.