ATLANTA — If you were unlucky enough to have ever broken an arm as a kid, it was a right of passage - getting your friends and classmates to sign your cast, creating a sort-of art piece of graffitied signatures smushed together.
But three pint-sized patients getting treatment at Children's Healthcare of Atlanta got their casts and prosthetics painted in a different way. Atlanta artists Yoyo Ferro, Catlanta and Julio Ceballos all volunteered their time and talent to personalize two casts and a pair of prosthetic legs.
RELATED: 12-year-old dancer with rare disease returns to the stage with help from Atlanta rare vein clinic
For 12-year-old Kennedy Simpson, Ceballos treated her to a variety of sunflowers painted onto her prosthetic shins. Yoyo Fero created an entire baseball mural on 11-year-old Clayton Page's cast. Catlanta personalized 9-year-old Nathan Manuel's cast with a Beyblade-inspired illustration.
Photos: Artists paint casts, prothetics for Children's patients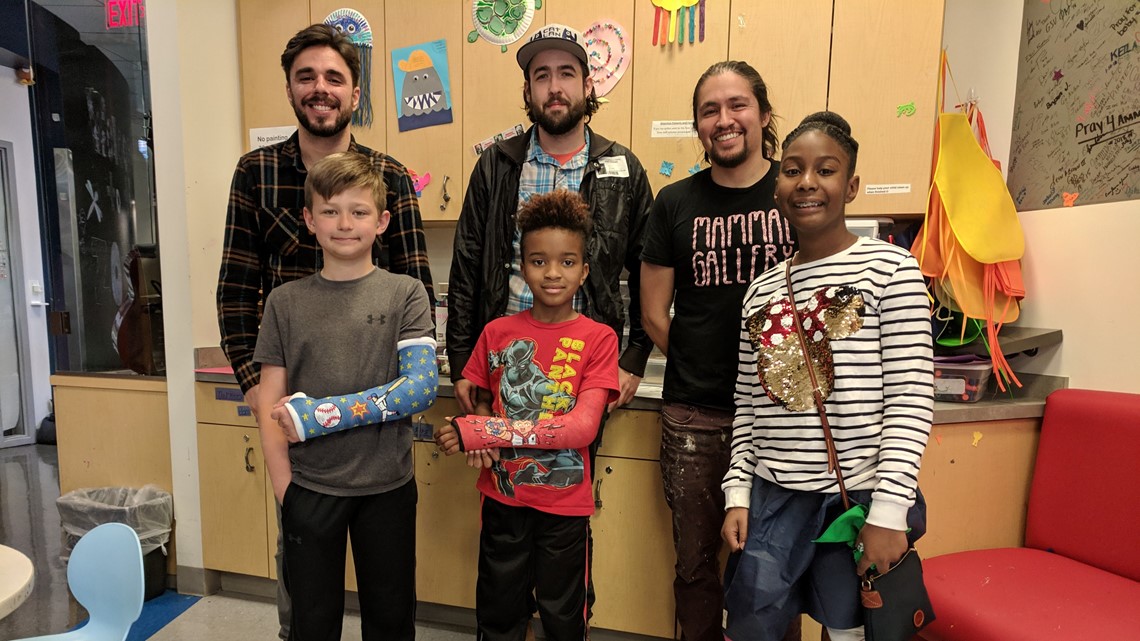 Ceballos told Children's that he felt compelled to help to try and brighten up the kids' day in any way that he could.
"I didn't know what challenges these kids were facing, but I felt that whatever it was I wanted to learn from them and bring them some joy," he said. "Opportunities like this are up my alley because they're very fulfilling and I find that just as valuable as a paycheck."
RELATED: How Georgia Tech and Children's Healthcare of Atlanta used 3D printing to save an infant's life
Nathan Manuel's dad said that kindness does indeed make a difference.
"Normally, waking him up is such a drag, but he got up so fast on his first day back to school because he couldn't wait to show off his cast," Kareem Manuel said.
Nathan ended up in a cast after attempting a trick on the monkey bars at the park. It resulted in a fractured wrist. Kareem said while it has been an uncomfortable experience for him, the art that Catlanta, aka Rory Hawkins, created for him completely changed Nathan's experience. In fact, he told his dad the pain was worth it for the unique cast.
"Rory crushed it," Kareem said.
MORE STORIES