ATLANTA — Will the Easter Bunny be paying you a visit this Sunday?
If so, he may fill up your baskets with lots Reese's Peanut Butter Chocolate Eggs - that's Georgia's favorite Easter candy, according to RetailMeNot.
And it appears Georgians are in good company - 28 other states also chose the chocolate-peanut butter combo candy as their favorite Easter candy, too.
Peeps were overwhelmingly the least-favorite sweet. Only two states listed the marshmallow-puff candy as their favorite.
Regardless of their favorite treat, Americans are expected to drop major cash for Easter candy. RetailMeNot says about 85 percent Americans plan to spend up to $50 to fill their baskets.
Here's each state's favorite candy. (Story continues below gallery)
LIST: Favorite Easter candy by state
LIST: Favorite Easter candy by state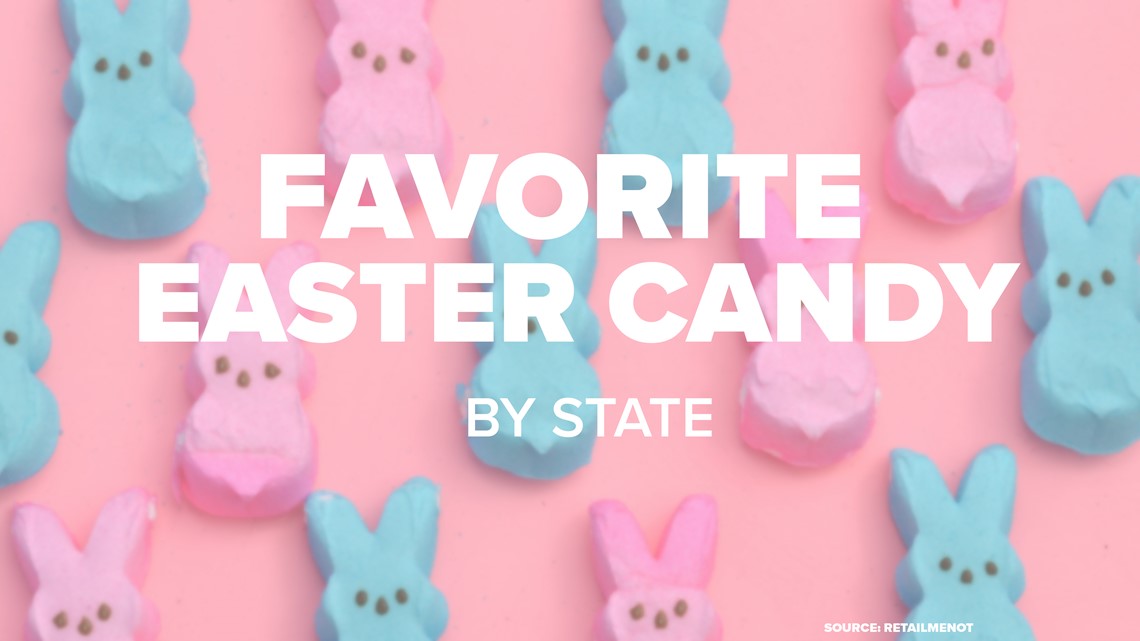 Alabama: Reese's Peanut Butter Chocolate Eggs
Alaska: Chocolate Bunnies
Arizona: Reese's Peanut Butter Chocolate Eggs
Arkansas: Cadbury Eggs
California: Reese's Peanut Butter Chocolate Eggs
Colorado: Reese's Peanut Butter Chocolate Eggs
Connecticut: Chocolate Bunnies
Delaware: Reese's Peanut Butter Chocolate Eggs
Florida: Jelly Beans
Georgia: Reese's Peanut Butter Chocolate Eggs
Hawaii: Cadbury Eggs
Idaho: Cadbury Eggs
Illinois: Reese's Peanut Butter Chocolate Eggs
Indiana: Reese's Peanut Butter Chocolate Eggs
Iowa: Reese's Peanut Butter Chocolate Eggs
Kansas: Chocolate Bunnies
Kentucky: Reese's Peanut Butter Chocolate Eggs
Louisiana: Reese's Peanut Butter Chocolate Eggs
Maine: Cadbury Eggs
Maryland: Cadbury Eggs
Massachusetts: Reese's Peanut Butter Chocolate Eggs
Michigan: Reese's Peanut Butter Chocolate Eggs
Minnesota: Reese's Peanut Butter Chocolate Eggs
Mississippi: Cadbury Eggs
Missouri: Chocolate Bunnies
Montana: Jelly Beans
Nebraska: Cadbury Eggs
Nevada: Cadbury Eggs
New Hampshire: Reese's Peanut Butter Chocolate Eggs
New Jersey: Reese's Peanut Butter Chocolate Eggs
New Mexico: Reese's Peanut Butter Chocolate Eggs
New York: Reese's Peanut Butter Chocolate Eggs
North Carolina: Cadbury Eggs
North Dakota: Reese's Peanut Butter Chocolate Eggs
Ohio: Reese's Peanut Butter Chocolate Eggs
Oklahoma: Reese's Peanut Butter Chocolate Eggs
Oregon: Reese's Peanut Butter Chocolate Eggs
Pennsylvania: Cadbury Eggs
Rhode Island: Reese's Peanut Butter Chocolate Eggs
South Carolina: Jelly Beans
South Dakota: Reese's Peanut Butter Chocolate Eggs
Tennessee: Peeps
Texas: Reese's Peanut Butter Chocolate Eggs
Utah: Cadbury Eggs
Vermont: Chocolate Bunnies
Virginia: Peeps
Washington: Cadbury Eggs
Washington DC: Reese's Peanut Butter Chocolate Eggs
West Virginia: Reese's Peanut Butter Chocolate Eggs
Wisconsin: Reese's Peanut Butter Chocolate Eggs
Wyoming: Reese's Peanut Butter Chocolate Eggs