Tens of thousands of people on Facebook have expressed sympathy and comfort to the dog's owner, Morgan Fleming of Marietta, since she posted Saturday night that the family's vet suspected their dog had ingested toxic blue-green algae in the lake, and that may have been what killed her.
The Army Corps of Engineers is investigating and has asked Georgia's Department of Natural Resources for help to find out quickly what sort of health risks there are in Allatoona Lake.
The dog's name was Arya. She was a border collie. On Saturday, Arya was loving her cool swim in Allatoona Lake at Red Top Mountain State Park with her family, Morgan and Patrick Fleming.
Photos: Family dog dies after trip to Lake Allatoona
But, a short time later, as they were all driving home, Morgan Fleming wrote on Facebook that Arya began vomiting, and was stricken with diarrhea.
They took Arya straight to emergency care, but the vets there could not save her.
Fleming said their veterinarian told them Arya was showing typical symptoms of poisoning from toxic blue-green algae, which Arya may have ingested during her swim.
Allatoona Lake is an Army Corps of Engineers reservoir. A spokesman told 11Alive on Monday afternoon that the Corps is not aware of any algae blooms in Allatoona Lake right now. But he said the Corps has alerted Georgia's Department of Natural Resources that there may be a bloom of toxic algae in the lake, and has asked for help in tracking down exactly what killed Arya.
Last Thursday, near Wilmington, N.C., three dogs died while swimming in a pond. Their owners' veterinarian believes toxic algae was responsible for their deaths.
Sometimes, it is visible as surface scum or foam. It sometimes has a bad odor and is sometimes difficult to detect.
"No human deaths (from toxic algae) have occurred in the United States, though animal deaths have been widely reported."
In humans, it can cause a rash, fever and internal sickness. In animals, it can be fatal.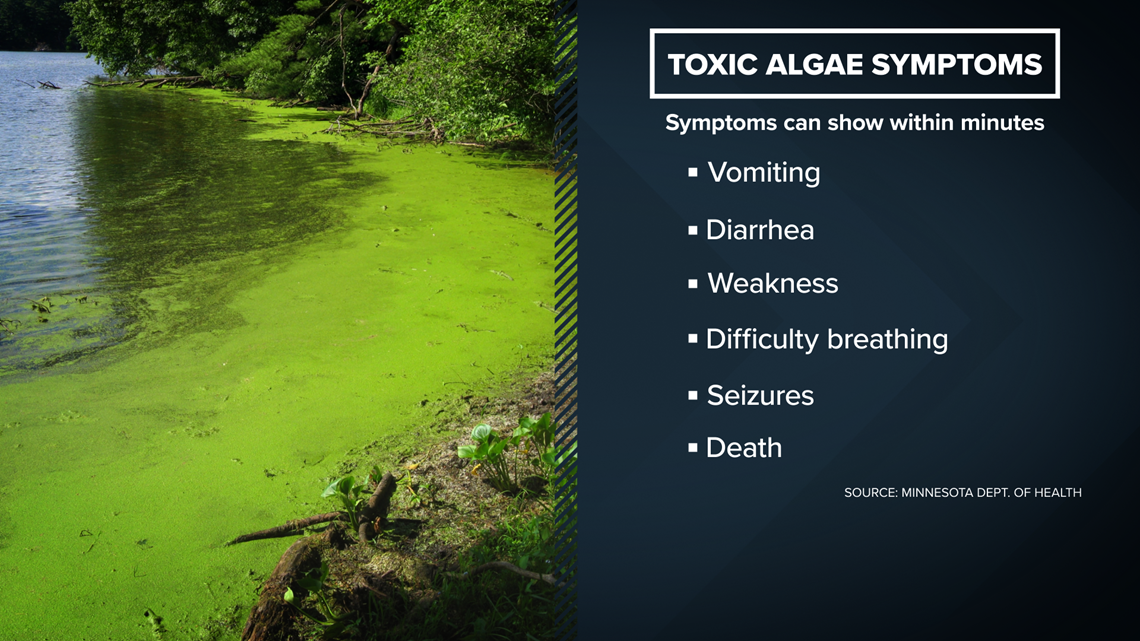 A spokesman for the Army Corps of Engineers told 11Alive News on Monday that the Corps is very concerned and expects to find out the extent of any toxic algae blooms in Allatoona Lake very quickly, as Georgia's Department of Natural Resources conducts water tests at the lake.
If there are extensive blooms there, authorities may issue public warnings and possibly swimming bans.
Blue-green algae: What it looks like